Vibration Platform inSPORTline Julisa
Vibration platform for effective home workout and muscle relaxation, vertical, horizontal and 3D vibrations, 60 vibration speeds, adjustable resistance bands, remote control.
Recommended accessories
Description
Parameters
Alternatives (1)
Vibration Platform inSPORTline Julisa
The Vibration Platform inSPORTline Julisa is ideal for strengthening and shaping your body, muscle relaxation or recovery after physical activity. The massage is extremely effective, relaxing, safe and not at all time-consuming. You can choose the muscle groups you want to strengthen or relax (it all depends on the position you take on the machine). You can either stand or sit on it, do squats, push-ups or all kinds of presses. It is entirely up to you. You can also use the removable, length-adjustable resistance bands with soft handles. A vibration platform makes the exercise more effective as it engages the deep stabilizing muscles.
The Vibration Platform inSPORTline Julisa offers 3 different kinds of vibrations – horizontal (from side to side), oscillating (swinging) and 3D vibrations. You can also combine the three vibration types. You can choose from as many as 60 vibration speeds, allowing you to adjust the difficulty of your workout or the intensity of your massage.The LEDs on the sides of the selected load light up- green, orange, or red. You can change the settings using the included remote control (a watch that you can put on your hand) or the control panel with a LED touch screen which shows the current speed, program, calories and time.

Thanks to the slightly curved shape of the platform, the exercise is more comfortable and at the same time more stable, especially with a wider stance or sitting. In addition, if all vibration modes are turned on together, then in the position of the so-called surfer, the platform shaped beautifully simulates a surf ride on the waves.
Despite its relatively small size (which makes it easy to store), the Vibration Platform inSPORTline Julisa looks sturdy. The high weight limit (120kg) proves that it really is sturdy. Thanks to the anti-slip rubber legs, rubber pad and its relatively high weight (18kg), the platform does not move during workout, which makes it very safe. The exercise area is anti-slip, too. The Vibration Platform inSPORTline Julisa fits in any home. It helps you strengthen and relax your muscles.
Types of vibrations:
Oscillating vibrations – vertical swinging (amplitude 1 - 2 mm, frequency 25 - 40 Hz)
3D vibrations – various directions, vibration area does not move from side to side but vibrates (amplitude 0 - 12 mm, frequency 6 - 12 Hz)
Horizontal vibrations – from side to side (amplitude 0,5 - 4 mm, frequency 7 - 11,5 Hz)
Combined oscillating and 3D vibrations
Combined oscillating and horizontal vibrations
Combined 3D and horizontal vibrations
Combination of all three vibration types
Technical description:
Easy-to-store vibration platform for effective muscle strengthening/relaxation
Slightly curved platform
Wide range of uses
Engages deep stabilizing muscles
Improves balance
3 preset programs
7 manual programs
60 speeds
Removable resistance bands
Stable anti-slip legs
Comes with anti-slip rubber pad 
Anti-slip exercise area
Easy-to-read LED display
Remote control – watch (

button battery CR2032 3V is not included

)
AC power supply
Vibration types: horizontal (from side to side), oscillating (swinging), 3D vibrations and combined
Vibration frequency: 6 – 40Hz
Dimensions: length 78 x width 46 x height 20cm
Exercise area dimensions: 68 x 42cm
Power: 200W + 200W + 40W (3 engines)
Weight: 18kg
Weight limit: 120kg
Suitable for home use
Vibration Platform inSPORTline Julisa - Documents to download
Vibration Platform inSPORTline Julisa - Product parameters
Vibrating deck dimensions
68 x 42 cm
Weight limit (kg)
By observing the weight limit of the product, you significantly increase its service life and prevent it from wearing down prematurely. It is not recommended to exceed this limit.
120 kg
Vibration frequency
6 - 40
Vibration type
Horizontal, Vertical, Combined, 3D
Vibration deck moves from side to side.
Number of vibration speeds
60
Compensating for uneven floor
no
Display
Device displays time and vibration values.
yes
Computer Control
Integrated + remote
Dimensions when fully assembled
length x width x height
78 x 46 x 20
Weight
The total weight of the product.
18 kg
Usage category
Home use
Only suitable for home use.
Vibration Platform inSPORTline Julisa - alternatives -
all in stock
Vibration Platform VibroGym inSPORTline Charles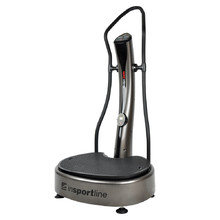 More info
Vibration Platform inSPORTline Julisa is included in the following categories: