Drink Nutrend Carnitin Activity 750 ml
LIGHTNESS IN EVERY SIP! Supply liquids and energy during sports and support your weight reduction process.
Recommended accessories
Description
Alternatives (3)
Video (3)
Drink Nutrend Carnitin Activity 750 ml
CARNITIN ACTIVITY DRINK
Due to effective combination of substances, CARNITIN DRINK is a great drink which supports your performance and energy usage from fats. It is no-carbonated and it does not contain any sugar. Due to taurine and vitamin B3 content it will also help you to improve coordination and concentration.
Do you prefer less sweet drinks? Try CARNITIN DRINK in decaffeinated flavors - eucalyptus + kiwi, fresh grapefruit.
CARNITIN ACTIVITY
DRINK will help you:
Supply liquids and energy
Speed-up fat burning
Improve movement coordination and concentration
Characteristics of effective substances in CARNITIN ACTIVITY
DRINK:
L-Carnitin base – L-Carnitin transfers fatty acids into the place of their burning, into energy centre of cells, into so called mitochondria and it thus supports energy creation from fats. It takes part in overall organism energization and it also significantly supports weight reduction, heart and brain function ant it also supports physical and mental performance.
For metabolism stimulation caffeine is added (except from flavours Eucalyptus+Kiwi, Fresh Grapefruit) which helps to improve metabolism and it thus results in increased energy usage from fats. At the same time there is an overall increase in metabolism, which means - to ensure basic life functions (so-called basal metabolism) the body consumes more energy.
The energy blend is enriched with taurine which provides better concentration during performance and it thus supports movement coordination. Caffeine in connection with taurine provides better stimulation of central nervous system.
Recommended dosage:
1 bottle of Carnitin drink daily
For physical performance support start using 20 – 30 minutes pre-performance and consume also during performance.
Usage:
Once opened, use within 24 hours. Sediment may occur which is not harmful. The product is no-carbonated.
CARNITIN ACTIVITY DRINK – with flavors red orange, lemon, pineapple, green tea + elderberry
Intended for special nutrition. Store in a dry place below 25 °C away from direct sunlight. Protect from freeze. Keep out of reach of children! Contains caffeine. Not suitable for registered athletes. Not intended for children, adolescents, pregnant, nursing women and and persons sensitive to caffeine. The manufacturer is not liable for any damages caused by improper usage or storage.
Drink Nutrend Carnitin Activity 750 ml - alternatives -
all in stock
Carnitine Nutrend Carnilife 40000 50ml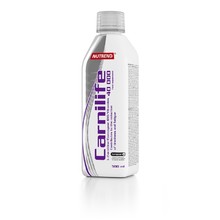 More info
Nutrend Carnitine 60,000 + Synephrine 500ml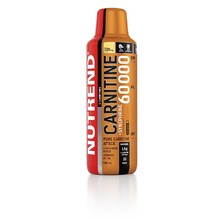 More info
Nutrend Carnitine 100,000 – 1000ml
More info
Drink Nutrend Carnitin Activity 750 ml is included in the following categories: