Exercise Bike TechnoGym Bike Forma
Home use exercise bike with a plethora of functions, high-quality design, robust frame, high weight limit, chest strap included.
Recommended accessories
Description
Parameters
Alternatives (8)
Exercise Bike TechnoGym Bike Forma
Exercise Bike TechnoGym Bike Forma is distinguished by its stylish design with extraordinarily ergonomic shape. The trainer's place at the top of is category is further secured by the durable material used. It is very popular among our customers, mainly because it is safe, reliable and easy to maintain. It is also the perfect equipment for aerobic training. Its other features, such as special handlebars with integrated elbow rests for a more comfortable training position, control panel with a tablet holder, or a distance between pedals that is very similar to that of regular bicycles, will help you correctly shape your muscles, legs and glutes, as well as stimulate your cardiovascular system. Included in the package is a USB keychain with a user's manual in PDF format.


Technical parameters:
Top-quality exercise bike with plenty of functions and a precise design
Electromagnetic resistance system with 30-350 W output
Electromagnetic resistance regulation
12 resistance levels
Heart rate sensors in handgrips
Chest strap (included)
Belt drive
Charging: power adpater 230 V/50 Hz
Suitable for users 155 - 205 cm tall
Wheels for easier transport
Weight limit: 160 kg
Weight: 61 kg
Dimensions: 119 x 60 x 134 cm
Computer functions:
Programs:
CPR (similar to HRC mode) is a program for automatic resistance adjustment according to user's current heart rate. After the user's age has been set, the system automatically evaluates the best heart rate target zone and number of burned calories for optimal physical fitness improvement.
Training profiles
Manual trainings with Calories Mode
Performance test
Measured data:
Time, Speed, Distance, Calories, WATTS
Heart rate:
Chest strap with ECG accuracy (included)
Heart rate sensors in handgrips
Exercise bikes help you focus on these areas: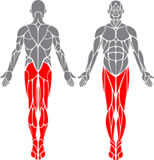 Exercise Bike TechnoGym Bike Forma - Product parameters
Resistance regulation
Resistance in cardio trainers can be regulated by one of two ways - manual and electronic control. Manual regulation is the cheaper option and works on a simple basis. With a regulation knob, the user sets the resistance manually, usually in the range of 1-12 levels.
Electronic
Maximum user height
205 cm
Weight limit (kg)
By observing the weight limit of the product, you significantly increase its service life and prevent it from wearing down prematurely. It is not recommended to exceed this limit.
160 kg
Braking system
Cardio trainers use several types of braking systems.
There are trainers with magnetic, friction, calliper or EMS braking system. The magnetic and EMS systems that work through moving a magnet closer to the flywheel are used most often.
Magneto-electric EMS
Handlebar heart rate sensors
yes
Compensating for uneven floor
yes
Horizontal/vertical seat adjustment
Yes / Yes
Weight
The total weight of the product.
61 kg
Dimensions when fully assembled
length x width x height
119 x 60 x 134
Exercise Bike TechnoGym Bike Forma - alternatives -
all in stock
Exercise Bike TechnoGym Bike Forma is included in the following categories: