Treadmill TechnoGym Jog Forma
Top-quality treadmill, very robust with high longevity, compatible with Apple devices, supports Skype, ergonomic frame.
Recommended accessories
Description
Parameters
Alternatives (1)
Treadmill TechnoGym Jog Forma
Treadmill TechnoGym Jog Forma is a top-quality treadmill for home use that will help you improve your physical fitness. The treadmill was developed in a gym and its strong motor and new biomechanics allow you achieve high performances during comfortable cardio exercises. The large front panel is an ideal place to put your drink, bottle or other accessories. This will make your training more comfortable, because you'll have everything you need at hand. Aside from iPhone and iPod compatibility, the machine can be connected to a tablet as well. Thanks to a unique holder designed by TechnoGym, you can place your iPad vertically or horizontally on the panel without covering the camera. This way you can work, use Skype or communicate with the outside world while exercising. The motor adheres to the highest standards. Jog Forma has a stronger frame and more efficient motor that guarantees maximum speed of 18 km/h. The machine was designed for relaxed and thorough exercising – the control panel angle allows you to watch the information displayed without having to change positions. The display has big and clearly visible buttons, as is customary with Forma series machines. The ergonomic grips increase your comfort and allow for wider range of movement. Treadmill TechnoGym Jog Forma is also very robust. Its great weight (164 kg) guarantees high quality and longevity.
Technical description:
High-quality treadmill with robust frame
Innovated biomechanics
5 pre-set programs – quick start, target values (speed, distance, calories), CPR (training according to heart rate frequency and biometrics)
Compatible with Apple devices
Handlebar heart rate sensors
Efficient motor
Motor output: 6 HP
Speed: 0.4 – 18 km/h
Maximum inclination: 15%
Running deck dimensions: 151 x 50 cm
Height of the running deck from the ground: 21 cm
Dimensions: 210 x 86 x 150 cm
Weight: 164 kg
Weight limit: 180 kg
Treadmill TechnoGym Jog Forma - Product parameters
Deck inclination
electronic
Maximum elevation
8.5° (15 %)
Running deck length
Generally speaking, the longer the running deck, the more comfortable exercise the treadmill provides. For taller people, minimum recommended running deck length is 140 cm. Running decks on professional treadmills are suitable for everyone.
151 cm
Total number of programs
The total numner of pre-set and user programs, manual mode and HRC program (if applicable).
8
Number of Preset Programs
5
Heart rate frequency sensor
yes
System for adjusting to uneven surface
yes
Safety key
A necessary part of every treadmill - a magnetic safety with a clip attached to your clothing that, when pulled out, immediately stops the treadmill.
yes
Audio jack
If the treadmill features an audio jack (3.5 mm), you can connect it to your phone and replay music through inbuilt loudspeakers.
no
Height when unfolded
150 cm
Width when unfolded
86 cm
Length when unfolded
210 cm
Weight
Generally speaking, the heavier the treadmill, the more robust it is and the longer its service life. The weight of professional treadmills can far exceed 100 kg.
164 kg
Treadmill TechnoGym Jog Forma - alternatives -
all in stock
Treadmill inSPORTline Mystral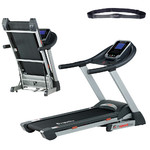 More info
Treadmill TechnoGym Jog Forma is included in the following categories: