Why Use a Treadmill?


Running is a very natural exercise activity that has become a current trend. Thanks to this increased interest, our treadmills are becoming more and more popular with those who don't want to give up on their regular exercise during the colder months! That's why we've prepared some advice and tips to help you choose the right treadmill....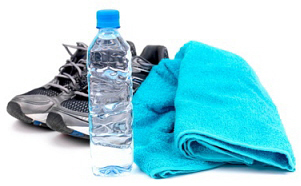 Don't be afraid to try the treadmill
Treadmills have been improved in function and design over the years and as a result are becoming one of the most sought-after exercise machines on the market. In comparison to classic outdoor running, the treadmill offers the advantages of exercising at home, where the weather has no impact on your schedule, allowing you to train when it is the most convenient for you. Furthermore, today's treadmills have simple folding mechanisms and transport wheels that make them easily portable. As such, you can easily exercise in your living room while watching your favourite TV show or a music channel.
Motor, dimensions, weight limit
Every motorized inSPORTline treadmill is powered by an efficient electromotor with 1-4 HP outlet. Treadmills with the outlet of 1-2 HP are suitable mainly for users of slighter frame and for running at slow or average pace. In contrast, treadmills with the output of 2-4 HP are considered efficient enough for heavier users and intense everyday training. If you are worried that the treadmills with more efficient motors will also make more noise, we've got good news for you! It's actually the opposite. The more powerful motors are usually less noisy.
If you are thinking about purchasing a treadmill, one of the main criteria to consider should be the treadmill's dimensions, specifically the dimensions of the running deck. Treadmills with narrower and shorter running decks are, again, more suitable for walking or running at a slower pace while treadmills with wider running decks offer more comfort, even when running fast.
The weight limit is important as well. You'll find the weight limit of our treadmills in the product description. The general rule is that the weight limit of the treadmill should always be a little bit higher than the actual weight of the user. For example, if you weight 80 kg and are considering buying a treadmill with the weight limit of 110 kg, that's the correct way to go about it, not the other way around!
Manual treadmill
Manual treadmills are a separate category of treadmills. Their function is based on the centre of gravity working against an inclined plane. As is obvious from their name, these treadmills do not have a motor and you have to use your own energy to make them move. This type of training differs from training on a classic treadmill and it should be said that the effectivity of such training is often comparable to exercising with a motorized treadmill. However, it is important to note that in reality manual treadmills simulate walking uphill more than actual running. You will also be able to only walk or run at a very slow pace. Manual treadmills therefore aren't suitable for running at higher speeds (6-10 km/h) and are suitable to those of you who prefer to exercise at a slower pace.
Technologies of inSPORTline treadmills
Modern inSPORTline treadmills have many clever functions that will make your training much easier. The most important are:

Heart Rate Control
Our higher-level treadmills come with the heart rate control function that allows the pace of the treadmill to adjust according to your current heart rate frequency. A chest strap is included with such treadmills. You fasten the chest strap around your ribcage and it will wirelessly transmit your heart rate to the treadmill's computer. Once your heart rate exceeds set parameters, the system will react by adjusting the resistance or speed of the exercise.

Silent Motion Technology
Thanks to technological advancements, we now have powerful motors with extremely quiet running, more efficient cooling systems and prolonged service life. We've minimized the noise made by the treadmills as much as possible to provide you with a truly undisturbed experience.
 

Shock Absorbing System 
A unique running deck suspension system using special silent blocks. This technology makes running on inSPORTline treadmills much easier on your joints, especially when compared with classic outdoor running. Varying versions of this technology are present in both our cheaper and more expensive treadmill models.

Easy Fold System
Fold and unfold your treadmill with one hand! Simple and effective piston-based mechanism allows you to fold and unfold the treadmill so easily, a small child could do it!

Touch & Run ovládání
We try to equip our treadmills with functions you will appreciate. That's why we installed the main function keys (speed or inclination adjustment) into the side handlebars to make them more accessible. The more complex programs can be found by quick keys on the control panel. You can start or stop your training by pressing just one button.
Check your heart rate frequency!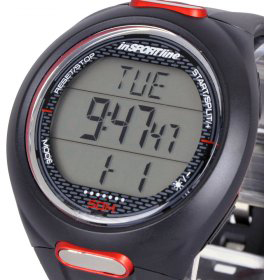 If you want to effectively lose weight, you need to avoid many mistakes that might render your effort ineffective. You should not gasp for breath or come to the brink of exhaustion while exercising. The experts recommend monitoring your heart rate frequency and adjusting your exercise accordingly. If you overexert yourself and your heart rate comes up to around 180 bpm, all your effort will basically be wasted. At such state, your body is unable to burn fats, because their energetic decomposition is simply too slow for such strain, and starts to metabolise quick sugars stored in muscles, damaging them in the process.
To lose weight effectively (burn fats) you need to do an aerobic exercise. Aerobic exercise is a sports activity lasting over 20 minutes with a steady effort where your heart rate frequency is at the optimum value. The optimum heart rate frequency ranges between 120-145 bpm, depending on sex, age, height and weight of the individual user. It is therefore necessary to measure the heart rate frequency separately for every user.
Find more detailed explanation of heart rate frequency measurement in our guide: "How to exercise with a sports watch".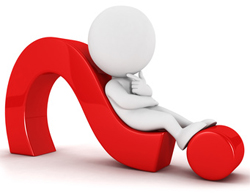 How to pick out the right treadmill then?
If you decide to purchase a treadmill, then surely, you'll want it to last for some time. That's why you need to carefully consider how often and how intensely you want to exercise. Also consider your weight and think about how much comfort you expect from your new treadmill. Once you are clear about what kind of attributes you expect, choose your treadmill. A treadmill is a sophisticated cardio trainer and you do not want to underestimate its weight limit or running deck width. With treadmills, you can abide by the rule of "the more, the better", which means that the more robust (heavier) treadmills with powerful motors and longer running deck are more suitable for regular and uninterrupted training.
Comparison of inSPORTline treadmills
5 tips how to choose treadmill
 The inSPORTline Team