inSPORTline VibroGym Vibration Julita
Vertical, 3D vibrations, combination of vertical and 3D vibration, 2 engines, power 500 W, load capacity 160 kg, preset programs, steel construction, heart rate sensors in handles.
Recommended accessories
Description
Parameters
Video (1)
inSPORTline VibroGym Vibration Julita
Vibration machine inSPORTline Julita offers an ideal way to shape your figure, improve your joint mobility, reduce muscle tension, relax or relieve stress. Vibration machine inSPORTline Julita functions on the basis of effective vibrations that cause your muscles to contract reflexively, thus strengthening the intensity of the exercise. At the same time, the vibrations penetrate deep tissue, making even simple exercise maximally efficient. All you need to do is spend a few minutes standing with knees slightly bent and the results will become obvious in a few days. Vibration machine inSPORTline Julita offers 3 types of vibrations (vertical vibrations, 3D vibrations and a combination of vertical and 3D vibrations at the same time), two powerful engines with a total output of 800W and several preset programs, as well as setting different vibration intensity or duration. Other highlights include heart rate sensors in the handles, rubber vibration deck, 160 kg weight limit, non-slip footpads or an elegant metal frame. Thanks to all these excellent features, the Vibration machine inSPORTline Julita is a very popular device for both domestic and club use.
Technical description:
3 types of vibrations: vertical, 3D, a combination of vertical and 3D vibrations
number of engines: 2
motor power: 500W (vertical vibrations), 300W (3D vibrations)
vibration frequency: 5 - 14 Hz (vertical), 15 - 40 Hz (3D)
amplitude: 0 - 10 mm (vertical vibration), 0 - 2 (3D vibration)
LCD display
computer displays: vibration type, speed, program, heart rate
3 preset programs
60 vibration levels
heart rate sensors in handles
steel frame
non-slip rubber surface layer
vubration deck dimensions: l68 x w51 cm
dimensions: length 68 cm x width 69 cm x height 134 cm
weight limit: 160 kg
weight: 57 kg
category SC (according to EN957 standard) for home and club use
Main advantages:
modern design
3D vibrations for highly effective exercising of all muscle areas
helps you quickly and effectively shape your figure and lose weight
thanks to the vibrations, exercises will be up to three times more effective
helps you quickly recover and regenerate after a physical strain, sports activity or an exercise
the machine is especially suitable for the initial or last phase of training
it can also be used to help relieve rheumatism and other problems with your bones or joints (only after consulting your GP though)
stimulates your blood circulation
effectively reduces joint and muscle pain and stiffness
improves balance and coordination
effectively helps you fight cellulitis
helps relieve stress
increases production of the growth hormone
By exercise on a vibration machine you strengthen these body parts: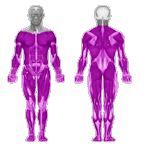 Extended warranty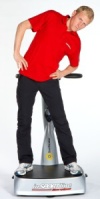 Recommended by Petr Kopriva – the InSPORTline Coach
Reflexive muscle contractions on VibroGym promotes blood circulation and muscle functioning. Exercise is therefore more intense than a normal workout. After many years of experience in triathlon I recommend regular and effective exercise.
inSPORTline VibroGym Vibration Julita - Product parameters
Vibrating area size
68 x 51 cm
Vibration frequency
5 - 40
Vibration type
3D, Vertical, Combined
Number of vibration speeds
60
Compensating for uneven floor
yes
Computer Control
Integrated
Dimensions when fully assembled
68 x 69 x 134
Usage category
Home / club use
inSPORTline VibroGym Vibration Julita is included in the following categories: