Home Gym inSPORTline Profigym C75
Multi-purpose home gym with various stations for safe and comfortable home workout! Enjoy the adjustable exercise arms, various pulley extensions or heavier load.
Recommended accessories
Description
Parameters
Alternatives (8)
Home Gym inSPORTline Profigym C75
Even though the Home Gym inSPORTline Profigym C75 is a home machine, it has the same features as professional machines. It features various stations that offer a variety of exercise options, making the machine perfect for a full-body workout. By releasing the locking pin and moving the exercise arms to a different setting, you can switch from a chest press to a pec deck in seconds. However, it's the pulleys that make the machine so versatile. You can attach the 2 included extensions to them and further expand your exercise options. 
This home gym comes with a removable, height-adjustable bicep curl preacher pad and leg extension/curl station. You can also adjust the position of the backrest. All the stations are connected to a 99kg weight stack system that consists of thirteen 6.9kg weight stacks. The main stack weighs 9 kg.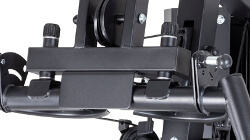 Dual-purpose exercise arms
Thanks to a sophisticated locking system, you can adjust the exercise to two different positions, switching from a chest press to a pec deck in seconds. All you have to do is release the locking pin. This machine allows you to shape your pecs in two different ways.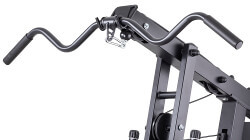 Upper pulley
Focus on your core and strengthen your abs through lat pulldowns. Keep increasing the weight until your abs are rock hard. You can also exercise on the pull-up bar.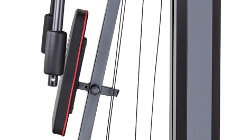 Adjustable backrest
You can adjust the position of the backrest to make your workout as comfortable as possible.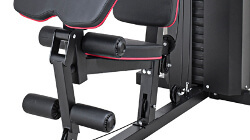 Leg extension/curl station
The leg extension/curl station with soft foam roller pads allows you to exercise your legs.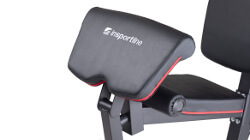 Adjustable bicep curl preacher pad
The removable, height-adjustable bicep curl preacher pad makes this machine extra special.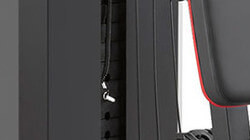 Safety lock
Safety lock secures the weight stack system in position, allowing for a safe and comfortable workout. There's also a cover that soundproofs the weight stack section.

Technical description:
Multi-purpose home gym
Various stations for full body workout
Adjustable exercise arms chest press/butterfly -40 ° (inwards) and + 20 ° (outwards)
Adjustable weight stack system
Cover for soundproofing weight stack section
Height-adjustable bicep curl preacher pad
Adjustable backrest position
Compatible with single-handed and leg/wrist strap extensions (included)
Safety lock
High-quality steel frame with stable base
Weight stacks: 99 kg (13 x 6.9 kg + 1 x 9 kg) / 200 lbs.
Dimensions: L 185 cm x W 126 cm (including top pulley) x H 213 cm
Bearings in pulleys: 6202Z, outer diameter 35 mm, inner diameter 15 mm, width 11 mm
Load capacity: 136 kg (300 lbs.)
Seat height: 54.1 cm
Width of back frame: 90 cm
Category: H (EN 957) – home use
Training stations:
Chest press
Pec deck
Tricep pushdown
Lat pulldown
Seated cable rows
Standing cable rows
Leg extension
Leg curl
Bicep curl preacher pad
Lunges with weights
Adduction/abduction
Front raises          
Extended 10-year warranty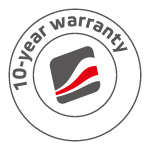 Recommended by Petr Kopřiva, the inSPORTline coach:
Strengthening your stabilization muscles will help you reduce longterm back pain.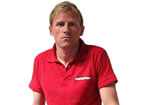 Exercised body areas: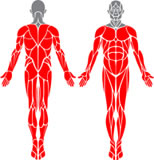 Home Gym inSPORTline Profigym C75 - Documents to download
Home Gym inSPORTline Profigym C75 - Product parameters
Weight limit (kg)
By observing the weight limit of the product, you significantly increase its service life and prevent it from wearing down prematurely. It is not recommended to exceed this limit.
136 kg
Maximum user height
not limited
Butterfly with back support
yes
Butterfly with chest support
no
Pick-up roller (upper)
yes
Pick-up sitting with chest support
yes
Biceps pulley - with support
no
Arm raises (shoulders)
yes
Adduction and abduction (thighs)
yes
Cable exercises (abdomen)
yes
Home Gym inSPORTline Profigym C75 - alternatives -
all in stock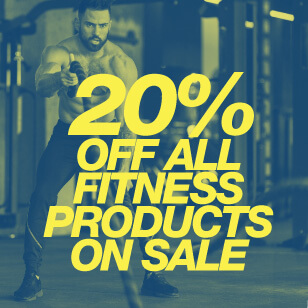 Home Gym inSPORTline Profigym C75 is included in the following categories: