Home Gym inSPORTline ProfiGym C95
120kg weight limit, up to 91kg in weights, crossover cables, durable structure, high stability, ergonomic backrest.
Recommended accessories
Description
Parameters
Alternatives (8)
Home Gym inSPORTline ProfiGym C95
The Home Gym inSPORTline ProfiGym C95 is a high-quality, multi-purpose home gym station that offers more than 100 different exercises that will help you effectively exercise your entire body. The steel structure with a frame profile of 50x100mm allows for a 120kg weight limit and excellent stability. To strengthen your arms and back muscles, you can use the upper pulley. To exercise your legs, you can use the leg extension/leg curl, and to simulate rowing movements, you can exercise with the lower pulley. 
The Home Gym inSPORTline ProfiGym C95 also features crossover cables which can be adjusted to 7 positions, allowing for a number of additional exercises. Other advantages include soft padding, ergonomic backrest or anti-slip handles. The flexible steel cables allow for smooth and quiet running. The resistance is simply adjusted up to 91kg (13 x 7kg). All of the above makes the Home Gym inSPORTline ProfiGym C95 a popular and sought-after product for home use.
Technical description:
High-quality home gym
Allows users to perform variety of exercises in different positions
Steel structure with 50x100mm frame profile
Durable surface coating
Adjustable crossover cables – 7 positions
Adjustable arm – 9 positions
Adjustable seat – 4 positions (height from ground: 48 – 58cm) 
Adjustable backrest – 4 positions
Ergonomic backrest
Anti-slip handles 25mm in diameter
Flexible, steel cables
Easy resistance adjustment
High stability
Weights: 91kg (13 x 7kg weight blocks)
Padding thickness: 4cm
Dimensions: length-186 x width-165 x height-213cm
Weight limit: 120kg
Weight: 172kg
HC category (EN957) – suitable for home use
Exercises stations:
Butterfly, back supported
Sitting shoulder presses, back supported
Upper pulley pulldown
Lower pulley (rowing simulation)
Sitting pulley pulldown
Leg extension
Leg curl
Home Gym inSPORTline ProfiGym C95 - Documents to download
Home Gym inSPORTline ProfiGym C95 - Product parameters
Weight limit (kg)
By observing the weight limit of the product, you significantly increase its service life and prevent it from wearing down prematurely. It is not recommended to exceed this limit.
120 kg
Weight
The total weight of the product.
172 kg
Maximum user height
not limited
Butterfly with back support
yes
Butterfly with chest support
yes
Pick-up roller (upper)
yes
Pick-up sitting with chest support
yes
Biceps pulley - with support
no
Arm raises (shoulders)
yes
Adduction and abduction (thighs)
no
Cable exercises (abdomen)
no
Home Gym inSPORTline ProfiGym C95 - alternatives -
all in stock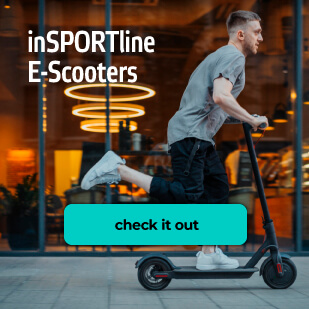 Home Gym inSPORTline ProfiGym C95 is included in the following categories: