Treadmill inSPORTline Lavister
Best treadmill in terms of price and quality, with which you can quickly get in shape and get rid of excess pounds. Speed up to 14 km / h, quiet engine, pause function and the possibility of folding.
Recommended accessories
Description
Parameters
Alternatives (8)
Video (6)
Treadmill inSPORTline Lavister
Treadmill inSPORTline Lavister is an affordable treadmill for home use. If you want to get in better shape, burn calories or just perform regular physical activity in the comfort of your home, you are in the right place.
 

A quality running board is a must
Lavister has a spacious running board measuring 130 x 41 cm. In combination with the high-quality Silent Block suspension, running will be a real joy. You won't have to force yourself to run on Lavister, you will look forward to it!
 


High speed, low decibels
The 1.5 HP engine run the treadmill up to 14 km/h. But you don't have to worry, the minimum speed is 1 km/h and you can set it in regular steps exactly according to your needs. Despite the high power, the engine runs quietly and you will not disturb your surroundings during exercise.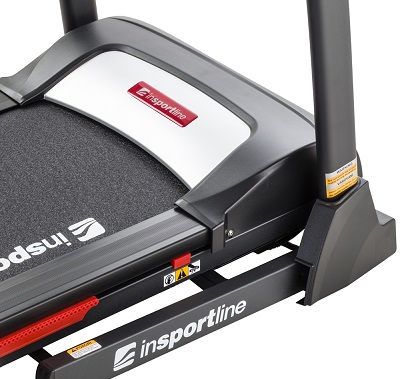 Little space? No problem!
It doesn't matter if you don't have room to spare at home. After training, the Treadmill  inSPORTline Lavister can be folded with a simple movement and move with transport wheels.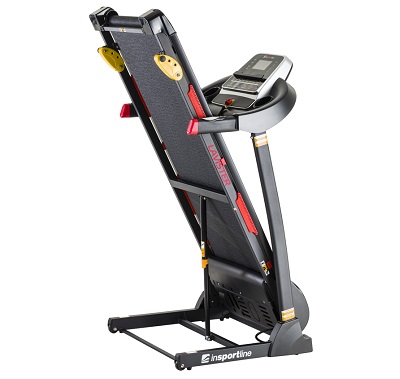 Full equipment for home running
The robust construction guarantees a high load capacity of 120 kg. Along with the possibility of manual adjustment of the incline of the treadmill, the treadmill for home use really lacks nothing. There must be bottle holders for the necessary refilling of liquids. A nice bonus is the holder for a tablet or phone and a socket for an audio cable (3.5 mm jack) in combination with powerful speakers. You will not be so bored even during marathons.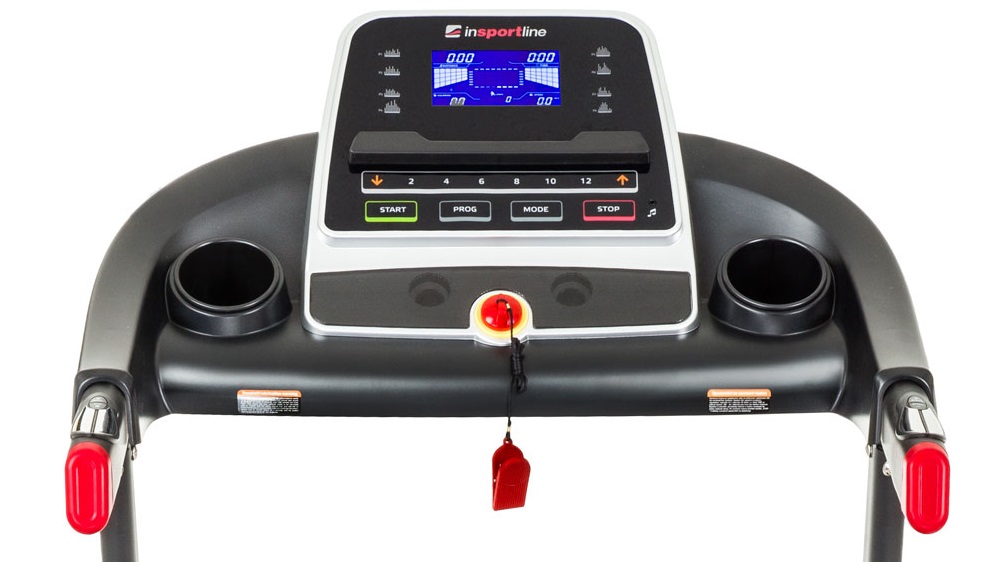 Programs even for the demanding
On the clear backlit LCD display you will be able to choose from 12 preset programs with different levels of difficulty. Of course, there is a manual program in which you set up the load with the buttons on the handles yourself. In combination with heart rate sensors in the handles, you can perfectly adapt the training to your needs. In addition to the heartbeat, the display will also show you the current speed, kilometers traveled or the length of the exercise.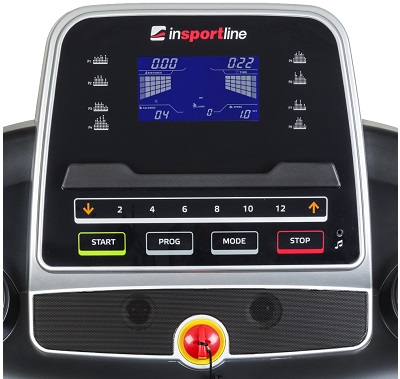 Technical description:
motor output
1.5 HP
running deck dimensions
130 x 41 cm
inclination
manual
number of inclination levels
2
maximum inclination
2° (3.5 %)
speed
1 - 14 km/h
suitable for walking
maximum of 2 hours at 6.5 km/h

After that it is recommended to take at least 15 min pause

total number of programs
13
pre-set programs
12
user programs
no
HRC program
no
manual program
yes
heart rate frequency sensors
yes
bottle holder
yes
tablet holder
yes
transport wheels
yes
system to compensate for uneven floor
yes
suspension
Silent Block
safety key
yes
chest strap receiver
no
chest strap included
no
audio input
yes
folding frame
yes
dimensions
h127 cm x w72 cm x l164 cm
dimensions while folded
h148 cm x w72 cm x l92 kg
weight limit
120 kg
weight
49 kg
power input
220V, 230V
category
HC (dle EN957)
use
home
Recommended by Petr Kopřiva, inSPORTline Fitness Coach
Regular training improves your physical fitness, helps you lose weight and strengthens your cardiovascular system.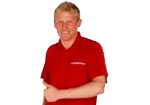 Lukáš Rosol, a professional Czech tennis player, recommends running on inSPORTline treadmills.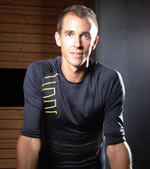 Treadmills help you focus on these areas: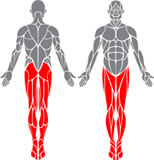 Treadmill inSPORTline Lavister - Documents to download
Treadmill inSPORTline Lavister - Product parameters
Motor output
The higher the output, the higher the user weight limit. Treadmills with high output can also move faster.
1.50 HP
Deck inclination
Running deck inclination is one of the most important aspects of a treadmill. The outmost majority of motorized treadmills feature electronic inclination. Cheaper models either have fixed or manually adjusted inclination.
manual
Inclined manually.
Number of incline levels
States the number of available incline levels.
2
Running deck length
Generally speaking, the longer the running deck, the more comfortable exercise the treadmill provides. For taller people, minimum recommended running deck length is 140 cm. Running decks on professional treadmills are suitable for everyone.
130 cm
Suitable for walking
max. 2 hours without pause
After a certain amount of time in walk mode, the drive can start overheating. That's why there's a time limit for using ealking speed continuously.
Total number of programs
The total numner of pre-set and user programs, manual mode and HRC program (if applicable).
13
Number of preset programs
12
User programs
User programs are programs that can be set according to the requirements of the user and saved into the memory of the treadmill's console.
0
Heart rate frequency sensors
yes
Tablet holder
A tablet holder doesn't have to be used only for a tablet. You use it to prop up a book, magazine or a mobile phone.
yes
System for adjusting to uneven surface
no
Suspension
Silent Block
Flexible and absorbing elastomer pads in the frame of the running deck.
Safety key
A necessary part of every treadmill - a magnetic safety with a clip attached to your clothing that, when pulled out, immediately stops the treadmill.
yes
Audio jack
If the treadmill features an audio jack (3.5 mm), you can connect it to your phone and replay music through inbuilt loudspeakers.
yes
Height when unfolded
127 cm
Width when unfolded
72 cm
Length when unfolded
164 cm
Height when folded
148 cm
Treadmill type
Treadmills without motor are moved via the force created by the user's legs and subsequent inertia. Motorized treadmills feature and electric motor that moves the running deck. On these treadmills, you can adjust the running speed at will.
Motorized
Features electric drive that allows you to choose the speed of the running belt.
Weight
Generally speaking, the heavier the treadmill, the more robust it is and the longer its service life. The weight of professional treadmills can far exceed 100 kg.
49 kg
Power Source
Most treadmills are powered via 220/230V outlet. Treadmills without motors only require batteries for their control panels.
220V, 230V
Class
Category according to EN standard: H (Home use) for home use, S (Studio) for commercial and club use. The letters A, B and C denote the presicion of data measurement.
HC (EN957)
Treadmill for home use with lower precision display. Not suitable for commercial use.
Intended use
Home treadmills are suitable for home use only. The higher-quality club treadmills can be used in hotels, school gyms, public gyms, etc. Commercial treadmills can be used anywhere, mainly in professional commercial fitness centres.
home
Only suitable for home use.
Treadmill inSPORTline Lavister - alternatives -
all in stock
Treadmill inSPORTline Lavister is included in the following categories: