MAX SPORT Sports Supplements
MAX SPORT specializes in high-quality nutrition supplements suitable for the general public.
These supplements will help you maintain a healthy lifestyle and supply your body with nutrients, vitamins and minerals.
MAX SPORT products are developed with three key elements in mind – quality, taste and price.
Quality
Their partnerships with SPORT DIAG, a sport-diagnostic centre, and the Slovak University of Technology help to optimize the products. They use the best local or European ingredients. The nutrient bars are made in one the most modern plants in Slovakia that adheres to the highest standards.
Taste
MAX SPORT products are not only beneficial to your body, but also tasty. The customers can therefore buy a healthy snack that tastes great at the same time.
Price
MAX SPORT's mission is to offer quality nutrition supplements to the widest group of active people possible. The products are suitable for everyone – professional or recreational athletes, fitness centre customers, runners, cyclists, mountain-climbers, tourists and skiers.
more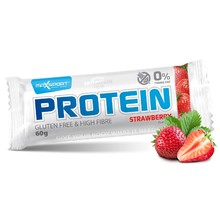 Protein Bar MAX SPORT GF
Suitable before and after any sports activity, speeds up growing of muscles and their …