Joint Supplements
The body is under strain during every physical activity. The most affected areas are joints. NUTREND decided to focus on this problem and developed a series of effective nutrition supplements that provide complex nutrition and protection for burdened joints, ligaments and tendons.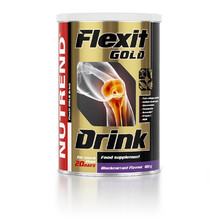 Joint Nutrition Nutrend Flexit Gold – 400g
Unique instant drink with 9 active substances, excellent nutritional and physiological …
Buy
Nutrend Flexit Gelacoll 180 st.
Gelatin capsules containing a highly effective concentrated hydrolyzate of gelatin and …
Buy
Nutrend Flexit Gelacoll 360st
Gelatin capsules containing a highly effective concentrated hydrolyzate of gelatin and …
Buy