How to Choose a Paddleboard?
…or everything you need to know about paddleboards. Once you try it, you won't be able to stop. As we say – when you're bored, hop on board!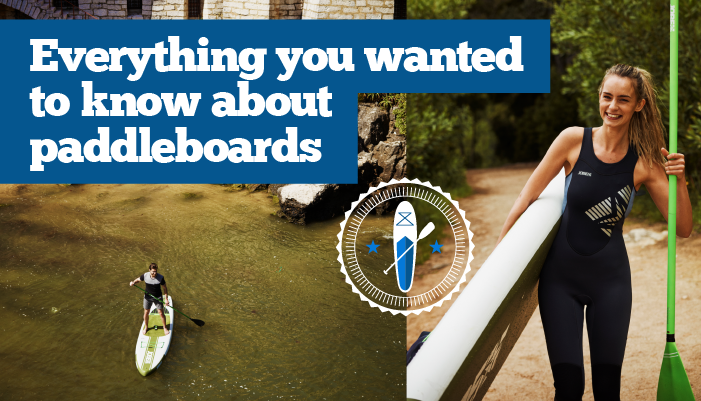 What Exactly Is Paddleboarding?
Paddleboarding, sometimes called SUP (Stand Up Paddle), is an increasingly popular water sport originating on Hawaiian Islands. It is currently one of the quickest-growing sports in the world. The basic movement consists of paddling while standing on a floating board, hence the abbreviation SUP. Originally, it was seen as a sort of substitute for surfing when the conditions were less than ideal, with no wind to speak of. At first, the use of a paddle has become widespread among surfers in the early 60s, when they were photographing tourists that were learning how to surf. Thankfully, the sport became immediately popular and now we have an opportunity to discover the beauty of paddleboarding for ourselves on our (relatively calm) ponds, rivers, channels and lakes.
Who Is Paddleboarding For?
Paddleboarding is really suitable for anyone who likes to discover new things, embark on water-related adventures, improve their endurance and physical fitness or just relax with their friends by the water. Because the boards are easy to handle, versatile and variable, paddleboarding is suitable for people of all ages:
Children and juniors will take to the simplicity and playfulness of paddleboarding and use the opportunity to have fun.
Adults will appreciate the extraordinary experiences, discovery of new places or improving their physical fitness.
Seniors will be enthusiastic about the simplicity of the steering movement and the opportunity to relax in an active way outdoors.
Paddleboarding is also ideal for all yoga enthusiasts that are not afraid to discover extraordinary places for exercising and relaxation. The special yoga SUPs are designed for exercising while floating on water. Their shape ensures maximum stability necessary for practicing yoga.
Paddleboarding is popular even among fishermen. These specialized boards are wider and are equipped with a cooling box and fishing rod holders. All these features will provide you with uninterrupted fishing trips in your favourite bay or on a calm river.
How to Begin?
Learning to SUP is not hard and anyone can master the basics in just a few minutes. With inflatable paddleboards Jobe and Aztron, you'll get all you need and can immediately head out to the nearest body of water. Accessories include a pump, paddle and even a leash. All of this can be easily packed along the whole board into a waterproof bag that is a part of the package as well. All you need to do is to shoulder the backpack and head out. There's nothing stoping you.
A few tips for beginners:
the wider... - Starting on an Allround SUP is easier. The wider the board, the more stable it is.
always use a leash - A leash is vital in any situation, so mind your safety and always have it on.
start carefully - Kneel in the middle of the board and slowly stand up with your knees slightly bent.
change sides and hands - To paddle in a straight line, change from side to side regularly (don't forget to change your handle on the paddle and the position of your hands as well).
engage your core - Don't engage just your arms, use your core too to make paddling more efficient. It'll be easier for you to maintain stability.

What Does Paddleboarding Offer?
An active way to spend your free time
Leisure and relaxation outdoors
Easy control and versatility
Improving your physical fitness and sense of balance
An ideal way to shape your figure and lose weight
A fun way to travel on water and to explore secluded places
An active way to spend time with your family and friends
Gaining new and unforgettable experiences
No need to attend expensive courses to learn how to paddle
Read more:
10 ways paddleboarding benefits your health!
Stress, fats, little strength in your body, bad endurance – solve all these problems with a paddleboard. 
A Few Notes on Paddleboard Classification:
Based on their attributes, paddleboards can be sorted into several categories:
Surfing SUP – Their shape may remind you of a bent banana with very rounded sides to perfectly follow the surface of the wave and to maintain direction. The paddle blade's surface is smaller to allow for faster paddling. The boards are wide and short, ensuring high stability and good manoeuvrability. However, they are not suitable for calm waters. Because of their shape, they put up too much resistance in water and move slowly.
Race SUP – They are designed for the highest speeds and maximum effectivity. Their shape is long and narrow; however, the displacement is sufficient for maintaining stability. They are used on open sea, as well as calm waters. These paddleboards are suitable for speed races among a group of paddleboarders or for individual endurance training. They are not really suitable for beginners, since they are more difficult to manoeuvre with and their narrow shape isn't as stable.
Touring SUP – These paddleboards are suitable for all adventurers that want to discover the world and are tempted by the not-yet-discovered places along the shores, sometimes making trips that last several days. The narrower board is designed for longer trips, exploring and faster paddling.
Flatwater SUP – They are wider and bigger than the other models and suitable for relaxing trips on lakes, ponds or calm rivers. They are designed for stability. These paddleboards come in handy when you want to spend your time with friends and family in an active way. They also help you evenly strengthen your body and improve your physical fitness.
Allround SUP – These multi-purpose paddleboards are a design mix of all the other models. They are average in both length and width. The round tip is slightly raised so that the paddleboard does not put up resistance in calm waters. Thanks to their dimensions, allround paddleboards can maintain stability both in calm waters and waters with mild waves. The central fin is usually detachable so that the paddleboard can move even in shallow waters.
Wind SUP – They present a perfect fusion of paddleboarding and windsurfing. There are 4 straps to secure your legs to the board and a quick-release mechanism for attaching the sail. In windless conditions, you can detach the sail and use the board for standard paddleboarding. Wind SUP is an ideal choice for everyone who wants a compact and easily transportable board for the entire family.
Yoga SUP – The paddleboards in this category are distinguished by their extreme stability and great width that provide ideal conditions for yoga exercising on water. They also have the advantage of holds on either side of the board that can be used to join more paddleboards together.
Fishing SUP – Fishing paddleboards are made especially for fishermen
Did you know ...?
That spending one hour paddleboarding burns more calories than running or cycling?
Paddleboarding is also more fun, so you burn excessive fats while enjoying yourself on water.
What Parameters to Consider When Choosing a Paddleboard?
→ weight limit - this should be your main focus when picking out a paddleboard. The weight limit denotes the maximum weight the paddleboard can bear without losing its shape and stability. Under a greater load the paddleboard sinks lower, making paddling more difficult.
→ volume -  the paddleboard's volume is given in litres and denotes the ability of the board to carry its load. That means that the bigger volume a paddleboard has, the higher is its weight limit. Short boards compensate with greater width and length. On the other hand, if a long board is thin and narrow, it can have a lower volume.
→ length - choose the length according to the intended purpose of your new paddleboard.
Short boards (under 270 cm) are great for surfing and compared to long boards can be more easily manoeuvred.
Average-length boards (270 – 370 cm) are versatile and can be used for multiple purposes.
Wide boards (over 78 cm) – they are more stable and easier to stand on, but slower.
→ width – the width of the board is an important factor when it comes to the stability of the paddleboard. Generally speaking, the wider paddleboards are more stable.
Narrow boards (74 – 76 cm) – faster but less stable
Wide boards (over 78 cm) – they are more stable and easier to stand on, but slower
→ structure – Based on their structure, paddleboards are divided into two categories:
inflatable paddleboard – their great advantage is their compactness and easy transport in a special bag. They are also more durable should they come in contact with rocks or the shore (solid boards are more vulnerable in this area). The outer layer is mainly made of double-layered PVC that creates an air pocket.
Our tip!
In our e-shop, we offer mainly the inflatable paddleboards, because we recognize their many advantages. 
We want to provide the best products on the market.
 
solid paddleboard – they maintain their shape and move more easily through water. Their disadvantage is that they are more prone to damage should they come into contact with solid objects. They are also more difficult to transport, since extra space is needed.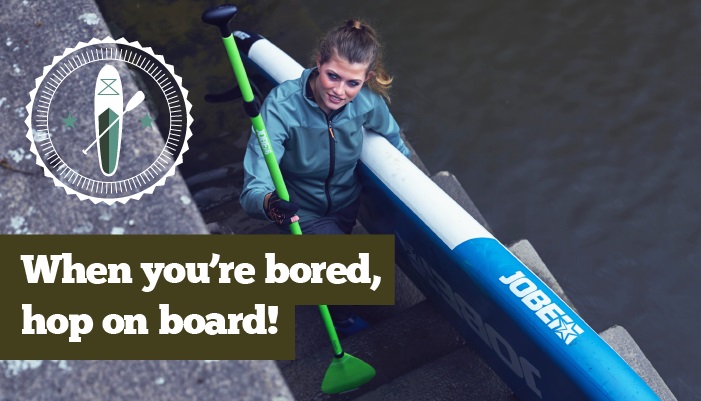 Paddleboard Equipment:
Good paddleboard equipment is as important as the board itself. Some equipment is already part of the package of your chosen paddleboard, some is recommended to make the most of your experiences while paddleboarding.
1. Paddle
Paddles are as essential part of paddleboarding gear, as an engine is essential to the running of your car. There are several materials and lengths to choose from.
Paddles according to their compactness:
| | |
| --- | --- |
| Fixed paddles | Foldable paddles |
|  + maximum rigidity that will allow you to quickly transfer your strength into the paddle |  + their length can be adjusted |
|  + designed for racing and wave surfing |  + they can be elegantly folded to a compact size |
|  + the length of the paddle must be carefully chosen according to the user's height |  + suitable for users of various heights |
|   |  + suitable for beginners |
Paddles according to their material:
| | | | |
| --- | --- | --- | --- |
| Aluminium paddles | Fibreglass paddles | Bamboo paddles | Carbon paddles |
|  + durability and low price |  + low weight |  + return to nature |  + durability and long service life |
|  + plastic blade |  + adjustable size |  + extremely light |  + extremely light |
|  + adjustable size |  + suitable for slightly advanced users |  + adjustable size |  + plastic blade |
|  + suitable for beginners |   |   + for slightly advanced and intermediate users |  + both adjustable and fixed |
|  - heavier      |   |   |  + for advanced users |
|   |   |   |  - higher price     |
Paddle length:
The correct paddle length is very important for a proper stance, posture and paddling technique
A paddle should ideally reach a bit under the wrist of the raised arm (generally, the paddle should be approximately 15-20 cm higher than the user)
If more people will be using the paddle, it is better to pick an adjustable one

2. Leash
The leash securing your leg to the board is a standard safety measure to ensure the paddleboard doesn't float away from you. If the water conditions suddenly get worse or if you become fatigued, the safety leash can save your life. Therefore, it is recommended you do not embark without securing it tightly.

There are two basic types of leashes:
| | |
| --- | --- |
| Coiled leash | Straight leash |
|  + they are always on your paddleboard, never in the water |  + they are submerged in the water |
|  + the leash cannot get tangled with the paddle |  + freedom of movement over the entire board |
|  + suitable for calm waters |  + suitable for more turbulent waters |
3. Waterproof case
An essential accessory for those who often take their mobile phone or personal ID with them on water and want to make sure they will stay dry and safe.
4. Pump
You get a pump for free with most of our paddleboards. Because of the high pressure inside, not all pumps are suitable for paddleboards. If you do not have a pump, we recommend purchasing one from our e-shop.
5. Clothing
With JOBE clothing, you'll never need any "special" clothes to wear to the water. Our clothing has a casual, urban look and is therefore suitable for city life, as well as water activities. Start the day in your favourite coffee shop and spend the time before lunch paddling and discovering new places on rivers or channels. Have a delicious lunch afterwards, as a reward for the physical exercise. All this with only one set of clothes! Other great advantage of JOBE clothing is their quick-drying material. You'll get dry only a few minutes after getting out of water so you don't have to spend uncomfortable moments cold in wet clothing. Because JOBE clothing is also suitable for paddling in unfavourable weather conditions (drizzle, wind, low temperatures), you can almost double the length of the paddling season. This way, you can spend almost the entire year practicing your hobby – from early spring to the end of November).
Advantages of JOBE clothing:         
  + low weight           
  + urban look 
  + high permeability               
  + quick-drying material              
  + effective sweat and moisture release               
  + comfortable fit 
  + almost doubling the paddling season (from March to November)
6 Basic Safety Rules of Paddling:
Just like with other sports, even in paddling you need to follow basic safety precautions. Be careful and abide by the rules below:
It is recommended you wear a life jacket while paddling. Even the best swimmers may need a life jacket to keep them from drowning. A comfortable life jacket fits well and will not limit your movement.
 
Paddle with friends! It is best if you embark at least in two. Not only is it safer, but it's also more fun.
 
While paddling, be mindful not only of your own safety, but of the safety of others as well. Do not paddle in the vicinity of swimmers or other vessels. Always follow appropriate safety precautions.
 
If you use the paddleboard on white water, we recommend you use a special helmet designed for this purpose. Securing your leg to the leash is however not advisable, since it can get caught.
 
If you plan on paddling on the sea, seek information about the high and low tide first. Do not underestimate warnings from the locals – great waves, wind and sea undercurrents can prove to be too much even for an experienced paddleboarder. Always use the leash on the sea so that you won't lose your paddleboard. Only advanced and more experienced users should try to surf.
 
Always assess your health condition and consider all possible risks before you start. If you find yourself in a dangerous or life-threatening situation, immediately contact the authorities.
Why Should You Choose a JOBE or Aztron Paddleboard? 
The JOBE brand, originating in the Netherlands, with roots in the USA, guarantees genuine quality and customer satisfaction. Their paddleboards are made using the special "heat bonded" technology - the boards are not glued manually, but with a laser (manually glued paddleboards use up to 15 layers of glue, which creates visible bubbles and makes them less durable). Thanks to the "drop-stitch" laser gluing technology, the paddleboards are one third lighter and more durable than products from competing brands. They are also almost indestructible.

Aztron paddleboards are unique mainly for their double-chamber design. Thanks to the two chambers and inner "walls", the board is firmer, doesn't bend and it's riding qualities are similar to the solid paddleboards made of polycarbonate. The two chambers also make paddling safer because if you have an accident and the air starts to leak, you can still make it ashore with the second chamber.
With a JOBE or Aztron paddleboard, you'll also get:
Foldable and adjustable aluminium paddle
Pump with a pressure gauge for easy inflation
Practical waterproof case (for transporting your paddleboard or carrying your stuff)
Safety leash for securing your leg to the board
Did you know...?
That steering the paddleboard is so simple and intuitive, you don't have to pay for expensive courses to learn how to do it. Everything can be learned in the first couple of days by trying it out or watching internet courses. In our experience, an average-skilled sportsperson will learn how to control the paddleboard within 2 hours.  
You Might Be Interested In: