10 Ways Paddleboarding Benefits Your Health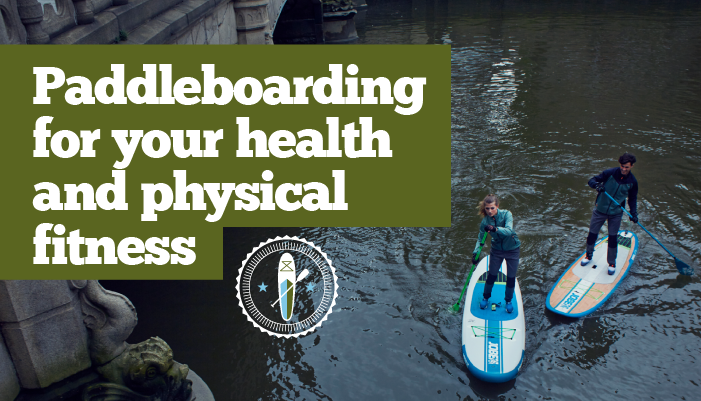 Paddleboarding is easier than windsurfing and much more fun than regular running or swimming. You do not need to attend any overpriced courses, you can use almost any body of water and you'll gain plenty of new, unforgettable experiences. Beside these advantages, paddleboarding is also beneficial to your physical and mental health.
Here are the 10 biggest benefits of paddleboarding:
Balance improvement – A straight balanced posture is incredibly important for paddling on a SUP. It requires inner stability and strength in your legs to maintain balance.
 
Exercising the entire body – According to medical studies, paddleboarding is a sport where you engage almost all the muscles in your body. Leg muscles, abdominal muscles and back muscles help you find the centre of balance and stabilize your body, while your arms and shoulders make the paddleboard move. What's more, paddleboarding is an aerobic exercise that benefits your heart and lungs.
 
Low health risk – You engage all parts of your body evenly, so it is very unlikely you will injure your tendons or joints. Because the sport is so undemanding, it is suitable for any kind of sportsperson that has been injured and doesn't want to give up sports while convalescing.
 
Stress relief – Water naturally calms the body and helps you relieve stress. Once you add calming ambient noises, such as sliding through water, your own heart beat or the singing of birds, you'll suddenly feel all the accumulated stress of past days slip away, leaving you feeling free and full of energy.
 
Strengthening your body – Once you spend an entire day on a paddleboard, you'll probably feel tired and slightly aching all over your body. However, pain after a physical activity is a natural defence that will leave you stronger next time and help you continuously strengthen your body.
 
Cardio exercise – If you spend enough time on water, paddlebaording becomes a perfect tool for cardio exercising. A race with your friends is a perfect motivation to increase your heart rate frequency, while having lots of fun in the process.
 
Useful while recuperating – Because paddleboarding poses low health risk, the paddleboard can be also used as an ideal convalescing tool for people recovering from an injury or people with any other health trouble. Paddleboarding is very easy on your muscles and joints.
 
Endurance improvement – Once you learn the basic principles of paddleboarding, you'll begin to improve your physical fitness and endurance with every moment spent on water.
 
Better cardiovascular health – Considering that paddling on a SUP takes approximately the same toll as running, aerobics or cross-training, it has been proven that this activity also reduces the risk of a heart attack, stroke and similar problems.
 
Connection with nature – Spending time in nature is a great way to relax. It also has a positive effect on your mental state. And spending your time on the sun significantly increases your vitamin D intake.
Did you know…?
That spending one hour paddleboarding burns more calories than running or cycling? 
Paddleboarding is also more fun, so you burn excessive fats while enjoying yourself on water. 
You Might Be Also Interested In: 
Are you not sure which type of paddleboard to choose? See our guide.
Visit our store in Prague to try a paddleboard out for yourself.