Elliptical Trainer inSPORTline inCondi ET600i
Electronically controlled, connected with tablet, for long-term exercise, HRC program, chest strap, sturdy, quiet running.
Recommended accessory
Description
Parameters
Video (1)
Elliptical Trainer inSPORTline inCondi ET600i
The Elliptical Trainer inSPORTline inCondi ET600i is an electronically controlled X-trainer with an 8kg rear flywheel. The machine is very stable, the pedal spacing is 20cm and the stride length is 39cm. It also features the BeltDrive system, ensuring quiet and smooth running.
The machine can be connected with a tablet or iPad via Bluetooth and the iConsole+ app. That makes it possible to go running in the Alps and the most famous cities and places all around the world. Thanks to Google Maps and Street View you can follow the route on the display of your tablet.
Another advantage of the Elliptical Trainer inSPORTline inCondi ET600i is a sophisticated computer with an LCD display and a number of useful functions. On the display you can see all the important information, e.g. time, speed, distance, burned calories. The trainer also features as many as 12 user modes and HRC programs through which you can adjust the resistance to the optimal heart rate and thus make the exercise more effective. All of the above, along with the 200kg weight limit and practical transport castors, makes the Elliptical Trainer inSPORTline inCondi ET600i a popular elliptical trainer for home, gym and commercial use.
Technical description:
Stable
Magnetic brake system
8kg flywheel (rear)
Electronic resistance regulation
BeltDrive system providing quiet and smooth running
16 exercise modes
3-piece cranks with sealed bearings
Stride length: 39cm
Pedal spacing: 20cm
Handlebar pulse sensors
Compatible with iConsole+ app
LCD display
Computer functions: time, speed, distance, heart rate, calories (Watt), body fat, scan
12 preset programs (4x beginner, 4 advanced, 4x athlete)
Manual program
Cardio program, or HRC (adjusting resistance to current heart rate)
WATT program (performance control program – 0-350W)
Body Fat program (measures body fat – BMI)
Recovery program (fitness test)
Chest strap included (Polar)
AC power adapter
Uneven floor adjustment
Transport castors
Gear ratio: 1:11.4
Height limit: 200cm
Weight limit: 200kg
Dimensions: length: 140 x width: 64 x height: 170cm
Weight: 60.8 kg
Power supply: 9V adapter, 1.3A for AC 100V-240V
SC category (EN957 standard), suitable for home, gym and commercial use
Programs and iConsole+ app possibilities:
Quick start – resistance can be adjusted during exercise
12 preset training programs with different profiles
HRC control program
WATT control program
GYM center – iRoute: route setting via Google Earth/Street View, My Favorites; resistance adjusts according to the terrain
Enables sharing of exercise data on Facebook and Twitter
Exercise data memory
iConsole+ app requirements:
Tablet with Android: display resolution: 1280*800, Android 4.0 and higher, Bluetooth
Cell phone with Android: display resolution: 1920*1080, 1280*800, 1280*760, 800*480, Android 2.2 and higher, Bluetooth
iOS: 5.0 and higher, iPhone 5S, iPhone 5C, iPhone 5, iPhone 4S, iPhone 4, iPhone 3GS, iPad Air, iPad 4, iPad 3, iPad 2, iPad, iPad Mini, iPod Touch (5th generation), iPod (4th generation), iPod (3rd generation), Bluetooth
Wi-Fi internet connection recommended
First check that your device is compatible with the application
High stability and weight limit
The main advantage is its sturdy structure made of high quality materials, providing high stability and weight limit up to 200kg. As a result, the machine can be used in smaller gyms as well as clubs.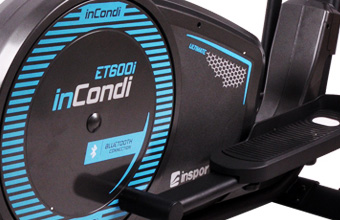 Variety of programs
The elliptical trainer offers a number of preset programs with different resistance modes. It also features special programs and functions such as FAT (measures your body fat – BMI) or HRC which adjusts resistance to the optimal heart rate. Then there are the user modes (12) for quick setting.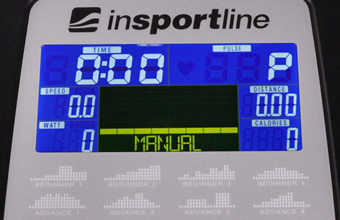 Tablet connection
iConsole+ app is the main advantage. This app allows you to adjust exercise programs, save exercise data and share them on social networks or to check your current performance data (heart rate, speed, distance, etc.).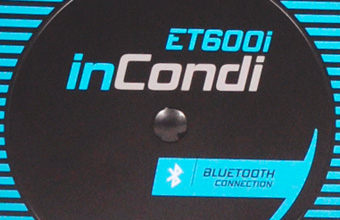 Run anywhere in the world
The iConsole+ app allows you to preset any route anywhere in the world in Google Maps. As a result, you can run in the streets of Paris, on the beaches of Miami or in the Krkonoše Mountains. When running, you can see the real pictures as you know them from Street View. The resistance adjusts to the actual terrain, making the running even more realistic. Get to know the world from the comfort of your home.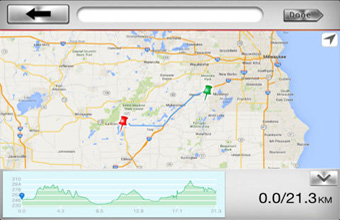 K tomuto produktu Vám nabízíme prodlouženou záruku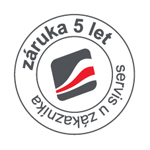 Recommended by Petr Kopřiva, InSPORTline Fitness Coach
Regular training improves fitness level, supports weight loss and strengthens cardiovascular system.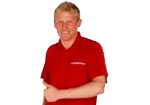 Exercised body parts: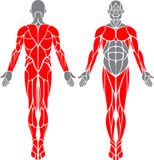 Elliptical Trainer inSPORTline inCondi ET600i - Documents to download
Elliptical Trainer inSPORTline inCondi ET600i - Product parameters
Weight of fly wheel (kg)
8 kg
Resistance control
Electronic
Braking system
Magneto-electric EMS
Bearings
Self lubricated rolling bearings
Floor disparity control
yes
Handlebar heart rate sensor
yes
Maximum user height
200 cm
Set up dimensions
145 x 64 x 170
Usage category
Home / club use
Elliptical Trainer inSPORTline inCondi ET600i is included in the following categories: