Treadmill inSPORTline Mendoz 4v1
4in1 (treadmill, twister, vibrating belt, push-up grips), 6pcs of dumbbells, a number of pre-set programs, quiuet running.
We are sorry, but this product is no longer available.
Recommended accessories
Description
Parameters
Alternatives (6)
Video (3)
Treadmill inSPORTline Mendoz 4v1
Treadmill inSPORTline Mendoz is a quality 4in1 treadmill, designed for home use. Apart from the treadmill, it is possible to use twister for toning your hips, handles for push-ups or a vibration belt that is suitable for activebody relaxation, reducing excess fat or muscle tension. The treadmill is equipped with rich functional and safety equipment, including a sophisticated computer, a 2.0 HP motor or adjustable inclination. Robust construction with a running deck of 123 x 42 cm and 120 kg weight limit ensures maximum comfort while exercising. Computer offers several preset programs, user programs and a manual program, which allows you to adjust the treadmill according to your wishes. The treadmill inSPORTline Mendoz also has a function for measuring body fat, which only works when lay your hands on the heart rate sensors in the handles. Within moments, you learn how much fat is in your body. Backlit LCD screen displays a variety of useful information, including speed, time, distance, heart rate and calories burned. Other benefits of the treadmill inSPORTline Mendoz include silent running, heart rate sensors in handles, a set of dumbbells, maximum speed of 16 km / h, wheels for easy transport or a power saving mode that activates after 10 minutes of inactivity. Thanks to these excellent properties the treadmill inSPORTline Mendoz has become a popular and sought-after home-use model.
Key attributes:
compact folding frame that saves space
twister, dumbbell set and vibration belt included
plethora of programs
easy-to-read backlit display
inbuilt speakers (3.5 mm audio input) and a fan
energy saving mode (after 10 minutes of inactivity)
computer displays: distance, time, speed, heart rate, calories, lift
Technical description:
motor output
2 HP
running deck dimensions
123 x 42 cm
running deck lift (inclination)
electronic
number of inclination levels
15
maximum deck inclination
4.5° (7.87 %)
speed
1 - 16 km/h
suitable for walking
maximum of 30 minutes under 6 km/h


after that it is recommended to take at least 15 min pause

total number of programs
103
pre-set programs
99
user programs
3
HRC program
no
manual program
yes
heart rate sensors
yes
bottle holder
yes
tablet holder
no
transport wheels
yes
system for adjusting to uneven surface
yes
suspension
Shock Absorbing System
safety key
yes
chest strap receiver
no
chest strap part of the package
no
audio input
yes
folding frame
yes
dimensions
h131 cm x w74 cm x l168 cm
dimensions while folded
h154 cm x w74 cm x l85 cm
weight limit
120 kg
weight
71 kg
power input
220V, 230V
category
HA (according to EN957)
use
home
Other stations:
twister
 vibration belt
grips for push-ups
dumbbell holders
Twister:
weight limit: 100 kg
diameter: 25 cm

Vibration belt:
engine power: 900W
vibration frequency: 10 Hz
1 type of belts
1 level of intensity control
Dumbbells:
3 pairs of dumbbells weighing 0.5, 1 and 1.5 kg

Maximally quiet operation
The treadmill is equipped with special anti-noise struts SAS (Shock Absorbin System) which reduce noise during impact. Low noise is also achieved by soundproofing of engine, which  exudes almost no sound. Thanks to this, the treadmill is maximally quiet and well suited even to apartments.



Rich programme equipment
The treadmill offers a wide range of preset programs (99) from which each user can choose. At the same time it is completed with special programs, such as the FAT function that is able to measure the fat content in your body. Of course there are also user programs(3), which save your time when changing the settings of individual users.

 Accessories
In addition to the running part, the treadmill is also equipped with additional posts and accessories that can be used. Among the most important accessories belongs a Vibration belt, which is suitable for active relaxation of the body, reduction of excess fat or muscle tension. Three pairs of dumbbells are among other useful tools, as well as a rotating disc or push-up handles.

 High comfort
The treadmill is equipped with a simple fan that will make walking or running more pleasant. At the same time there is a bottle holder, wheels for easy transport or a safety lock that stops the treadmill in the event of collision.
Extended warranty applies to this product.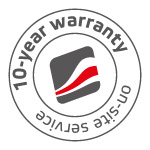 The weather can't stop you!
Lukáš Rosol, a professional Czech tennis player, recommends this treadmil.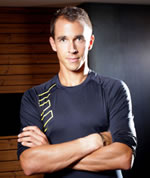 Treadmills help you focus on these areas: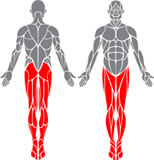 Treadmill inSPORTline Mendoz 4v1 - Documents to download
Treadmill inSPORTline Mendoz 4v1 - Product parameters
Motor output
The higher the output, the higher the user weight limit. Treadmills with high output can also move faster.
2 HP
Deck inclination
Running deck inclination is one of the most important aspects of a treadmill. The outmost majority of motorized treadmills feature electronic inclination. Cheaper models either have fixed or manually adjusted inclination.
electronic
The running deck is inclined electronically thanks to the motor. The most convenient option.
Number of incline levels
States the number of available incline levels.
15
Running deck length
Generally speaking, the longer the running deck, the more comfortable exercise the treadmill provides. For taller people, minimum recommended running deck length is 140 cm. Running decks on professional treadmills are suitable for everyone.
123 cm
Suitable for walking
in intervals
The drive of the treadmill can tend to overheat when used for walking for too long. Therefore, its use for walking exercises is limited.
Total number of programs
The total numner of pre-set and user programs, manual mode and HRC program (if applicable).
103
Number of preset programs
99
User programs
User programs are programs that can be set according to the requirements of the user and saved into the memory of the treadmill's console.
3
Heart rate frequency sensors
yes
Tablet holder
A tablet holder doesn't have to be used only for a tablet. You use it to prop up a book, magazine or a mobile phone.
no
System for adjusting to uneven surface
yes
Suspension
Shock Absorbing System
Large flexible and absorbing elastomer pads in the frame of the running deck.
Safety key
A necessary part of every treadmill - a magnetic safety with a clip attached to your clothing that, when pulled out, immediately stops the treadmill.
yes
Audio jack
If the treadmill features an audio jack (3.5 mm), you can connect it to your phone and replay music through inbuilt loudspeakers.
yes
Height when unfolded
131 cm
Width when unfolded
74 cm
Length when unfolded
168 cm
Height when folded
154 cm
Treadmill type
Treadmills without motor are moved via the force created by the user's legs and subsequent inertia. Motorized treadmills feature and electric motor that moves the running deck. On these treadmills, you can adjust the running speed at will.
Motorized
Features electric drive that allows you to choose the speed of the running belt.
Weight
Generally speaking, the heavier the treadmill, the more robust it is and the longer its service life. The weight of professional treadmills can far exceed 100 kg.
71 kg
Power Source
Most treadmills are powered via 220/230V outlet. Treadmills without motors only require batteries for their control panels.
220V, 230V
Class
Category according to EN standard: H (Home use) for home use, S (Studio) for commercial and club use. The letters A, B and C denote the presicion of data measurement.
HA (EN957)
Treadmill for home use with high precision display. Not suitable for commercial use.
Intended use
Home treadmills are suitable for home use only. The higher-quality club treadmills can be used in hotels, school gyms, public gyms, etc. Commercial treadmills can be used anywhere, mainly in professional commercial fitness centres.
home
Only suitable for home use.
Treadmill inSPORTline Mendoz 4v1 - alternatives -
all in stock
Treadmill inSPORTline Mendoz 4v1 is included in the following categories: