Door Pull-Up Bar inSPORTline HR5004
Self-supporting pull-up bar with hanging parallel bars and extra straps! All you need to work out is a door.
Recommended accessories
Description
Parameters
Alternatives (1)
Video (1)
Door Pull-Up Bar inSPORTline HR5004
The Door Pull-Up Bar inSPORTline HR5004 will turn a doorway into a home gym. Not only can the pull-up bar be mounted on any protruding door frame, you can also attach parallel bars to it and expand your exercise options. Both the pull-up bar and the parallel bars offer a weight limit of 200 kg. The top bar features 4 foam grips while the bottom bar features plastic stoppers for attaching the bar to the door frame. 
You might also appreciate the straps with grips that you can hang on both the pull-bar and the parallel bars. And when you want to try something else, you can put the pull-up bar on the floor and use it for push-ups.
Since the grips can be folded up, you can store the pull-up bar anywhere – in the closet, under the bed or in the car.
Technical description:
Multi-purpose door pull-up bar with hanging parallel bars
Folding frame
Hanging parallel bars for additional exercise options
Foam grips on pull-up bar and parallel bars
Can be put on floor and used for push-ups
Door frame protection
Comes with two straps with grips
Recommended doorway width: 70 – 92 cm
Door frame protrusion: 1.5 – 2 cm
Recommended door frame width: 9 cm
Weight limit: 200 kg
Dimensions:
Pull-up bar dimensions: 103 x 26 x 35 cm
Pull-up bar collapsed dimensions: 103 x 26 x 4 cm
Pull-up bar side grip length: 12 cm
Pull-up bar inside grip length: 10 cm
Grip diameter: 4 cm
Plastic stopper length: 9 cm
Parallel bars dimensions: 100 x 75 x 35 cm
Distance between parallel bars: 53 cm
Distance between pull-up bar and bottom parallel bar grips: 95 cm
Strap length: 95 cm
Entrance depth: 12 - 21 cm
Recommended by Petr Kopřiva, inSPORTline Fitness Coach
Regular training improves your physical fitness, helps you lose weight and strengthens your cardiovascular system.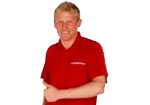 Exercised body areas: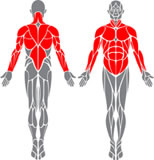 Door Pull-Up Bar inSPORTline HR5004 - Product parameters
Pull-up bar type
Multi-purpose, Telescopic
Width at the curved part
75 cm
Door Pull-Up Bar inSPORTline HR5004 - alternatives -
all in stock
Doorway Pull Up Bar inSPORTline Double Lift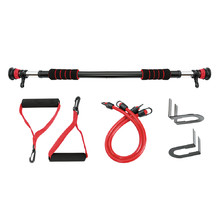 More info
Door Pull-Up Bar inSPORTline HR5004 is included in the following categories: