What Type of Pull-Up Bar to Choose?
Pull-up bars are simple, yet extremely effective exercise equipment that should be a part of every home gym. They will help you effectively exercise your upper body using your own weight, from the comfort of your home no less. A pull-up bar will help you strengthen mainly your abs, chest muscles, arms and back. Pull-ups are generally considered to be the best way to gain strong and broad back, without having to go to a gym on a regular basis. However, even bigger advantage of pull-up bars is that they can be placed almost anywhere – on ceilings, walls, wall bars, or even in your doorframe – that's why they are suitable for small flats and other spaces with limited capacity. What's more, most models are very affordable, so don't hesitate and pick out your own pull-up bar with us. You will not regret it!

Before purchasing a pull-up bar, think carefully about where you want to put it. Take all necessary measurements carefully and use them to pick out the correct product for you. If you are considering buying a door pull-up bar and you have wooden doorframe, be aware of the risk of damage to your door. In such cases, it is better to get a wall pull-up bar that is drilled into your wall. If you have wall bars at home, you can buy a special pull-up bar that can be attached to them. However, be sure to measure the crossbar diameter so the it will fit. Other important attributes are the weight limit and quality of material and manufacture (most often recommended are steel bars with anti-slip surface).
As stated above, a bar selection depends mainly on where you want to place it. According to this, we divide pull-up bars into door pull-up bars, wall pull-up bars, ceiling pull-up bars and freestanding bars. Furthermore, we offer various parallel bars that provide even more ways to exercise. Think carefully about which option is the best for you.

Door Pull-Up Bars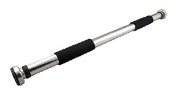 Door pull-up bars are a very practical equipment for toning the muscles of your upper body. These pull-up bars are either telescopic or can be hanged on the doorframe. You decide which suits your needs better. Some door pull-up bars are supplied with additional accessories, such as rubber handles or safeties to prevent the bar from getting loose. Besides strengthening your upper body, you also train and tone your stabilization muscles, which will, in the long term, help you reduce back pain. You can focus on different muscle groups by changing the distance between your hands when you are gripping the bar.
These pull-up bars are quick and easy to install – and they are as easily removed. This is an advantage, especially if you don't have much space at home, or for some reason can't drill holes into your wall. If you have wooden doorframes, it is not recommended to use the telescopic pull-up bar to avoid damage.

Advantages: no need to drill, saves space, simple installation, can be attached to both the upper and lower part of the doorframe
Disadvantages: incorrect attachment of the telescopic bar may result in damage if you have wooden doorframes

Read more about door pull-up bars >> here <<

Wall Pull-Up Bars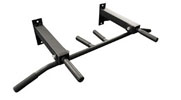 Wall pull-up bars are attached with screws and just as door pull-up bars, allow you to strengthen your back, arms and chest muscles with pull-ups and chin-ups. When picking out wall pull-up bars, you should pay attention to the distance between the grips, as well as their width. Choose a wall pull-up bar with parameters that will suit your needs the most. Some pull-up bars have multiple grip angle and distance options. So, think also about what muscle groups you want to strengthen. Wall pull-up bars are usually robust and have higher weight limit than door pull-up bars. The height of the pull-up bar is entirely up to you so you can adjust it completely according to your needs. Take note if screws and bolts are included in the pull-up bar's package.
In this category, you'll also find pull-up bars that can be hanged on wall bars. These pull-up bars don't have to be attached with screws, all you need to do is hand them onto the wall bars, either at the top or bottom part. Don't forget to measure the crossbar diameter to make sure your pull-up bar will fit.

Advantages: adjustable height, doesn't take up too much space, various types of grips
Disadvantages: after you affix it you cannot change its position again



Ceiling Pull-Up Bars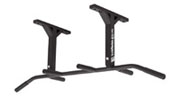 A ceiling pull-up bar is a pull-up bar you can use if your ceilings are high enough. This great fitness equipment needs to be firmly affixed through, to avoid unnecessary accidents or injuries. When you are not using it, you can use it to hang a punching bag or a suspension system. As with other pull-up bars, with a correctly attached ceiling pull-up bar you can also strengthen your arms and abdominal and back muscles. If you want to have straight and broad back and a powerful chest, regular exercising on a ceiling pull-up bar is the right way to go about it. These pull-up bars can have several types of grips, which will make your training more challenging. To affix the bar to the ceiling, you'll need a drill and wall plugs.

Advantages: can be placed nearly anywhere, you can use it to hang a punching bag or a suspension system, higher weight limit
Disadvantages: more difficult assembly



Freestanding Pull-Up Bars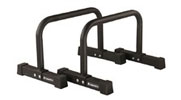 Freestanding pull-up bars have a robust frame that will help you effectively strengthen your whole body (the variety of exercises depends on a particular model – type, number of grips, etc.). Freestanding pull-up bars are stable enough to carry your entire weight even without being bolted down. This exercise equipment allows you to do chin-ups, push-ups, pull-ups and other exercises using your own weight. Many models also have a padded backrest and foam grips for better comfort during training. Freestanding pull-up bars naturally take up more space than wall or door pull-up bars – therefore you must carefully consider where to place it and if you even have enough room for it. If you have floating floors or other delicate surfaces, it is recommended to use a protection mat.

Advantages: more exercise variations, push-up extensions, some models have comfortable padding
Disadvantages: needs more space, difficult to move



Parallel Bars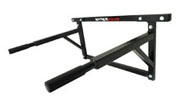 Parallel bars are surely familiar to you as a gymnastics equipment, but they are certainly not to be used only by professional athletes. As the name suggests, they are two horizontal bars placed parallel to each other at a certain distance. Depending on the type, some bars are connected to each other while others are not. If you don't want to buy freestanding parallel bars or don't have enough space for them, you can use parallel bars that are attached to the wall or smaller multi-purpose bars that are easy to carry from place to place. Parallel bars connected to each other have a more robust frame and therefore have higher weight limit. Training on parallel bars provides you with a wide range of exercises that strengthen various parts of your body and improve your coordination. Parallel bars are also suitable for outdoor fitness exercising, which has become a huge trend nowadays (some people even use climbing bars on playgrounds for this purpose). If you intend to use the parallel bars indoors, it is recommended to get a protection mat under it.

Advantages: effectively exercising the upper part of your body, improving coordination and endurance
Disadvantages: the more robust models are more expensive and need larger space

 
A which bar will you use?