inSPORTline Lotos Vibration Machine 3D
3D vibrations, adjustable time and vibration intensity, enlarged footplate, smaller handle bar spacing, silent run.
We are sorry, but this product is no longer available.
Recommended accessories
Description
Parameters
Alternatives (1)
inSPORTline Lotos Vibration Machine 3D
Vibration fitness machine inSPORTline Lotus is ideal for figure forming.
Works on the principle of vibrations that cause reflexive muscle contractions. Just 5 minutes while standing with knees slightly bent and the results will occur immediately.
Can practice the entire body. Individual exercises are described in detail in the instructions. Helps to quickly and effectively form the figure a reduce weight.
vibration increases the effectiveness of exercise up to three times
special massage pad with adhesive indentations increases blood circulation, relaxes and massages your feet, hands, buttocks, back..
assist quick recovery and regeneration after physical strain, sports or exercise
lotus machine is especially suitable as an initial or final phase of training for runners, inline skaters, cyclists, skiers ...
it can also be used to help to treat rheumatism and other diseases of bones and joints (only after consultation with a doctor)
improves circulation
works effectively in the treatment of pain and stiffness of joints and muscles
improves balance and coordination
effective at fighting cellulite
struggles against stress and depression
increases the production of growth hormone
Technical description of inSPORTline Lotos Vibration Machine:
motor power 200W
vertical vibrations
36 levels of vibration settings
amplitude of 6-8 mm
LED computer displays the program, time and speed
adjustment of time and intensity of vibration
weight: 30 kg
maximum load: 120 kg
surface of the pad: rubber pad adhesive indentations
part of the manual are instructions for exercises
dimensions: L67 x W64 x H140 cm
package dimensions: 128 x 31 x 25,5 cm + 71 x 71 x 24 cm
Category H (EN957 norm) - for home use
Extended 5-year warranty.
inSPORTline Lotos Vibration Machine 3D - Documents to download
inSPORTline Lotos Vibration Machine 3D - Product parameters
Vibrating deck dimensions
65 x 62 cm
Weight limit (kg)
By observing the weight limit of the product, you significantly increase its service life and prevent it from wearing down prematurely. It is not recommended to exceed this limit.
120 kg
Number of vibration speeds
36
Computer Control
Integrated
Dimensions when fully assembled
length x width x height
67 x 64 x 140
Weight
The total weight of the product.
30 kg
inSPORTline Lotos Vibration Machine 3D - alternatives -
all in stock
-31%
Vibration Machine VibroGym inSPORTline Charles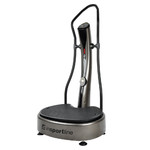 More info
inSPORTline Lotos Vibration Machine 3D is included in the following categories: