Rowing Machine inSPORTline inCondi RW600
Professional rowing machine with magnetic resistance, can be synced with app, long rail, HRC function, high weight limit.
Recommended accessories
Description
Parameters
Alternatives (2)
Video (1)
Rowing Machine inSPORTline inCondi RW600
The Rowing Machine inSPORTline inCondi RW600 is a professional rowing machine which allows the user to enhance their workout through a mobile app. It features a magnetic braking system which offers as many as 16 resistance modes (which you can switch between on a backlit LCD display). This rowing machine provides a versatile workout as it offers 12 preset profile programs, a virtual race against the computer and an HRC program, which (when used with a chest strap) adjusts the resistance to keep the user in the preset heart rate zone, thus allowing for a more effective workout and fat burning. Also related to your heart rate is the Recovery program which tracks your fitness based on how quickly your heart rate returns to normal after the workout. You may also appreciate the user program which you can fully adjust to fit your needs (including resistance).
During the workout, you can follow all the important information on the display: time, distance, strokes per minute, calories burned, average time (for a 500m race). On the display you can also see the graphic profile of your workout. The inCondi technology allows you to sync this rowing machine with your smartphone or tablet via Bluetooth and a mobile app. In the app you can control the machine from your mobile device. The main feature of the app is that it enables you to record your workout data and evaluate them. Moreover, based on your previous results, you can also plan your future workouts. Do not hesitate to share your successes with your friends on social media. And if you are looking for distractions during your workout, just go to the videos page or start browsing the Internet!
The Rowing Machine inSPORTline inCondi RW600 also features a folding frame and transportation wheels, which allow you to move the machine to a less populated area after your workout. The rail is 98.5cm long, making it suitable for users up to 2 meters tall (i.e. virtually everyone). The wide ergonomic seat of high-quality PU plastic and adjustable footrests with tightening straps allow for a comfortable workout. Built into the rail, the ball bearings ensure smooth seat movement. When the floor is uneven, you can adjust the height of the frame using the adjustable pads. Its sturdy structure allows for a 150kg weight limit, making the Rowing Machine inSPORTline inCondi RW600 perfect for commercial use.
Key features:
Sturdy rowing machine for commercial use
Electronically controlled magnetic resistance adjustment system
Backlit LCD display with tablet holder
Long rail with bearings
Folding structure saves space when not in use
Cable with foam handle grips
Wide, comfortable seat
inSPORTline is not a developer of the mentioned applications and does not accept responsibility for possible errors or incompatibilities of applications (in case of problems we are willing to help)
Computer displays: time, distance, calories burned, number of strokes, heart rate, strokes per minute, time per 500m
Tablet connection: Bluetooth 4.0
Programs and Fit Hi Way app options:
Quick start
Manual mode – allows you to set target time/distance
You can create and save your own user programs
HRC program – heart rate tracker
Program which allows you to race against computer (RACE)
You can watch videos, listen to music or browse Internet during workout
Allows you to record your workout data and evaluate them
Track your progress (within days, weeks or months)
Share your results on social media
Technical requirements:
Operating system: Android 4.3 and above, iOS 9.0 and above
In other cases, it is recommended to try and see if the machine is compatible with your device
Download the app on iTunes or Google Play (Android, alternative link)
Technical description:
| | |
| --- | --- |
| Flywheel weight | 4kg |
| Resistance operation | electronic |
| Number of resistance modes | 16 |
| Rail length | 98.5cm |
| Braking system | magnetic |
| Number of programs | 18 |
| Preset programs | 12 |
| User programs | 1 |
| HRC program | yes |
| WATT program | no |
| Recovery program | yes |
| Body Fat program | no |
| Manual program | yes |
| Heart rate monitor | no |
| Transportation wheels | yes |
| Uneven floor surface adjustment | yes |
| HR belt receiver | yes |
| HR belt included | yes |
| Audio input | no |
| Folding structure | yes |
| Overall dimensions | 233 x 56.5 x 102cm |
| Folded dimensions | 118.5 x 56.5 x 192.5cm |
| Max. User height | 200 m |
| Weight limit | 150kg |
| Weight | 45kg |
| Power source | AC adaptor |
| Category | S (EN957) |
| Use | commercial |
Extended 10-year warranty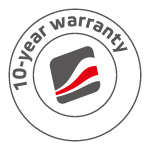 Recommended by Petr Kopřiva, the inSPORTline coach:
Strengthening your stabilization muscles will help you reduce longterm back pain.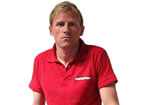 Rowing machines help you focus on these areas: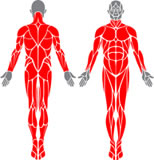 Rowing Machine inSPORTline inCondi RW600 - Documents to download
Rowing Machine inSPORTline inCondi RW600 - Product parameters
Flywheel weight (kg)
4 kg
Resistance regulation
Resistance in cardio trainers can be regulated by one of two ways - manual and electronic control. Manual regulation is the cheaper option and works on a simple basis. With a regulation knob, the user sets the resistance manually, usually in the range of 1-12 levels.
Electronic
Resistance is adjusted directly on the control panel, or automatically through various programs.
Weight limit (kg)
By observing the weight limit of the product, you significantly increase its service life and prevent it from wearing down prematurely. It is not recommended to exceed this limit.
150 kg
Braking system
Cardio trainers use several types of braking systems.
There are trainers with magnetic, friction, calliper or EMS braking system. The magnetic and EMS systems that work through moving a magnet closer to the flywheel are used most often.
Magnetic
Magnets move towards or away from the flywheel, adjusting resistance. Great advantage is its silent running.
Number of resistance levels
16
HRC
HRC program (Heart Rate Control) is a function that automatically adjusts resistance to keep your heart rate in optimal frequency. This makes exercising more effective, especially if your aim is to burn fats.
yes
Compensating for uneven floor
yes
Maximum user height
200 cm
Weight
The total weight of the product.
45 kg
Technology
Treadmills inSPORTline inCondi feature a technology that connects them to smart devices via an app. This way, you can experience training on a whole new level. You can also save your results and follow your long-term statistics.
inCondi
inSPORTline inCondi trainers are able to connect with your smartphone or tablet. A special app then allows you to enjoy your training on a whole new level, for example through virtual tracks all over the world! The apps also save your training data and follow long-term statistics.
Rowing Machine inSPORTline inCondi RW600 - alternatives -
all in stock
Rowing Machine inSPORTline Air Master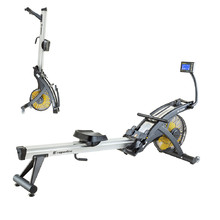 More info
Rowing Machine inSPORTline Yakapa
More info
Rowing Machine inSPORTline inCondi RW600 is included in the following categories: