Massage Chair inSPORTline Adamys
Luxury massage chair for intensive full-body massage, adjustable position, heating function up to 50°C, MP3 player, 3D massage, time-limited programs.
Recommended accessories
Description
Parameters
Alternatives (2)
Massage Chair inSPORTline Adamys
Massage Chair inSPORTline Adamys is a top-quality product in its category, offering many functions and massage modes. With high-quality upholstery made of synthetic leather practically indistinguishable from genuine leather, and a solid frame with the weight limit of 150 kg, maximum comfort is guaranteed. The main advantage of synthetic leather is its easy maintenance that ensures a long service life. The massage mechanism consists of 79 massage airbags, 21 massage valves and 8 added magnets with the strength of 300 gauss. Massage Chair inSPORTline Adamys is features a function for automatic detection of massage points according to the user's body curves. The automatic adjustment of massage airbags takes a few seconds at the beginning of each massage. Its silent and smooth operation is powered by a 200W motor.
Massage Chair inSPORTline Adamys can massage full body or separate areas. You can choose from 6 massage modes, including favorite massage techniques such as shiatsu, kneading, tapping and knocking. These massage modes are available in several individual programs. The program menu offers several automatic massage functions (comfort, ease, relieving aches, full-body air pressure, waist stretch) and manual programs with 3 massage options (fixed, focused area, full-body). Compared to lower-class models, this chair is equipped with a magnetic massage function, known also as "magnet therapy". The magnetic field penetrates deep tissue and stimulates nerves and cells, making your massage even more comfortable and effective. What's more, Massage Chair inSPORTline Adamys offers the advanced 3D massage mode, where individual massage heads and airbags move in all directions (up-and-down, from back-to-front and side-to-side). You'll get the feeling of being massaged by multiple hands at the same time. If none of the programs meet your needs, you can create and save your own personal setting (up to 3 user programs). This will allow you to enjoy your favorite massage just with a single press of a button. For maximum comfort and the best massage experience, Massage Chair inSPORTline Adamys allows you to adjust the speed and intensity of the massage. This function can be used during any massage mode or manual program.
Massage Chair inSPORTline Adamys offers not only high-quality massage modes but other useful functions as well, such as the automatic infrared back and knee heating. The chair can be heated up to 40°C-50°C which is the optimum temperature for warming the human body. Thanks to its wavelength, long-wave infrared radiation is absorbed by the human body, where it activates cells and stimulates metabolism. Other important features include transport wheels for easy manipulation, playing MP3 via your phone, built-in speakers or a VFD display that shows all necessary data. You can enjoy all these advantages in the comfort of your home and whenever you feel like it! The chair is ideal for relieving tension from your muscles, recovering after exercising, after a difficult day at work or for relaing while listening to your favourite music. Enjoy a luxury massage with Massage Chair inSPORTline Adamys.


Technical description:
Professional massage chair
Full-body or focused area massage
Adjustable backrest/footrest
Back heating function (40°C-50°C)
79 massage airbags
21 massage valves
8 magnets (300 gauss)
Transport wheels
LED indicator on armrest
VFD display
Speakers
MP3 musci can be played via a smartphone
Power: 200 W
Maximum power usage: 200 W
Dimensions: length 138 x width 93 x height 135 cm
Maximum chair length when in use: 220 cm
Material: synthetic leather
Weight limit: 150 kg
Weight: 130 kg
Programs and functions:
3D massage function (up-and-down, from back-to-front and side-to-side massage roller motion)
5 massage methods (shoulder grasping, kneading, flapping, shiatsu, kneading & flapping)
5 automatic massage functions (comfort, ease, relieving ache, full air pressure, waist stretch)
3 manual massage modes (partial, fixed, full-body massage)
5 massage intensity levels
5 massage speeds
Adjustable position of massage heads / adjustable speed / massage options
Memory for 3 massage modes
Automatic massage point detection
Knee heating
Beneficial effects:
Relieves fatigue
Stimulates blood circulation
Relieves muscle fatigue
Relieves strained muscles
Relaxation
Relief from aching muscles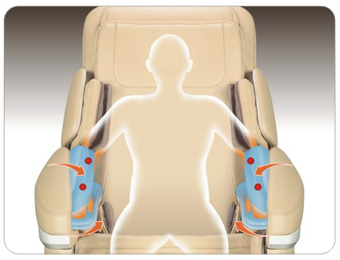 Forearm Air Massage
Every armrest contains 28 massage airbags. During air massage, the airbags rhythmically squeeze massage points and stimulate especially the Sanli and Neiguan points. Such massage is relaxing and revitalizing.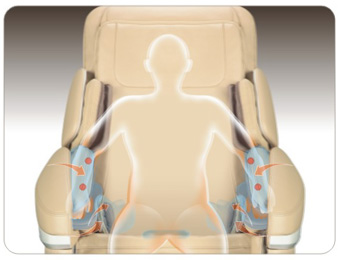 Backside Air Massage
The airbags inside the seat are anatomically shaped and provide a complex massage of your glutes and thighs. Thanks to the combination of airbags and vibrations, the massage stimulates the Huanzhong and Changqiang points, relieving muscles in this area and stimulating regeneration.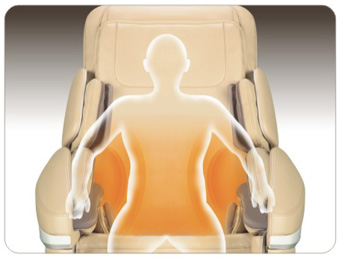 Backrest Heating
The heating function uses long-wave infrared radiation that is transferred through carbon fibre. The backrest is heated up to 40°C – 50°C, which is the optimum temperature for warming your muscles and relieving your pain. Thanks to its wavelength, the infrared radiation penetrates deep tissue, activating calls and stimulating metabolism.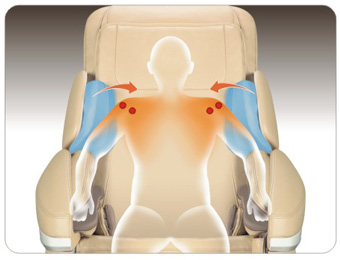 Arm and Shoulder Massage
There are 4 airbags in the shoulder area that, combined with smart massage heads, stimulate the Jianliao and Naoshu points. During the massage, your muscles will be stretched and relieved of tension.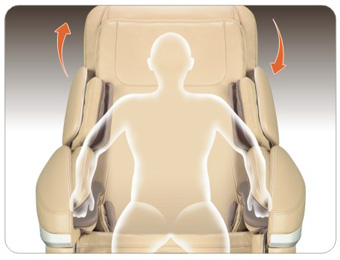 Adjustable Headrest
The headrest is anatomically shaped and adjustable in the range of 10 cm so it will fit any user and ensure maximum comfort during a massage.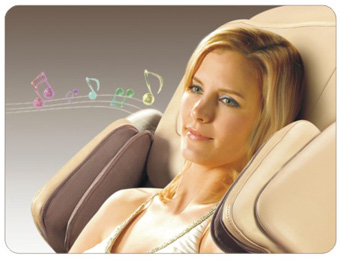 MP3 Music
Listening to music is an innovative and interactive type of therapy that will bring you tranquil and an ease of mind. Combining music with massage will charge you with new positive energy. 
Waist Stretch
This sophisticated function has a basis in chiropractic. During the massage, your spinal vertebrae are pulled a bit away from each other, which prevents osteoporosis releases the pressure put on intervertebral discs and nerves. This way, you will effectively reduce the problems combined with slipped discs and stiff muscles.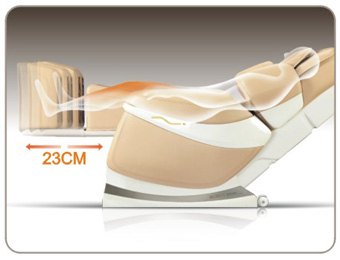 Adjustable Calf Area and Knee Heating
To provide the optimal body position for a massage, the foot rest can be adjusted according to the user's height (maximum length of the calf area is 23 cm). Thanks to carbon fibre, the knee area is heated, stimulating acupuncture points LiangQiu and DuBi. This has a beneficial effect on knee joints and blood circulation in your legs.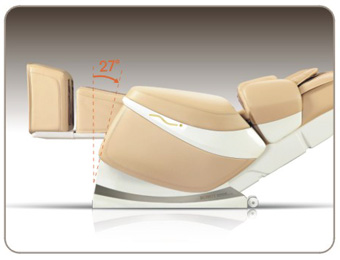 Armrest inclination
Armrests are automatically adjusted according to the inclination of the backrest. This allows for an optimal comfortable position of all supports and massage rollers.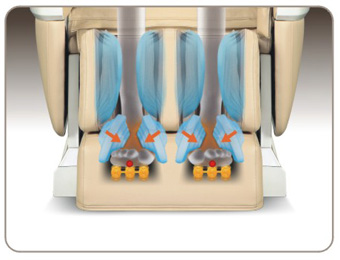 Thai GUA SHA Foot Massage
This advanced technology simulates professional foot massage that focuses on your feet and the Yongquan point. Whether you choose lower or higher intensity, you will always feel maximally relaxed afterwards.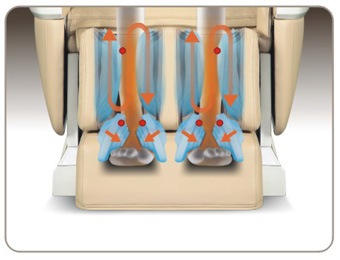 Air Massage of Your Legs
Airbags in various shapes are placed around your calves, ankles and feet. The massage stimulates the Sanli, Taixi and Kunlun points. Airbag massage relaxes the body and brings balance between the body and mind.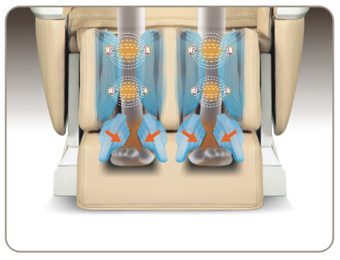 Magnet Therapy
The chair features 8 permanent magnets (300CC) that stimulate reflex pints in on your calves and charge your body with new energy. 
Recommended by Petr Kopřiva, inSPORTline Fitness Coach
Regular training improves your physical fitness, helps you lose weight and strengthens your cardiovascular system.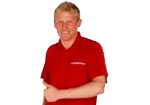 Exercised body areas: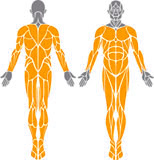 Massage Chair inSPORTline Adamys - Documents to download
Massage Chair inSPORTline Adamys - Product parameters
Material
The chair frame is usually made up of a combination of metal, wooden and plastic materials. The upholstery itself is then made of either genuine or synthetic leather. Genuine leather has a more luxurious look, however it is much harder to maintain. Synthetic leather is often hard to distinguish from genuine leather and its  maintenance is much easier. Synthetic leather also provides longer service life, which is why it is recommended for more frequent use.
Synthetic leather
Počet masážních airbagů
79 pcs
Počet masážních ventilů
21 pcs
Počet přednastavených programů
U některých křesel lsi ze zvolit z již předem nastavených zabudovaných programů. Tyto programy jsou speciálně nastavené přímo pro aktuální potřeby uživatele. Z výběru je například program r
elaxační, ulevující, fitness, mírný či aktivní, ale tyto programy se můžou lišit křeslo od křesla.
8
Number of massage types
Every massage chair provides several types of massage via airbags and valves. These are for example Shiatsu massage, kneading, grasping, flapping, 3D massage and others. The number of massage types varies from chair to chair, but generally it can be said that the higher the class of the massage chair, the more massage types it offers.
6 pcs
Magnet therapy
Magnet therapy is provided via magnets inbuilt into the massage chair, especially in the area of calves and feet. Their magnetic field penetrates tissue and reaches cells and nerves, making the massage more effective and comfortable. Th emagnet strength usually ranges between 300 - 500 gauss.
yes
Number of massage intensity levels
With every massage chair, you can set the massage intensity. It is the amount of pressure the massage heads and valves put on your body. Massage chairs usually have three intensity settings (low, average and high). However, higher-class chairs can feature more intensity levels.
5
Počet rychlostí masírování
5
Vyhřívaná podložka
Takováto křesla mají vyhřívání zajištěno infračerveným zářením, které poskytuje teplo a působí na uživatele jako termální terapie. Infračervené částice zlepšují prokrvení, což efektivně uvolňuje napětí ve svalech. Teplotu vyhřívání je možno si nastavit přesně podle potřeby.
yes
Vyhřívání nohou
Vyhřívání nohou je zajištěno infračerveným zářením, které působí jako termální terapie. Infračervené částice zlepšují krevní oběh, což efektivně uvolňuje napětí ve svalech. K vyhřívání je použito karbonové vlákno, díky čemuž je možné teplotu regulovat.
yes
Výkon
Obecně platí, že čím vyšší výkon, tím kvalitnější a intenzivnější průběh masáže, ale tím i dražší křeslo.
200 W
Weight limit (kg)
By observing the weight limit of the product, you significantly increase its service life and prevent it from wearing down prematurely. It is not recommended to exceed this limit.
150 kg
Weight
The total weight of the product.
130 kg
Dimensions when fully assembled
length x width x height
138 x 93 x 135
Computer memory
Some massage chair models offer the option of saving user's settings, whether it is airbag positions, types of massage or programs. After saving the settings, you can enjoy your favourite massage anytime. All you need to do is press a button. This parameter denotes the number of possible user programs.
3
USB port pro MP3
S USB portem pro MP3 můžete relaxovat v masážním křesle společně s poslechem vašich nejoblíbenějších písniček.
yes
Massage Chair inSPORTline Adamys - alternatives -
all in stock
Massage Chair inSPORTline Mateo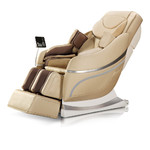 More info
Massage Chair inSPORTline Sallieri
More info
Massage Chair inSPORTline Adamys is included in the following categories: