Massage chair inSPORTline Cortela
A comfortable, powerful and easily adjustable masage chair that, in addition to a luxurious massage, will also give you aromatherapy and light therapy - in addition to music!
Recommended accessories
Description
Parameters
Alternatives (5)
Massage chair inSPORTline Cortela
Discover new dimensions of peace and quiet with the inSPORTline Cortela massage chair ! In addition to a completely relaxing full-body massage, you will also enjoy soothing aromatherapy , beautifying light therapy and magnetic foot massage! Thanks to the automatic detection of the body position, the chair adapts to each body part and thus fully engages a respectable set of massage heads and airbags. In addition to 6 preset programs, you also have 6 types of massage available for manual mode, including 3D massage , in which the massage rollers penetrate deeper into the muscles.

With 5 levels of speed and intensity settings , you will definitely find the ideal combination outside the offered programs. Then just save it as one of the 3 optional modes . You can also involve warming your back and calves for better muscle relaxation. In addition, when massaging the legs, it is possible to adjust the backrest in the range of 22 cm , so that even high people will not feel cramped in the chair.

In addition, the extremely useful Zero Space function ensures that you do not have to manipulate the chair at all. After adjusting to the horizontal position, it simply "slides" forward and there is no need to decide whether to move it away from the wall - 5 cm is enough! For absolute body relaxation, there is also the popular Zero Gravity function. And if you like to listen to your favorite music during the massage, just connect the built-in speakers to your mobile and that's it! With massage, heating, aromatherapy and blue light, you can indulge in the same luxury as in a professional salon!


Light therapy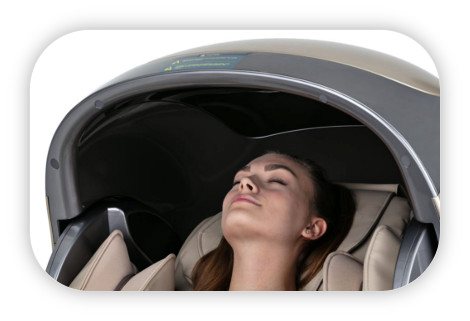 Thanks to the unique tilting roof lined with LED diodes, you can add light therapy to your home comfort! The blue light that radiates from the roof calms your skin and at the same time takes care of eliminating bacteria and suppressing inflammation . It is mainly used for acne problems or to soothe the skin after excessive sunbathing.


Aromatherapy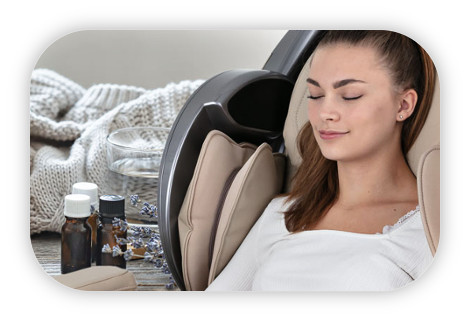 In addition, you can look forward to aromatherapy under the dome! The chair includes a special cartridge with fragrant oil , thanks to which you will immediately rise to other realms! Thanks to the rounded shape of the roof, the scent will completely surround you and you can fully immerse yourself in a calm and relaxing atmosphere.


Zero Space & Gravity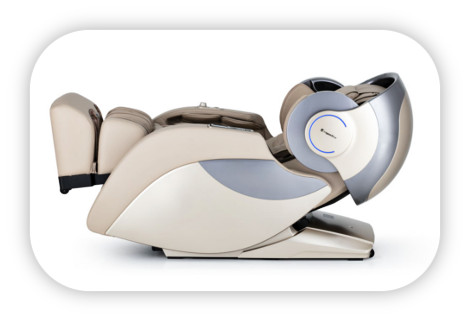 With the Zero Space program, you don't have to think about how much the chair tilts back during the massage - it doesn't tilt, it just slides forward and you don't have to manipulate it in any complicated way. Just place the chair at least 5 cm from the wall and that's it!
With the Zero Gravity function, you can switch to the so-called " weightlessness " position with a single button, where your weight is distributed so as to relieve your spine as much as possible from the influence of gravity. This will reduce the pressure exerted on the heart, expand the capacity of the lungs and support the blood circulation of the legs.


Magnetic massage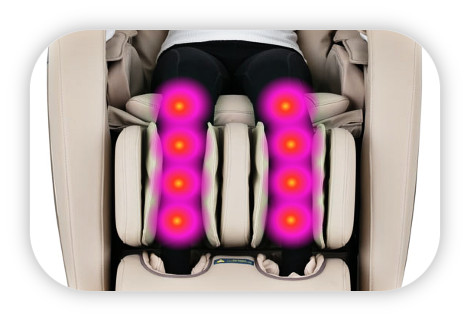 For the purposes of magnetic massage , the chair is equipped with a total of 8 permanent magnets in the calf area, which supply the body with the missing energy by stimulating the reflex points. Each generates a magnetic field of approximately 800 gauss.


Back and leg heating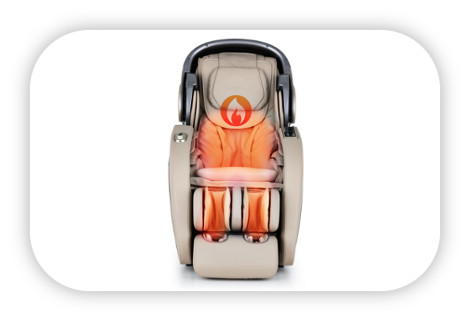 Heating takes place on the basis of long-wave infrared radiation, which uses carbon fiber as a source. The backrest and calf area are heated to a maximum of 40 ° C - 50 ° C , which is the optimal temperature for complete warming of the muscles and at the same time pain relief. The massage is then more effective and pleasant, in addition, the heating can be used to quickly restore heat in the event of a cold.


3D Bluetooth speakers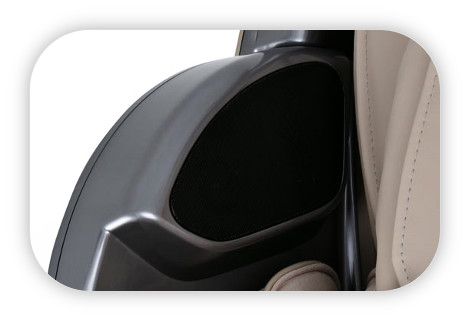 Listening to music is another interactive way of therapy, thanks to which you will gain inner peace and well-being. The combination of music and massage will charge you with an influx of new, positive energy. You can connect the chair to your mobile phone or other smart device and turn on your favorite music. Plus, you have a rechargeable USB slot so your phone never runs out of power.

Programs and features:
3D massage (movement of massage heads upwards, downwards, forwards and backwards)
6 types of massages (kneading, tapping, kneading and tapping at the same time, shiatsu massage, shoulder massage, 3D massage) with 

massage heads

6 preset massage programs (comprehensive full body massage, buttocks and hips massage, sleep support massage, neck and shoulder massage, back and waist massage, relaxing full body massage)
5 manual programs (focused, local, whole back area, upper back, lumbar area)
back and calf heating with carbon fibers (40 °C - 50 °C)
light therapy (blue light)
magnetic foot massage
5 levels of massage speed adjustment
5 levels of massage intensity
Pause function - pauses the current massage and allows you to move away from the chair
Zero Gravity feature
Zero Space feature
position / speed / mode setting for individual massages
memory for 3 custom programs
automatic seat detection

Technical description:
massage chair with the possibility of using aromatherapy, light therapy and magnetic foot therapy
anatomical curvature of the backrest and seat with a massage area of 95 cm
adjustment of the position of the footrest, including the possibility of adjusting its length in the range of 20 cm
backrest position adjustment
adjustable headrest - the pillow can be folded or unbuckled from the chair and thus regulate the intensity of the resistance
armrest adjustment
high-quality synthetic leather forms a firm and non-slip surface that resists friction and impact
back and leg heating (40-50 ° C)
74 massage airbags
Controls with LCD display
Bluetooth 3D speakers - play music directly from your phone
wheels for easy transport
side LCD lights to evoke the right mood
USB port for charging smart devices
power: 260 W
dimensions after assembly: d 150 cm x W 810 x H 141.5 cm
package dimensions: 3 boxes , 1x 150 x 83 x 97 cm / 132 kg, 1x 73 x 36 x 131 cm / 26 kg, 1x 58 x 54 x 58 cm / 30 kg
maximum chair length during massage: 220 cm
seat width: 52 cm
material: synthetic leather
load: 150 kg
weight: 168 kg
It is not a medical device - it is not intended for the muscle treatment and other diseases
Massage chair is not suitable for people with electronic implants (pacemaker), people suffering from osteoporosis or skin diseases and pregnant women
Exercised body areas: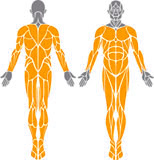 Massage chair inSPORTline Cortela - Documents to download
Massage chair inSPORTline Cortela - Product parameters
Material
The chair frame is usually made up of a combination of metal, wooden and plastic materials. The upholstery itself is then made of either genuine or synthetic leather. Genuine leather has a more luxurious look, however it is much harder to maintain. Synthetic leather is often hard to distinguish from genuine leather and its  maintenance is much easier. Synthetic leather also provides longer service life, which is why it is recommended for more frequent use.
Synthetic leather
Number of massage airbags
Massage airbags can serve as a substitute for massaging fingers. Generally speaking, the more massage airbags, the more precise, comfortable and effective the resulting massage is.
74 pcs
Number of massage valves
Massage valves are a type of airbag that get inflated and deflated during a massage. Inflated, they put an even amount of pressure on the body. As with airbags, the more massage valves there are, the more precise, comfortable and effective the massage is.
20 pcs
Number of programs
Most massage chairs feature several pre-set or manual programs. These programs are specially designed to fulfill the user's needs. For example, there is relaxing massage, relieving massage, fitness massage and others. The number of programs varies from chair to chair but generally it can be said that the higher-class the chair is, the more programs it has.
6
Number of massage types
Every massage chair provides several types of massage via airbags and valves. These are for example Shiatsu massage, kneading, grasping, flapping, 3D massage and others. The number of massage types varies from chair to chair, but generally it can be said that the higher the class of the massage chair, the more massage types it offers.
6
Magnet therapy
Magnet therapy is provided via magnets inbuilt into the massage chair, especially in the area of calves and feet. Their magnetic field penetrates tissue and reaches cells and nerves, making the massage more effective and comfortable. Th emagnet strength usually ranges between 300 - 500 gauss.
yes
Number of massage intensity levels
With every massage chair, you can set the massage intensity. It is the amount of pressure the massage heads and valves put on your body. Massage chairs usually have three intensity settings (low, average and high). However, higher-class chairs can feature more intensity levels.
3
Number of massage speeds
Every massage chair offers massage speed options. It is the speed with which massage heads and valves work against your body. Massage chairs usually feature three speed options (low, average, high), but higher-class chairs can have more.
5
Backrest heating
Backrest heating is provided via infrared radiation that serves as thermal therapy. Infrared particles improve blood circulation and relieve muscle tension. Carbon fibre is used for maintaining the heat and regulating temperature.
yes
Footrest heating
Footrest heating is provided via infrared radiation that serves as thermal therapy. Infrared particles improve blood circulation and relieve muscle tension. Carbon fibre is used for maintaining the heat and regulating temperature.
yes
Output
Output denotes the strength of the motor. A simple rule applies - higher output allows for more intense and higher quality massage.
260 W
Weight limit (kg)
By observing the weight limit of the product, you significantly increase its service life and prevent it from wearing down prematurely. It is not recommended to exceed this limit.
150 kg
Weight
The total weight of the product.
168 kg
Dimensions when fully assembled
length x width x height
150 x 81 x 141.5
Transport wheels
Transport wheels ensure easy chair manipulation. All you need to do is tilt the chair and move it anywhere you want.
yes
Computer memory
Some massage chair models offer the option of saving user's settings, whether it is airbag positions, types of massage or programs. After saving the settings, you can enjoy your favourite massage anytime. All you need to do is press a button. This parameter denotes the number of possible user programs.
3
MP3 music
With an USB port for MP3s, you can relax while listening to your most favourite tracks.
yes
Massage chair inSPORTline Cortela - alternatives -
all in stock
Massage chair inSPORTline Cortela is included in the following categories: