Resistance Tubes
Resistance bands are a great accessory for exercises, not only at your home, but also at a gym or outside. You can use them for Pilates training as well, since they are a multi-purpose equipment. While exercising with resistance bands, not only you exercise and stretch your muscles, you effectively strengthen your entire body – deep back muscles and joint muscles as well as large muscle groups. Resistance bands can also be used while convalescing and trying to get back into shape.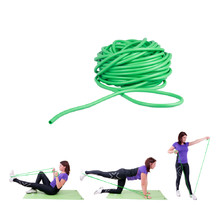 Resistance Tube Band inSPORTline Morpo Roll 30 Light (by the metre)
Price for 1 meter, low resistance, multi-purpose band, sweat and moisture resistant.
Buy