Protective Shorts and Pants
-41%
WORKER VP752 Protective Shorts
Protective shorts made of high permeability material.
Padding
Grion, Hip bones, Tailbone
Hatchey Protective Snowboard Shorts
Brand new protective shorts of coccyx, thighs and hips.
Size
L (89-99), M (76-89), S (60-76), XL (98-110)
Padding
Thighs, Tailbone, Grion, Hips
Protective Shorts W-TEC Xator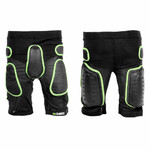 Shorts with hip, thigh and crotch padding; made of breathable material.
Padding
Thighs, Grion, Hips