Leg Press
Leg press will help you tone your leg muscles to the maximum. This type of exercise (also called hacken squat) is based on the classic squat with weights, but is performed with a machine. This way less pressure is put on joints which is better for your health. Hacken squats are a favourite exercise of all body-builders.
Leg Press Machine Body-Solid SBP-100G/2
For truly enormous muscle capacity, look no further than this machine
Leg press Machine CLP600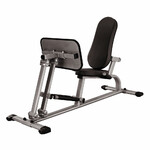 The most effective strengthening of thighs and calves by extrusion
GLPH1100 Body-Solid Leg Press and Hack Squat
Machine to build an explosive lower body.