Leg Press
Leg Press Machine Steelflex PlateLoad Line PLLP
Vertically adjustable foot platform angle, high-quality welds, foam grips, solid foam …
Dimensions
214 x 134 x 142 cm
Buy it
Leg Press Machine Hydraulicline CLP600 - Black
1 185,50 € (32%)
806,60

€
Optimally effective thigh and calf exercises, 6 resistance levels available.
Buy it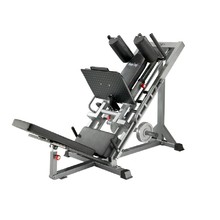 Leg Press/Hack Squat Machine Body Craft F660
2 041,90 € (10%)
1 836,10

€
Professional workout station which offers 3 different exercises, sturdy and stable …
Buy it
Leg press will help you tone your leg muscles to the maximum. This type of exercise (also called hacken squat) is based on the classic squat with weights, but is performed with a machine. This way less pressure is put on joints which is better for your health. Hacken squats are a favourite exercise of all body-builders.