Three-Wheel Mobility E-Scooter inSPORTline Marica
Handy electric scooter that doesn't require a driver's license, three wheels, digital screen, spacious seat. Allows you to get around town quickly and comfortably.
Recommended accessories
Description
Parameters
Alternatives (3)
Video (1)
Three-Wheel Mobility E-Scooter inSPORTline Marica
The Three-Wheel Mobility E-Scooter inSPORTline Marica is a modern, practical three-wheeler that will get you your mobility back. The vehicle is powered by a 1,000W brushless drive and a powerful battery that lasts up to 55 km on a single charge. The scooter offers three speed modes between which you can easily switch by pushing the button on the handlebars. You can follow your current speed, total distance, battery status and other important information on a backlit digital screen.
Since it's an electric scooter, it's quiet and therefore environmentally friendly. And to top it all off, you can drive it without a driver's license! The seat is comfortable; and thanks to the folding armrests, you can easily take a seat even if you're physically disabled. There are two storage boxes in the back, in which you can put your shopping bags or smaller luggage.
The three-wheeler stands on three 10" wheels, and has reliable drum brakes. And to keep you on the safe side in city traffic, you have a complete set of lights, including turn signals, at your disposal. Add the two rearview mirrors (one on each side), and you're more than ready for a comfortable shopping ride or a quick spin around town.
Key features:
3 speed modes
2 lockable storage boxes
Rearview mirrors on either side
Folding armrests for easy access
Digital screen
Also suitable for uneven surfaces
Ignition key switch
Doesn't require a driver's license
Control: current speed mode, battery status indicator, lights, turn signals, total distance
Battery storage and maintenance: We recommend storing the battery (or the entire product including the battery) in a shady, dry place at temperatures between 10 ° C and 20 ° C. If you do not intend to use the product for a long time, we recommend charging the battery and recharging it to 100% capacity at least once a month. Follow these guidelines to prevent the battery's nominal capacity from declining rapidly over its lifetime.

Technical description:
| | |
| --- | --- |
| Max distance range | 55 km |
| Max load capacity | 150 kg |
| Motor | 24V/1000W |
| Battery | 60V 20AH (5 x 12V 20Ah), 1200 Wh, lead accumulator |
| Charger | 2 A |
| Max speed | 25 km/h |
| Max incline | 25° |
| Brakes | drum |
| Wheel size | 10" (25.5 cm) |
| Wheel thickness | 3" (7.5 cm) |
| Dimensions | 150 x 70 x 105 cm |
| Weight | 105 kg |
Three-Wheel Mobility E-Scooter inSPORTline Marica - Product parameters
Motor
bezkartáčový, 1000W
Battery
20 Ah 60 V/1200 Wh (5x12V 20 Ah), olověná
Weight
The total weight of the product.
105 kg
Weight limit (kg)
By observing the weight limit of the product, you significantly increase its service life and prevent it from wearing down prematurely. It is not recommended to exceed this limit.
150 kg
Three-Wheel Mobility E-Scooter inSPORTline Marica - alternatives -
all in stock
E-Scooter Racceway E-Fichtl 20 Ah 16" Blue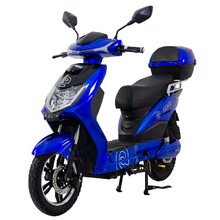 More info
E-Scooter Racceway E-Babeta 12 Ah 18" Blue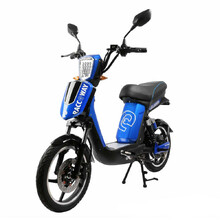 More info
E-Scooter Racceway E-Babeta 12 Ah 18" Burgundy Metallic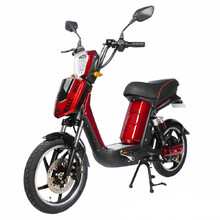 More info
Three-Wheel Mobility E-Scooter inSPORTline Marica is included in the following categories: