The Electric Wheelchair inSPORTline Hawkie is a comfortable wheelchair suitable for those with limited mobility. Thanks to a folding mechanism, the chair is easy to store and fits in the trunk of your car, allowing you to take it everywhere with you. What's more, this model offers an electronically adjustable back support. It's powered by two 350W drives on the rear wheels. Unlike the front wheels, the rear ones are larger and inflatable, helping the wheelchair maintain stability at all times and therefore allowing you to ride on a bumpy terrain or uphill!
The wheelchair is extremely easy to control – it's controlled using a joystick which you can attach to either armrest. With a max speed of 6 km/h, this wheelchair is suitable for anyone. If the user needs a hand during the ride, a second person can control the wheelchair using a remote control. You can also turn the drive off completely and push the wheelchair forward manually. The practical zippered bag at the bottom is a nice touch.
Two Drives, Two Batteries, Outstanding Distance Range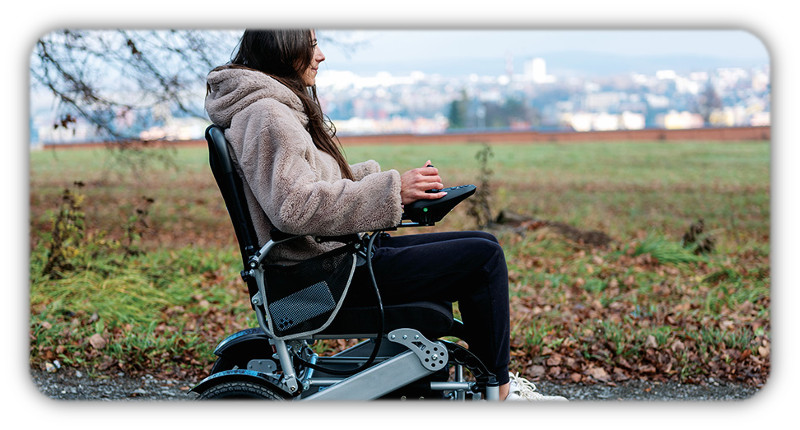 Image shown is for illustration purposes only
The Electric Wheelchair inSPORTline Hawkie's biggest advantage is that it has not one but two 350W drives, thanks to which it will deal with a bumpy terrain. And if the road is a little steep, that's okay too – it can go uphill (with a max incline of 13°). If you stop the wheelchair while going uphill, brakes will activate automatically. Since it also has two batteries, it can go as far as 24 km at a max speed of 6 km/h. That's more than enough when it comes to your day-to-day commute. 
Fits in a Car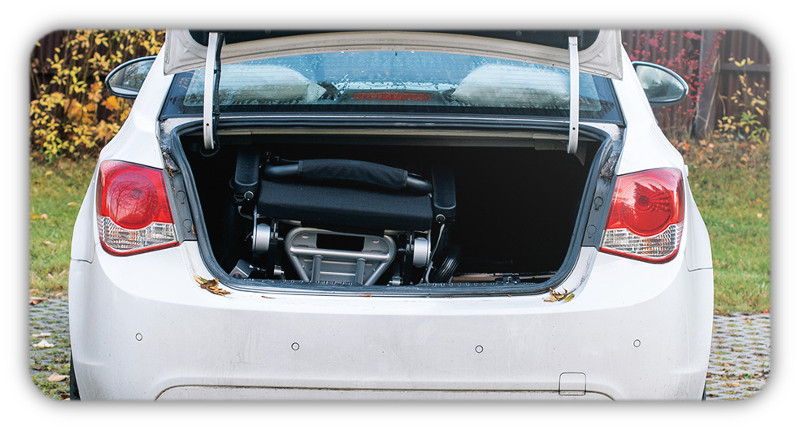 Thanks to the sophisticated folding mechanism, you can fold the wheelchair up to a compact size in no time. When collapsed, it fits to the trunk of a car, which is unique when it comes to this type of vehicle. This feature will come in handy when you're going on a trip with your friends or family where they need to use the wheelchair. 
Unlimited Mobility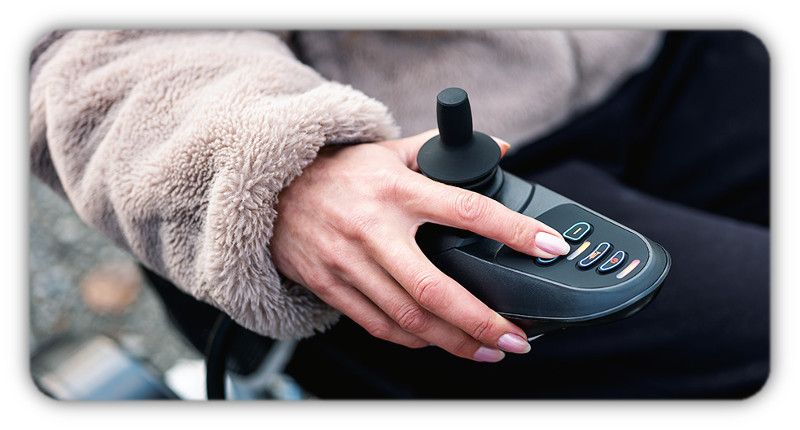 Image shown is for illustration purposes only
Since the wheelchair was designed specifically for persons with limited mobility, it's tailored to their needs. The electronically adjustable back support allows you to sit comfortably while the armrests can be flipped up to allow you to get in the wheelchair comfortably. You might also appreciate the footrest. All you have to do to change direction is move the joystick to the right/left. 
Key features:
Joystick-controlled electric wheelchair
Suitable for both right- and left-handers
Adjustable back support (electronically controlled)
Folding mechanism
Adjustable head support
The height of the back support can be slightly adjusted
Waterproof frame
Automatic braking when stopped while going uphill
Second person assistance:

Remote control (2 AAA batteries)
Electric drive can be turned off, allowing a second person to push the wheelchair forward

Armrests can be flipped up
Removable zippered bag for your smaller items:

Dimensions: 24 x 13.5 x 18 cm

Removable battery module
Mesh side pockets
Front and rear suspension
Horn
Pop-up rear wheels for additional stability during an uphill ride
Additional accessories:
Battery storage and maintenance: We recommend storing the battery (or the entire product including the battery) in a shady, dry place at temperatures between 10 ° C and 20 ° C. If you do not intend to use the product for a long time, we recommend charging the battery and recharging it to 100% capacity at least once a month. Follow these guidelines to prevent the battery's nominal capacity from declining rapidly over its lifetime.

Technical description:
| | |
| --- | --- |
| Max distance range | 24 km |
| Weight limit | 110 kg (if the intended user weighs over 100 kg, write "100 kg+" in the note at the checkout. The frame of your wheelchair will be additionally reinforced prior to dispatch) |
| Drive | 700W (2x 24V/350W) |
| Battery | 2x 24V/12V, lithium accumulator, battery module is removable |
| Charger | 2 A |
| Max speed | 6 km/h |
| Max incline | 12° |
| Brakes | electromagnetic |
| Wheel size | front 2 x 8" (airless), rear 2x 12" (inflatable) |
| Dimensions | L 94 x W 63 x H 120 cm |
| Collapsed dimensions | L 59 x W 41 x H 76 cm |
| Seat dimensions | 46 x 46 cm, thickness 7 cm |
| Seat height from the ground | 55 cm |
| Armrest clearance from the seat | 22 cm |
| Backrest height | 73 cm |
| Footrest length | 30.5 x 20.5 cm |
| Light height | 11.5 cm |
| Turning radius | 60 cm |
| Weight | 31 kg |