Beach Volleyball Mikasa BV550C
Iconic beach volleyball with a 10-panel construction, high-quality synthetical leather and recycled nylon, very few seams.
Recommended accessories
Description
Parameters
Alternatives (7)
Beach Volleyball Mikasa BV550C
With decades of expertise from extensive research and development, MIKASA has used feedback from the world's best players and coaches to develop a new beach volleyball that underlies cutting-edge and environmentally friendly technology. The Beach Volleyball Mikasa BV550C is a construction of 10 perfectly balanced panel panels as well as a two-layer textile carcass on a double-layer "no-leak" butyl rubber bladder. In addition to the optical innovations, MIKASA presents the proven and well-known Dimple technology with the BV550C for the first time in beach volleyball. The many small indentations (dimples) on the surface material not only improve grip, but also ensure maximum and sensitive ball control.
The patented and unique TwinSTLock seam technology has been improved to ensure that the BV550C is now almost waterproof. A weight increase of the ball in the rain should be avoided. A new valve shape has been developed for even better durability and tightness of the ball. This is designed to prevent microsand from entering the air needle socket and prevent damage to the valve core. In the use of the materials, Mikasa has also placed great importance on sustainability. So, the surface material is a high-quality synthetic leather made from recycled nylon. In addition, no solvent-based paints are used.¨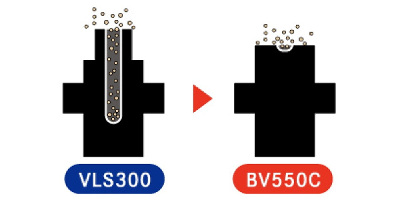 Note: New original valve for longer ball lifespan - less deep valve greatly reduces the possibility of damage to the "core or flap" of the valve.
Pay attention to the valve when inflating the ball. The needle hole is less visible. The flap is right at the top. Always wet the needle before using it.
Technical description:
Iconic beach volleyball with a 10-panel construction
BV550C solely carries the additional name FIVB Official Game Ball (FIVB Approved) and is therefore the official game ball of the World Association (FIVB) and the Volleyball World (VW)
Patented and unique TwinSTLock seam technology
Dimple technology – effectively increased air resistance benefits the ball's flight characteristics
Soft, non-slip ball surface for maximum control
Improved water resistance thanks to a newly developed material
Contrasting colors for better visibility
Low bouncing effect
Material: synthetic leather made from recycled nylon
Size: 5
Weight: 260 – 280 g
Circumference: 66 – 68 cm
Note: ball is delivered deflated
Beach Volleyball Mikasa BV550C - Product parameters
Material
Synthetic leather
Playing surface type
Sand
Beach Volleyball Mikasa BV550C - alternatives -
all in stock
Beach Volleyball Mikasa BV550C is included in the following categories: