Pump inSPORTline Airstunt
Hand pump for quick and easy inflation of Airstunt inflatable exercise mats! Built-in pressure gauge and footboards for better stability.
Recommended accessories
Description
Parameters
Alternatives (1)
Pump inSPORTline Airstunt
The Pump inSPORTline Airstunt is a lightweight hand pump that is primarily suitable for inflatable exercise mats but can also be used for inflating paddle boards, children's pools and similar products. When inflating, you need to follow each mat's max inflation pressure, which is why you'll surely appreciate the built-in pressure gauge. The ergonomic, T-bar handle ensures a good grip while the 3 included inflation adapters provide a wide range of uses both at home and at the gym.
Technical description:
Compact pump suitable for inflatable exercise mats and paddle boards
Suitable for both inflation and deflation
Built-in pressure gauge
Ergonomic T-bar handle
Footboards for better stability
Max pressure: 1.45 bar (21 PSI)
Dimensions: L22 x W8.5 x H61 cm
Weight: 875 g
In the box: Set of 3 adapters for other inflatable products
Pump inSPORTline Airstunt - Product parameters
Maximum pressure
To inflate a paddleboard, it is necessary to use great pressure, meaning you need a quality pump. Almost all pumps we offer can inflate a paddleboard to the required pressure.
21 PSI
Number of modes
A pump with two modes is suitable for quick innitial inflation, as well as adding final pressure. With it, you'll save both time and effort.
A one-mode pump also helps you inflate the board to the required pressure, however it'll take more time and effort. An electric pump is an exception, allowing you to save your strength for the paddleboarding itself.
1
Pressure gauge included
Pump with a pressure gauge will allow you to observe when you reach the required pressure. Inflating your paddleboard to the recommended pressure prolongs its servide life and protects it from wear and damage.
yes
Pump inSPORTline Airstunt - alternatives -
all in stock
Double-Sided Velcro Strap inSPORTline Airstunt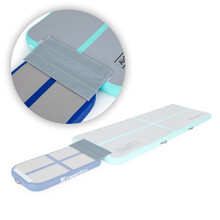 More info
Pump inSPORTline Airstunt is included in the following categories: