Massage Chair inSPORTline Dugles II
Beautiful home massage chair with a length-adjustable calf rest and Zero Gravity function! It offers partial, fixed and overall massage of different speeds and intensities.
Recommended accessories
Description
Parameters
Alternatives (6)
Massage Chair inSPORTline Dugles II
The Massage Chair inSPORTline Dugles II offers many functions and massage modes. Featuring high-quality upholstery made of synthetic leather that is virtually indistinguishable from the genuine article and a solid frame with a 120-kg weight limit, it provides maximum comfort. The main advantage of synthetic leather is its easy maintenance that ensures a long service life. Consisting of 28 massage airbags and 7 massage heads, the massage system is so sophisticated that you'll feel like you're getting a real massage. The Massage Chair inSPORTline Dugles II has a function that automatically detects your shoulder area. This function will activate automatically few seconds before a massage, adjusting the massage airbags and heads to the optimal position, according to the actual position of your shoulders. 
The Massage Chair inSPORTline Dugles II can provide a full-body massage or just a massage of a focused area. You can choose from 5 types of massage, including favorite techniques such as shiatsu. These massage modes are available for all individual programs. This chair features the so-called "Zero Gravity" mode, where the chair is in such a position that it simulates the position of an astronaut leaving orbit. If none of the programs meet your needs, you can create and save your own personal setting. For maximum comfort and the best massage experience, the Massage Chair inSPORTline Dugles II allows you to adjust both speed and intensity. 
The Massage Chair inSPORTline Dugles II offers not only high-quality massage programs, but also other useful functions, such as the automatic back heating function which uses carbon fiber to transfer heat from the infrared heating source. The chair can be heated up to 40°C - 50°C, which is an optimum temperature for warming up the human body. Other important features include transport wheels for easy manipulation, a LED indicator located on one of the armrests, and a remote control designed for quick and easy massage setting. The Massage Chair inSPORTline Dugles II allows you to relax after sports, a hard day at work or simply relax in peace.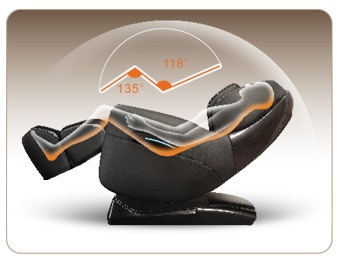 Zero Gravity
In the Zero Gravity mode, the angle between the upper half of your body and your legs is approximately 118°. In this position, your thighs and calves are above your heart. The weight of several body parts will be evenly distributed over the chair, relieving pressure from your body. Experience the Zero Gravity sensation and renew your energy.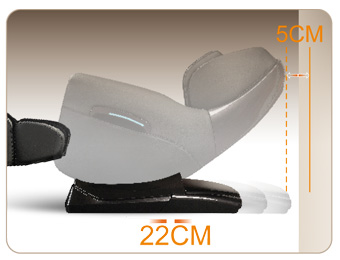 Zero Space
This special system allows you to smoothly adjust the position of the chair with just one button. The chair can move horizontally by 22 centimeters, which means that to incline the backrest, it doesn't have to stand more than 5 cm away from a wall. In that, it differs from classic massage chairs that need to be dragged away.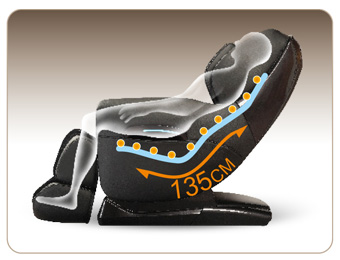 Prolonged "L" Design
An ergonomic, prolonged "L" design copies the S-curved shape of your spine. The 135-cm-long massage system allows for an effective massage of your glutes and back. Thanks to the natural position of spine vertebrae, the massage relieves both your spine and stiff back muscles.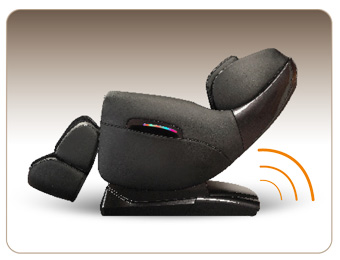 Safety Precautions
The chair features an integrated sensor that will detect potential danger. If an unexpected obstacle appears under the backrest while the chair is operational, all functions will automatically shut down to prevent an injury or a permanent damage to the product.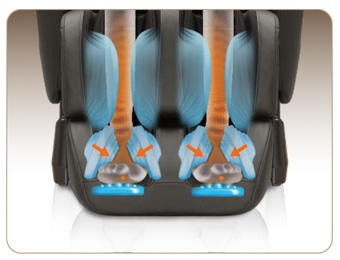 Pressure Foot Massage
This advanced technology of effectively placed massage rollers and airbags simulates professional foot massage that focuses on your feet and the Yongquan point. Whether you choose lower or higher intensity, you will always feel maximally relaxed afterwards.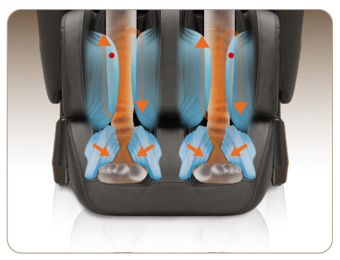 Air Massage of Your Legs
The variously shaped airbags completely surround the calves, ankles and feet, allowing you to enjoy your massage three times as much. Repeated compression and decompression of the airbags stimulates the Xuanzhong and Taxi acupressure points, relieving your muscles and stress.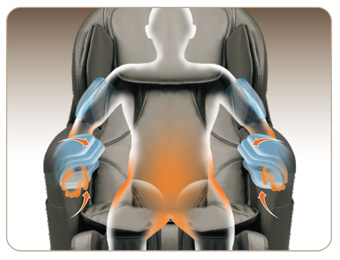 Air Massage of Your Arms
The set of 12 airbags is adjusted to the shape of your body, providing a complex massage of the Yangchi and Quchi acupressure points in the forearms. 3D airbag massage has relaxing and revitalizes effects.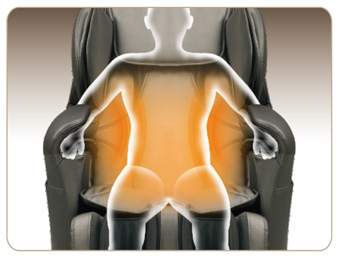 Backrest Heating
The heating function uses long-wave infrared radiation that is transferred through carbon fiber. The backrest is heated up to 40°C – 50°C, which is the optimum temperature for warming your muscles and relieving your pain. Thanks to its wavelength, the infrared radiation penetrates deep tissue, activating calls and stimulating metabolism.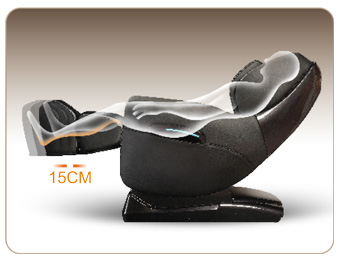 Length-Adjustable Footrest
The length of the calf rest can be adjusted according to the user's height in the range of 15 centimeters, ensuring your body is in optimum position during the massage.
Technical description:
Massage chair for home use with a wide range of functions
Full-body/focused area massage
Adjustable backrest/footrest
Back heating function (40°C - 50°C)
28 massage airbags
7 massage heads
Transport wheels
LED indicator on armrest
Remote control
Output: 150 W
Maximum power usage: 150 W
Dimensions: length 150 x width 76 x height 113 cm
Package dimensions: length 142 x width 78 x height 90 cm
Maximum length when in use: 185 cm
Seat width: 52 cm
Material: synthetic leather
Weight limit: 120 kg
Weight: 88 kg
The device is not intended for the treatment of muscular and other diseases. This is not a medical device.
Programs and functions:
Zero Gravity function
5 massage modes: shiatsu, kneading, flapping, knocking, simultaneous kneading and flapping
6 automatic massage functions: ache-improving, comfort, relaxation, intense, upper body, lower body
3 manual massage options: partial, fixed, overall massage
3 air pressure massage functions: full body, upper limbs, lower limbs
3 levels of massage intensity
3 levels of massage speed
Adjustable position of massage heads / speed level / massage options
Memory for 2 massage modes
Automatic detection of shoulder position
Recommended by Petr Kopřiva, inSPORTline Fitness Coach
Regular training improves your physical fitness, helps you lose weight and strengthens your cardiovascular system.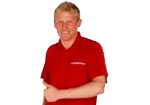 Exercised body areas: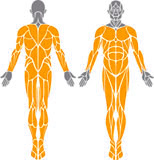 Massage Chair inSPORTline Dugles II - Product parameters
Material
The chair frame is usually made up of a combination of metal, wooden and plastic materials. The upholstery itself is then made of either genuine or synthetic leather. Genuine leather has a more luxurious look, however it is much harder to maintain. Synthetic leather is often hard to distinguish from genuine leather and its  maintenance is much easier. Synthetic leather also provides longer service life, which is why it is recommended for more frequent use.
Synthetic leather
Number of massage airbags
Massage airbags can serve as a substitute for massaging fingers. Generally speaking, the more massage airbags, the more precise, comfortable and effective the resulting massage is.
28 pcs
Number of massage valves
Massage valves are a type of airbag that get inflated and deflated during a massage. Inflated, they put an even amount of pressure on the body. As with airbags, the more massage valves there are, the more precise, comfortable and effective the massage is.
7 pcs
Number of programs
Most massage chairs feature several pre-set or manual programs. These programs are specially designed to fulfill the user's needs. For example, there is relaxing massage, relieving massage, fitness massage and others. The number of programs varies from chair to chair but generally it can be said that the higher-class the chair is, the more programs it has.
14
Number of massage types
Every massage chair provides several types of massage via airbags and valves. These are for example Shiatsu massage, kneading, grasping, flapping, 3D massage and others. The number of massage types varies from chair to chair, but generally it can be said that the higher the class of the massage chair, the more massage types it offers.
5
Magnet therapy
Magnet therapy is provided via magnets inbuilt into the massage chair, especially in the area of calves and feet. Their magnetic field penetrates tissue and reaches cells and nerves, making the massage more effective and comfortable. Th emagnet strength usually ranges between 300 - 500 gauss.
no
Number of massage intensity levels
With every massage chair, you can set the massage intensity. It is the amount of pressure the massage heads and valves put on your body. Massage chairs usually have three intensity settings (low, average and high). However, higher-class chairs can feature more intensity levels.
3
Number of massage speeds
Every massage chair offers massage speed options. It is the speed with which massage heads and valves work against your body. Massage chairs usually feature three speed options (low, average, high), but higher-class chairs can have more.
3
Backrest heating
Backrest heating is provided via infrared radiation that serves as thermal therapy. Infrared particles improve blood circulation and relieve muscle tension. Carbon fibre is used for maintaining the heat and regulating temperature.
yes
Footrest heating
Footrest heating is provided via infrared radiation that serves as thermal therapy. Infrared particles improve blood circulation and relieve muscle tension. Carbon fibre is used for maintaining the heat and regulating temperature.
no
Output
Output denotes the strength of the motor. A simple rule applies - higher output allows for more intense and higher quality massage.
150 W
Weight limit (kg)
By observing the weight limit of the product, you significantly increase its service life and prevent it from wearing down prematurely. It is not recommended to exceed this limit.
120 kg
Weight
The total weight of the product.
88 kg
Dimensions when fully assembled
length x width x height
150 x 76 x 113
Transport wheels
Transport wheels ensure easy chair manipulation. All you need to do is tilt the chair and move it anywhere you want.
yes
Computer memory
Some massage chair models offer the option of saving user's settings, whether it is airbag positions, types of massage or programs. After saving the settings, you can enjoy your favourite massage anytime. All you need to do is press a button. This parameter denotes the number of possible user programs.
2
MP3 music
With an USB port for MP3s, you can relax while listening to your most favourite tracks.
no
Massage Chair inSPORTline Dugles II - alternatives -
all in stock
Massage Chair inSPORTline Dugles II is included in the following categories: