Ab Trainer inSPORTline AB Perfect Duo
Helps you strengthen your abs and lose weight! 3 resistance levels, proper motion support, folding frame – perfect for home workout!
Recommended accessories
Description
Parameters
Alternatives (4)
Video (1)
Ab Trainer inSPORTline AB Perfect Duo
Simple but effective! The Ab Trainer inSPORTline AB Perfect Duo will help you exercise your abs. It's perfect for beginners who often find some exercises, such as sit-ups, difficult. But it's also suitable for those looking for a tool that would offer more exercise options and therefore make their workout more versatile. This machine will help you do the exercises properly, ensuring optimal joint, back and spine loading. The two moving machine arms are more than enough – you can do not only the aforementioned sit-ups, but also crunches, regular push-ups, biceps and triceps push-ups, scissor kicks or other such exercises, strengthening your muscles and burning calories in the process.

Each machine arm offers 3 resistance levels with 3 different angles. The higher the arm is, the greater the resistance. There is also a fourth level which allows you to fold the machine up, making it easy to store. With a collapsed height of 13.5 cm, it fits under the bed. Both machine arms are foam-coated, providing maximum comfort during the workout. If you want to get rid of excess fat, the Ab Trainer inSPORTline AB Perfect Duo is the perfect choice!
Technical description:
Machine for effective core workout – helps you shape both your upper and lower abs
Supports proper motion during exercise
Protects your back and joints
Foam-coated machine arms
Anti-slip rubber pads
3 resistance levels (with 3 different angles)
Folding frame
Seat width: 44 cm
Dimensions: length 50 x width 46 x height 36.5 cm
Collapsed dimensions: length 50 x width 46 x height 13.5 cm
Weight: 4.72 kg
Weight limit: 100 kg
Suitable for home use
Machine arm adjustment:
| | | | |
| --- | --- | --- | --- |
| Level | Height | Angle | Max resistance |
| 1 | 36.5 cm | 60° | 20 kg |
| 2 | 33 cm | 45° | 12 kg |
| 3 | 23.5 cm | 35° | 5.5 kg |
| 4 | 13.5 cm | 0° | *** |
Available exercises:
Sit-ups
Push-ups
Biceps push-ups
Triceps push-ups
Scissor kicks
Leg bridges
Pedaling
Abs exercises
Leg curls
Recommended by Petr Kopřiva, the inSPORTline coach:
Strengthening your stabilization muscles will help you reduce longterm back pain.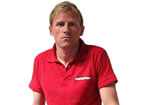 Exercised body areas: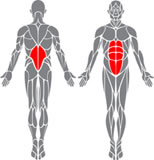 Ab Trainer inSPORTline AB Perfect Duo - Documents to download
Ab Trainer inSPORTline AB Perfect Duo - Product parameters
Weight limit (kg)
By observing the weight limit of the product, you significantly increase its service life and prevent it from wearing down prematurely. It is not recommended to exceed this limit.
100 kg
Ab Trainer inSPORTline AB Perfect Duo - alternatives -
all in stock
Ab Trainer inSPORTline AB Perfect Duo is included in the following categories: