The Exercise Bike inSPORTline Moriston UB is a well-equipped, reliable exercise bike which is not only stylish but also highly functional. The wide seat can be adjusted both vertically and horizontally, allowing users of all heights to enjoy a comfortable workout. The ergonomic handles will take your workout to another level while the magnetic braking system allows for smooth resistance adjustment (20 resistance levels).
The easy-to-read display allows you to follow your training data while the Recovery program allows you to keep track of your fitness progress. You can also create and save your own program.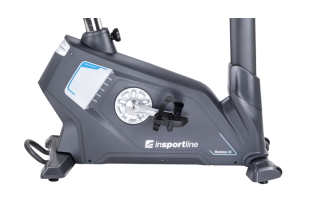 Stable and Easy to Move
The robust frame provides stability and allows for a weight limit of 150kg, which is incredible, especially considering the bike's relatively light weight (62kg). The transportation wheels and handle in the back will make it easy for you to move the bike from one place to another.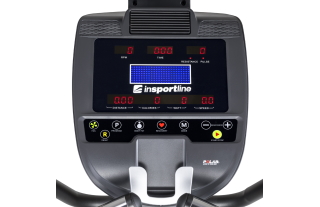 Variety of programs
The Exercise Bike inSPORTline Moriston UB offers 12 preset programs with adjustable resistance. You may also appreciate the HRC program that automatically adjusts the resistance to keep you in the optimum heart rate zone. You can also create and save your own program.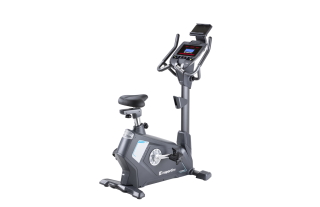 Environmentally Friendly
Since the Exercise Bike inSPORTline Moriston UB has a built-in power generator powered by a battery, you do not need to plug the machine into an electrical socket as you generate power by pedaling. As a result, no cables or extension cords will bother you during your workout. 

Practical Tweaks
We always put the user's comfort first. That is why there is a water bottle holder underneath the display, which will help you stay hydrated during the workout. As for technology, there is a practical tablet holder right above the display, a smartphone holder at the bottom and a USB port on the side of the display, which allows you to charge your devices during the workout. Moreover, the audio jack and built-in speakers allow you to use your music player and listen to your favorite songs. The handles with built-in heart rate monitors will help you keep track of your heart rate.


Key features:
Robust exercise bike for commercial use
Built-in power generator
Quiet running
Comfortable adjustable seat
Reliable magnetic braking system
USB port allows you to charge your phone
20 resistance levels
Easy-to-read display and number of programs
Chest strap signal receiver (5kHz) – chest strap is not included, 

recommended 

Sigma 5kHz
HRC program: machine automatically adjusts resistance to keep user in optimal heart rate zone
Recovery program: allows you to keep track of your fitness progress
Computer shows: calories burned, speed, revolutions per minute, time, distance, heart rate
Technical description:
| | |
| --- | --- |
| Flywheel weight | 15 kg |
| Resistance operation | electronic |
| Number of resistance modes | 20 |
| Maximum resistance at 60 rpm | 322 W |
| Braking system | magnetic |
| Freewheel | yes |
| Number of programs | 19 |
| Preset programs | yes |
| User programs | yes |
| HRC program | yes |
| WATT program | no |
| Recovery program | yes |
| Body Fat program | no |
| Manual program | yes |
| Heart rate monitor | yes |
| Water bottle holder | yes |
| Tablet holder | yes |
| Transportation wheels | yes |
| Uneven floor adjustment | yes |
| HR belt receiver | yes |
| HR belt included | no |
| Audio Input | yes |
| Foldable | no |
| Dimensions | Height 151 x width 59 x length 120 cm |
| Collapsed dimensions | X |
| Weight limit | 150 kg |
| Maximum user height | X |
| Weight | 62 kg |
| Power source | Built-in power generator |
| Category | SC (EN957) |
| Use | Professional, commercial |