Exercise Bike inSPORTline inCondi UB45i
Exercise bike with plenty of functions suitable for entire family. Can be synced with app, allowing you to plan your routes using maps, choose your training program and save your training data.
Recommended accessories
Description
Parameters
Alternatives (8)
Exercise Bike inSPORTline inCondi UB45i
Even if the Exercise Bike inSPORTline inCondi UB45i does not look special, it has a variety of advanced functions, the best of which is inCondi technology, which allows you to sync the machine with the app on your phone. As a result, you can enjoy interval training or use maps to plan your routes. Moreover, the app also allows you to save your training data and analyze your progress.
Also, the machine's programs are amazing! You can choose from 12 profile programs, HRC programs for fitness workout and a WATT program. On the control panel you can switch between the machine's 16 resistance levels. To make you as comfortable during the workout as possible, you can also adjust the height and horizontal position of the seat. Suitable for the entire family, the Exercise Bike inSPORTline inCondi UB45i is the perfect home bike!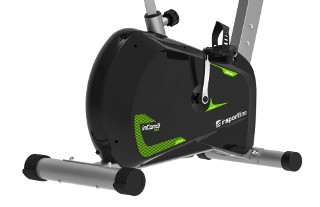 Stable Base with High Weight Limit
The frame with an 8kg flywheel is stable and well balanced. The 130kg weight limit makes this exercise bike suitable for the entire family.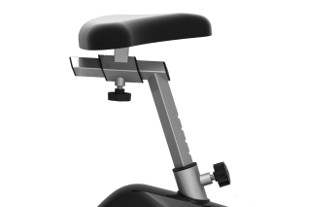 Make Yourself Comfortable
The position of the seat can be adjusted both vertically and horizontally, allowing you to adjust its position to your height. You may also appreciate the long, foam-padded handles for a firm and comfortable grip. The handles also have built-in heart rate monitors.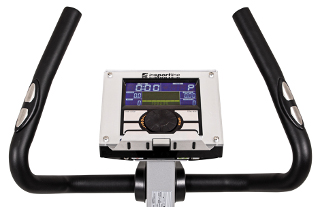 Program for Everyone
The resistance level is adjusted electronically on the control panel, which also allows you to choose from 12 preset programs (with different resistance levels) as well as special programs (e.g. HRC program which adjust the resistance level to keep you in your target heart rate zone). Last but not least, there is the Recovery program which allows you to keep track of your fitness progress.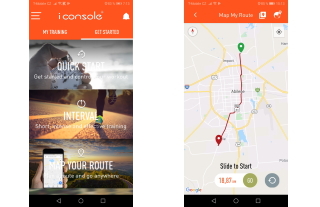 Ride Anywhere in the World
The app allows you to preset any route anywhere in the world in Google Maps. The resistance adjusts to the actual terrain, making the running even more realistic. The app also allows you to control the machine's functions from your tablet/phone, save your training data and enjoy interval training programs.

Key features:

Stable frame with low center of gravity
3-piece cranks with encapsulated industrial bearings
Horizontally and vertically adjustable seat
Comfortable handles with built-in heart rate monitors
Backlit LCD display
Bluetooth app connection

iC+ Training (Android 5.0+/ iOS10.0+) via Bluetooth

Quick start
manual settings of target time, distance or burned calories
possibility of creating user profile (photo, name, weight, gender)
set up a real route through Google Maps and Street View and choose
interval exercises
WATT program
possibility of group exercises
intelligent workout scheduler
training history

Zwift  (Android 7.0+/ iOS 9.0+) and support app Zwift Companion (Android 7.0+/ iOS9.0+) allow you to control the device from your phone

Training in the form of a game in a 3D virtual environment
Allows you to set goals and create a training plan
Allows you to communicate with other users online
Allows you to create your own avatar to represent you on the screen
Compatible with Apple Health, Strava, Training Peaks, Garmin Connect, Adidas Training, Map My Fitness, Today's Plan

Kinomap (Android 5.0+/ iOS9.0+)

Preset trails (w/ video)
Select Exercise bike (for device) and FitShow (for brand)
Majority of content is paid

vyzkoušejte kompatibilitu aplikací s vaším mobilním zařízením předem
pro správnou funkci aplikací mějte povolené a zapnuté WiFi, Bluetooth a GPS (určování polohy)
inSPORTline is not a developer of the mentioned applications and does not accept responsibility for possible errors or incompatibilities of applications (in case of problems we are willing to help)

USB port for charging mobile devices
Pedal spacing: 17cm
Cardio or HRC program: machine automatically adjusts resistance to keep user in optimal heart rate zone
WATT program: machine automatically adjusts resistance to keep user in in preset WATT zone (e.g. it increases resistance when pedaling cadence decreases)
Computer functions: time, speed, distance, calories, heart rate, WATT
Technical description:
| | |
| --- | --- |
| Flywheel weight | 8 kg |
| Resistance operation | electronic |
| Number of resistance modes | 16 |
| Braking system | magnetic |
| Freewheel | yes |
| Number of programs | 18 |
| Preset programs | 12 |
| User program | *** |
| HRC program | yes |
| WATT program | yes |
| Recovery program | yes |
| Body Fat program | no |
| Manual program | yes |
| Heart rate monitor | yes |
| Bottle holder | yes |
| Tablet holder | yes |
| Transport wheels | yes |
| Uneven floor adjustment | yes |
| HR belt receiver | |
| HR belt included | no |
| Audio Input | yes |
| Foldable | no |
| Dimensions | Height 139.5 x width 51 x  length 97.5 cm |
| Folded dimensions | X |
| Weight limit | 130 kg |
| Maximum user height | 180 cm |
| Weight | 35 kg |
| Power source | AC adaptor |
| Category | HC (EN957) |
| Use | home |
Extended warranty applies to this product.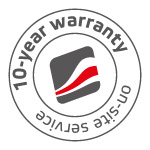 Recommended by Petr Kopřiva, inSPORTline Fitness Coach
Regular training improves your physical fitness, helps you lose weight and strengthens your cardiovascular system.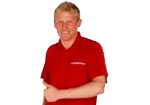 Exercise bikes help you focus on these areas: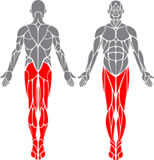 Exercise Bike inSPORTline inCondi UB45i - Documents to download
Exercise Bike inSPORTline inCondi UB45i - Product parameters
Flywheel weight (kg)
8 kg
Resistance regulation
Resistance in cardio trainers can be regulated by one of two ways - manual and electronic control. Manual regulation is the cheaper option and works on a simple basis. With a regulation knob, the user sets the resistance manually, usually in the range of 1-12 levels.
Electronic
Resistance is adjusted directly on the control panel, or automatically through various programs.
Weight limit (kg)
By observing the weight limit of the product, you significantly increase its service life and prevent it from wearing down prematurely. It is not recommended to exceed this limit.
130 kg
Braking system
Cardio trainers use several types of braking systems.
There are trainers with magnetic, friction, calliper or EMS braking system. The magnetic and EMS systems that work through moving a magnet closer to the flywheel are used most often.
Magnetic
Magnets move towards or away from the flywheel, adjusting resistance. Great advantage is its silent running.
Handlebar heart rate sensors
yes
Compensating for uneven floor
yes
Weight
The total weight of the product.
35 kg
Maximum user height
180 cm
Dimensions when fully assembled
length x width x height
97.5 x 51 x 139.5
Usage category
Home use
Only suitable for home use.
Technology
inCondi
inSPORTline inCondi trainers are able to connect with your smartphone or tablet. A special app then allows you to enjoy your training on a whole new level, for example through virtual tracks all over the world! The apps also save your training data and follow long-term statistics.
Exercise Bike inSPORTline inCondi UB45i - alternatives -
all in stock
Exercise Bike inSPORTline inCondi UB45i is included in the following categories: