Vibration Platform VibroGym inSPORTline Charles
Both 3D and vertical vibrations, large vibration area, resistance bands for additional exercises, quiet running.
Recommended accessories
Description
Parameters
Alternatives (1)
Vibration Platform VibroGym inSPORTline Charles
The Vibration Platform VibroGym inSPORTline Charles is a modern and effective machine that helps you shape your body, improve joint mobility, relax, relieve stress and improve your cardiovascular system. Based on the Advanced Vibration Technology, the Vibration Platform VibroGym inSPORTline Charles transfers vibrations to muscles, causing them to contract reflexively and thus making the exercise far more effective. Moreover, this machine has the amplitude and vibration frequency which can be seen in the professional machines, making it one of the best in its category.
Exercise on the Vibration Platform VibroGym inSPORTline Charles will not take up much of your time as all you have to do is exercise for 5 minutes with your knees slightly bent. You will see results immediately. This machine helps you exercise your entire body through various simple exercises. Moreover, you can exercise your arms and back using the two resistance bands attached to the bottom part of the machine. Suitable for everyday home use, the Vibration Platform VibroGym inSPORTline Charles offers an effective, safe and not at all time-consuming workout.
VibroGym advantages:
You can use combined vibrations
Helps you quickly and effectively shape your body and lose weight
Vibration makes all exercises three times more effective
Special massage mat with adhesive ribbing helps improve blood circulation, relieve stress and massages your feet, palms, buttocks and back
Improves muscle recovery after challenging physical activity
inSPORTline Charles is primarily suitable for runners, rollerbladers, cyclists, skiers as either initial or final part of their training
Can also be used when you suffer from rheumatism or other joint/bone diseases (after consulting your doctor)
Improves blood circulation
Helps relieve joint and muscle pain
Improves balance and coordination
Improves cellulite
Helps relieve stress and get rid of depression
Increases growth hormone production
Key features:
Spacious and high-performance machine at amazing price
Anti-slip rubber layer on surface
Computer displays: time, speed, program
Technical description:
| | |
| --- | --- |
| Vibration types | 3D (spiral), vertical ("seesaw"), combination of both |
| Number of motors | 2 |
| Motor power | 500 W (vertical vibration) + 300 W (3D vibration) |
| Vertical vibration frequency | 15-40Hz |
| 3D vibration frequency | 5-15Hz |
| Vertical vibration amplitude | 0-10mm |
| 3D vibration amplitude | 1.5mm |
| Number of vibration modes | 60 |
| Heart rate monitor | no |
| Total number of programs | 4 |
| Preset programs | 3 |
| User programs | X |
| Manual program | yes |
| Display | yes |
| Control | On display and bottom console |
| Transportation wheels | no |
| Uneven surface adjustment | yes |
| Resistance bands | yes |
| Machine dimensions | Length-75 x width-76 x height-141cm |
| Vibration area dimensions | Length-70 x width-50cm |
| Height of the vibration area from the ground | 21 cm |
| Weight limit | 120kg |
| Weight | 36kg |
| Power source | AC adaptor |
| Category | SC (EN957) |
| Use | Club, home |
Vibration Platform VibroGym inSPORTline Charles - Documents to download
Vibration Platform VibroGym inSPORTline Charles - Product parameters
Vibrating deck dimensions
70 x 50 cm
Weight limit (kg)
By observing the weight limit of the product, you significantly increase its service life and prevent it from wearing down prematurely. It is not recommended to exceed this limit.
120 kg
Vibration frequency
5 - 40
Vibration type
3D, Combined, Vertical
Vibration deck vibrates on all 3D dimension axes.
Number of vibration speeds
60
Compensating for uneven floor
yes
Display
Device displays time and vibration values.
yes
Computer Control
Integrated
Dimensions when fully assembled
length x width x height
75 x 76 x 140
Weight
The total weight of the product.
36 kg
Usage category
Home / club use
Suitable for home use. Can be also used in smaller establishments, such as hotels and school and company gyms.
Vibration Platform VibroGym inSPORTline Charles - alternatives -
all in stock
Vibration Platform inSPORTline Julisa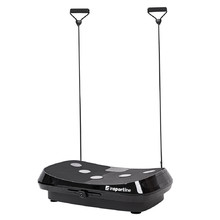 More info
Vibration Platform VibroGym inSPORTline Charles is included in the following categories: