Folding Exercise Bike inSPORTline inCondi UB20m II
Manual control, wireless connection to tablet/smartphones, compact size, easy-to-transport, simple structure, built-in computer.
We are sorry, but this product is no longer available.
Recommended accessories
Folding Exercise Bike inSPORTline inCondi UB20m II
Intended for home use, the Folding Exercise Bike inSPORTline inCondi UB20m II is an excellent exercise bike. Despite its low price, it has the same functions as the more expensive models, i.e. it tracks your speed, distance covered, training time, calories burned or heart rate. The Exercise Bike inSPORTline inCondi UB20m II can be wirelessly connected to a tablet or a smartphone via Bluetooth (4.0) and the Fit Hi Way app. As a result, you will get preset training programs, from which you can choose those that suit your needs (those that can help you improve your fitness, lose weight, etc.). The training programs communicate with you via the display, making your training as effective as possible even without the supervision of an expensive real coach.
Its 1.3kg flywheel makes the Exercise Bike inSPORTline inCondi UB20m II suitable for beginners. You can switch between the eight manual resistance modes by turning the regulation knob. The transportation wheels and folding structure allows you to fold this exercise bike up, move it and thus save space in your room. The large seat provides maximum comfort. All of the above makes the Exercise Bike inSPORTline inCondi UB20m II popular among our customers.
Key features:
Transportation wheels
Simple and solid structure
Space-saving
Adjustable and comfortable seat
Large handles
BeltDrive system for quiet running
Computer functions: speed, distance, time, calories burned, heart rate
Tablet connection: Bluetooth 4.0
Programs and Fit Hi Way app options:
Quick start
Manually set target time, distance or calories burned
Creation of personal profile (photo, name, weight, gender)
Creation and further use of personal user programs
Heart Rate Control (HRC) program
Enables you to set real running route via Google Maps and Street View, or choose your favorite routes
Enables you to watch your favorite videos, listen to your favorite music or check out your favorite websites during workout
Enables you to race against your friends online
Enables you to share your results on social networks
Enables you to follow your progress (days, weeks or months)
Technical requirements:
Operating system: Android 5.0 and higher, iOS 10.0 and higher
In other cases, you should check if your device is compatible with app
complementary application Fit Hi Way (alternative link for Android)
Technical description:
| | |
| --- | --- |
| Flywheel weight | 1.3kg |
| Resistance operation | manual |
| Number of resistance modes | 8 |
| Brake system | magnetic |
| Freewheel | yes |
| Number of modes | X |
| Preset programs | X |
| User programs | X |
| HRC program | X |
| WATT program | X |
| Recovery program | no |
| Body Fat program | no |
| Manual program | X |
| Heart rate monitor | yes |
| Tablet holder | no |
| Bottle holder | no |
| Transportation wheels | yes |
| Uneven surface adjustment | yes |
| HR belt receiver | no |
| HR belt included | no |
| Audio Input | no |
| Foldable | yes |
| Dimensions | Length-113 x width-43 x height-81cm |
| Folded dimensions | Length-45 x width-43 x height-132cm |
| Weight limit | 100kg |
| Maximum user height | 180cm |
| Weight | 14.5kg |
| Power source | battery |
| Category | HA (EN957) |
| Use | home |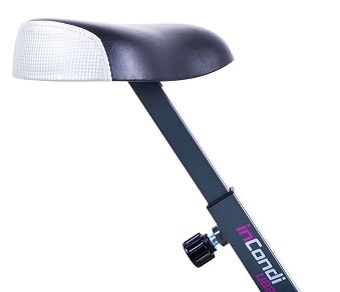 Comfortable Seat
The Exercise Bike UB20m features a large, extra soft seat. This seat is perfect for those who do not like narrow, hard seats which can be found on bikes and other exercise bikes. The reinforced seams and padding make the seat study and durable, allowing for a long service life.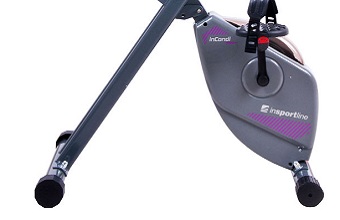 High stability, weight limit and mobility
The main advantage is its sturdy structure made of high quality materials, providing high stability and a weight limit of up to 100kg. This exercise bike can be easily folded up using the center bolt, which is so easy to operate that anyone can do it. When folded, the Exercise Bike inSPORTline inCondi UB20m II takes up minimum space.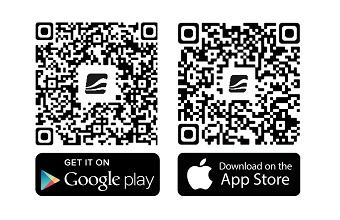 Tablet connection
The compatibility with the Fit Hi Way app is the main advantage of this exercise bike. This app allows you to adjust exercise programs, save exercise data and share them on social networks or to check your current performance data (heart rate, speed, distance, etc.).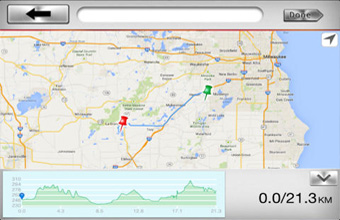 Train anywhere in the world
The Fit Hi Way app allows you to preset any route anywhere in the world in Google Maps. As a result, you can run in the streets of Paris, on the beaches of Miami or in the Krkonoše Mountains. When running, you can see the real pictures as you know them from Street View. Get to know the world from the comfort of your home.
Folding Exercise Bike inSPORTline inCondi UB20m II - Product parameters
Flywheel weight (kg)
1.30 kg
Resistance regulation
Resistance in cardio trainers can be regulated by one of two ways - manual and electronic control. Manual regulation is the cheaper option and works on a simple basis. With a regulation knob, the user sets the resistance manually, usually in the range of 1-12 levels.
Manual
Resistance adjusted by a regulation knob. Easy to use.
Weight limit (kg)
By observing the weight limit of the product, you significantly increase its service life and prevent it from wearing down prematurely. It is not recommended to exceed this limit.
100 kg
Braking system
Cardio trainers use several types of braking systems.
There are trainers with magnetic, friction, calliper or EMS braking system. The magnetic and EMS systems that work through moving a magnet closer to the flywheel are used most often.
Magnetic
Magnets move towards or away from the flywheel, adjusting resistance. Great advantage is its silent running.
Handlebar heart rate sensors
yes
Compensating for uneven floor
yes
Weight
The total weight of the product.
14.50 kg
Maximum user height
180 cm
Usage category
Home use
Only suitable for home use.
Technology
Treadmills inSPORTline inCondi feature a technology that connects them to smart devices via an app. This way, you can experience training on a whole new level. You can also save your results and follow your long-term statistics.
inCondi
inSPORTline inCondi trainers are able to connect with your smartphone or tablet. A special app then allows you to enjoy your training on a whole new level, for example through virtual tracks all over the world! The apps also save your training data and follow long-term statistics.
Folding Exercise Bike inSPORTline inCondi UB20m II is included in the following categories: