Treadmill TechnoGym MyRun
Elegant treadmill for home using, clear screen, in-built music player, perfect springing and comfortable running board, full Apple iOS supporting, easy and fast assembly.
Recommended accessory
Description
Parameters
Alternatives (8)
Video (1)
Treadmill TechnoGym MyRun
Treadmill TechnoGym MyRun is a first-class treadmill for home using. Its perfect parameters provide you with the most comfortable and most silent drive. Large running area features sufficient space for a person with any height und is universal absolutely. With its max. load capacity (up to 140 kg) and its own weight of 92 kg, this treadmill excels in solidity and long lifespan. It is fully compatible with the Apple iOS system, that provides a wealth of information, training plans, efforts etc. Product is delivered in assembled state, you need just 5 mins. to install it. Just unpack, put in the supply cord and start your workout.
Technogym is one of the most important world fitness producers. Its fitness devices can be found in most gyms worldwide. Products are classified into several categories that vary in the way of using, electronical equipment, accessory etc. Treadmill TechnoGym MyRun has been designed to provide the maximum running experience using personal training programs with immediate feedback. It is first solution you can use on your tablet (not included) for permanent improving your walking and running as well.
Without any lubrication: The Treadmill TechnoGym MyRun features a special technology, due to which it needs no lubrication of the running deck.  Oil or grease damage this device. It is maintenace-free.

With or without tablet: Download the MyRun app. to your tablet and choose a program that you want. Put your device onto the console, push the Single Switch button (controlling patent) and start your program. Or select optimal speed and incline on the treadmill directly and push the Single Switch button. Now you can start moving.
TechnoGym MyRun RUNNING RATE is an index, developed by medical and scientific Technogym team to measure your running performance. This index is increased with your speed together while keeping your ideal walking frequency unchanged. It increases your effectiveness and eliminates risk of an injury.
Fine surface and silent drive: Innovative running board adapts to your running technique and decreases injury risk by absorbing impact without deceleration of your motion. It makes your running smooth and silent even at speed of 20 km/h.
The maximum comfort and the smallest installation area: The MyRun treadmill provides the same freedom of movement like professional treadmills with the best ratio of total machine area and running area. Using this device, your workout gets more funny and more effective. Plan your individual trainings, according to your needs and targets.
Running Music: This function can choose the best records for your running pace from the music list. Due to it, this treadmill is the first interactive music treadmill worldwide.
 
Technical parameters:
Perfectly silent
Motor output: 6.5 HP
Comfortable running area
Running deck dimensions 143 × 50 cm
Speed from 0,8 to 20 km/h
Electrically adjustable incline in range: 0 - 12 %
Comfortable springing
Silent drive at high speed
Easy to make it ready (approx. 5 mins.)
Supply: 230 V / 50 Hz
Length: 176 cm
Width: 96 cm
Height: 126 cm
Weight: 92 kg
Max. user weight: 140 kg
Suitable for home using
Apple device not included
The lowest consumption: Due to the approaching sensor, the MyRun treadmill starts after you come to. Its average consumption is 700 W by 10 km/h. It switches automatically to the stand-by mode if not used actually. The stand-by mode consumption is less than 0.5 W (class AA + household appliances).
Assembly within 5 minutes: Its package and shape have been designed for very quick and easy assembling. You can do it in 5 mins. 
Cvičením na rotopedu inSPORTline posilujete tyto partie: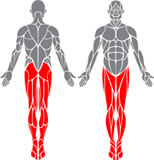 Treadmill TechnoGym MyRun - Documents to download
Treadmill TechnoGym MyRun - Product parameters
Running deck length
143 cm
Deck inclination
electronic
Maximum elevation
6.86° (12%)
Total number of programs
17
Number of Preset Programs
15
Heart rate frequency sensor
no
System for adjusting to uneven surface
yes
Height when unfolded
126 cm
Width when unfolded
96 cm
Length when unfolded
176 cm
Treadmill TechnoGym MyRun - alternatives -
all in stock
Treadmill TechnoGym MyRun is included in the following categories: