Treadmill TechnoGym MyRun
Elegant treadmill for home using, clear screen, in-built music player, perfect springing and comfortable running board, full Apple iOS supporting, easy and fast assembly.
Recommended accessories
Description
Parameters
Alternatives (8)
Video (1)
Treadmill TechnoGym MyRun
Treadmill TechnoGym MyRun is a top-quality treadmill for home use. Its excellent features offer the most comfortable and quiet running. The large running deck provides enough space for a person of any height and can therefore be used by anyone. The sturdy treadmill has a 140 kg weight limit and weighs 92 kg, making it extremely durable, even when used every day. The treadmill is fully compatible with the Apple iOS system, which gives you access to your training data, training plans, your progress, etc. The treadmill is delivered in an assembled state, and setting it up will only take you 5 minuets. All you need to do is unpack it, plug in the supply cord and start your workout.
Technogym is one of the world's leading fitness manufacturers.and its devices are sold to various gyms all around the world. Just as other manufacturers, TechnoGym divides its products into several categories according to their usage, electronic components, accessories, etc. Treadmill TechnoGym MyRun is designed to provide you with the perfect running experience using personal training programs with immediate feedback on your technique. It is the first solution you can use on your tablet (not included) that will prmanently improve the way you run and walk.


No Lubrication Necessary
The Treadmill TechnoGym MyRun features a special technology, that DOESN'T REQUIRE lubricating the running deck. Any oil or greese will damage it. That's why the treadmill is completely maintenance-free.

With or Without a Tablet
Download the MyRun app to your tablet and choose a program that will suit your needs. Put your device onto the control panel, push the Single Switch button (patent pending) and start your training. Or select optimal speed and incline directly on the treadmill and push the Single Switch button to start moving.


Discover TechnoGym MyRun
RUNNING RATE is an index developed by TechnoGym's medical and science teams that measures your running performance. This index is increased if you incree your speed while maintaining ideal step frequency. It hels to improve your efficiency and lowers the risk of an injury.


Adjustable and Smooth Surface
Innovative running deck adapts to your running technique and lowers the risk of an injury by absorbing impact without slowing you down. It ensures you run smoothly, even at 20 km/h.


Maximum Comfort, Maximum Surface
The MyRun treadmill provides the same freedom of movement as professional treadmills with the best total surface/running area in its category. Using TechnoGym MyRun will make your training more effective and fun. Plan your trainings according to your individua needs and aims.


Run in Rhythm
The Running Music function will choose the best songs to fit your thythm from your playlist. This function makes MyRun the first interactive treadmill ever.

Compatible with MyRun APP
Apple iOS - support iPad device iOS 9.0 or higher
Android - support tablets with Android 4.2 or higher
Key attributes:
extremely quiet running
comfortably wide running deck with wide side rails
comfortable suspension of the running deck
quiet running even at maximum speed
quick set-up (approx. 5 minutes)
precisely designed
Technical description:
| | |
| --- | --- |
| motor output | 6.5 HP |
| running deck dimensions | 143 x 50 cm |
| inclination | electronic |
| maximum inclination | 6.86° (12 %) |
| speed | 0.8 - 20 km/h |
| total number of programs | 17 |
| pre-set programs | 15 |
| user programs | yes |
| HRC program | yes |
| manual program | 1 |
| heart rate frequency sensors | no |
| bottle holder | yes |
| tablet holder | yes |
| transport wheels | yes |
| system to compensate for uneven floor | yes |
| suspension | TechnoGym |
| safety key | yes |
| chest strap receiver | yes |
| chest strap included | no |
| audio input | no |
| folding frame | no |
| dimensions | h126 x w96 x l176 cm |
| dimensions while folded | *** |
| weight limit | 140 kg |
| weight | 92 kg |
| power input | 230V |
| category | not stated |
| use | home |
The Lowest Power Consumption
Thanks to a motion sensor, the treadmill will turn on when you approach it. Its average power consumption is 700 W at 10 km/h. When left idle, it will automatically switch to the stand-by mode with a power consumption of less than 0.5 W . The stand-by mode consumption is less than 0.5 W (AA category +household appliances).


Assembled in 5 Minutes
The treadill and its packaging are designed for a very quick and easy assembly. It will take you just minutes and you can start training immediately.
Treadmills help you focus on these areas: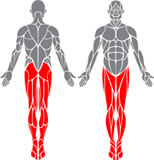 Treadmill TechnoGym MyRun - Documents to download
Treadmill TechnoGym MyRun - Product parameters
Motor output
The higher the output, the higher the user weight limit. Treadmills with high output can also move faster.
6.5 HP
Deck inclination
Running deck inclination is one of the most important aspects of a treadmill. The outmost majority of motorized treadmills feature electronic inclination. Cheaper models either have fixed or manually adjusted inclination.
electronic
Maximum elevation
6.86° (12%)
Running deck length
Generally speaking, the longer the running deck, the more comfortable exercise the treadmill provides. For taller people, minimum recommended running deck length is 140 cm. Running decks on professional treadmills are suitable for everyone.
143 cm
Total number of programs
The total numner of pre-set and user programs, manual mode and HRC program (if applicable).
17
Number of preset programs
15
User programs
User programs are programs that can be set according to the requirements of the user and saved into the memory of the treadmill's console.
1
Heart rate frequency sensors
no
Tablet holder
A tablet holder doesn't have to be used only for a tablet. You use it to prop up a book, magazine or a mobile phone.
yes
System for adjusting to uneven surface
yes
Safety key
A necessary part of every treadmill - a magnetic safety with a clip attached to your clothing that, when pulled out, immediately stops the treadmill.
yes
Audio jack
If the treadmill features an audio jack (3.5 mm), you can connect it to your phone and replay music through inbuilt loudspeakers.
no
Height when unfolded
126 cm
Width when unfolded
96 cm
Length when unfolded
176 cm
Treadmill type
Treadmills without motor are moved via the force created by the user's legs and subsequent inertia. Motorized treadmills feature and electric motor that moves the running deck. On these treadmills, you can adjust the running speed at will.
Motorized
Weight
Generally speaking, the heavier the treadmill, the more robust it is and the longer its service life. The weight of professional treadmills can far exceed 100 kg.
92 kg
Power Source
Most treadmills are powered via 220/230V outlet. Treadmills without motors only require batteries for their control panels.
230V
Intended use
Home treadmills are suitable for home use only. The higher-quality club treadmills can be used in hotels, school gyms, public gyms, etc. Commercial treadmills can be used anywhere, mainly in professional commercial fitness centres.
home
Technology
Treadmills inSPORTline inCondi feature a technology that connects them to smart devices via an app. This way, you can experience training on a whole new level. You can also save your results and follow your long-term statistics.
TechnoGym
Treadmill TechnoGym MyRun - alternatives -
all in stock
Treadmill TechnoGym MyRun is included in the following categories: