Elliptical Trainer inSPORTline Galicum
Sturdy structure, timeless design, compatible with apps, safety features, number of programs, flywheel in front.
Recommended accessories
Description
Parameters
Alternatives (2)
Video (1)
Elliptical Trainer inSPORTline Galicum
The Elliptical Trainer inSPORTline Galicum is a professional elliptical trainer with a timeless futuristic design. Unlike other elliptical trainers, this one has the flywheel in the front, making the movement more dynamic and natural. The unique-colored sturdy structure with the 51cm stride length, 26.5cm pedal spacing and 14.5kg flywheel makes this elliptical unique. You may also appreciate sturdy rails along which the large footboards move. Therefore, it not only saves energy but also eliminates cables. The Elliptical Trainer inSPORTline Galicum features a large LCD display and a computer with a number of functions and programs, such as time, distance, heart rate, resistance level (40 levels), calories burned, WATT program and metabolism measuring. As far as programs are concerned, the Elliptical Trainer inSPORTline Galicum features 4 preset programs, 2 HRC programs that work based on the preset hear rate, 2 user programs and also a manual program. The preset programs include for example the Performance mode, Weight Loss mode and Random Difficult profile. The computer and display are easy-to-use for people of all ages. The large numbers are clearly visible even in the dark. Last but not least, this elliptical trainer also features an audio cable hole.


The anti-slip footboards (with a strap that secures the foot in place, thus preventing it from slipping off), speakers and anti-slip handles with a control panel provide safety and comfort. A bottle and tablet/phone holders, transportation wheels for easy carrying and the uneven surface adjustment system are a must.


Those who own tablets with Android/Apple iOS operating systems will appreciate the FitConsole app which monitors and records individual sessions (including date, time and statistics). The second app, Google Map-based Run On Earth, requires internet connection. This app allows you to run under the Eiffel Tower, in the streets of London and/or around your neighbor's house. You can find all the app info in the instruction manual.


The Elliptical Trainer inSPORTline Galicum features an own energy generator with a battery without necessity to be connected in the power source while used. The energy arises during exercising. One of its advantages is the elimination of many wires. It spares energy and is environmentally friendly. The battery should not be discharged for longer than 30 days. At least once a month it must be charged by the generator. The charging cycle takes 6 hours.
Key features:
Professional elliptical trainer with futuristic design
Sturdy frame, front flywheel
Industrial bearings in all joints
Large anti-slip footboards (with a strap that secures the foot in place, thus preventing it from slipping off)
Number of programs (40 resistance levels)
Clear and intuitive LED display
Own energy generator
WATT program: the machine increases or decreases the resistance so that the user performs the set performance (for example, increases the resistance when reducing the pedaling)
HRC program: this machine can increase or decrease the resistance to keep your heart rate in optimal heart rate zone
Computer displays: time, distance, heart rate, resistance level, performance (WATT), pulse and metabolism, calories burned and program.
Technical description:
Flywheel weight

14.5kg

Resistance operation

Electronic

Number of resistance modes

40

Pedal spacing

8cm

Stride length

51cm

Number of modes

9

Preset programs

4

User programs

2

HRC program

Yes

WATT program

Yes

Manual program

Yes

Heart rate monitor

Yes

Tablet holder

Yes

Bottle holder

Yes

HR belt receiver

Yes, for unencrypted analog 5kHz signal
recommended Sigma 5kHz (range 1 meter, with the possibility of replacing the battery) or Polar T34 (range 4 m, without the possibility of replacing the battery)

HR belt included

No

Transportation wheels

Yes

Uneven surface adjustment

Yes

Dimensions

Height-172 x width-63 x length-214cm

Maximum user height

No restrictions

Weight limit

150kg

Weight

88cm

Brake system

Electric-magnetic

Bearings

Ball bearings

Power source

Own energy generator

Category

SA (EN957)

Use

Commercial, club, home
Note
: Device does not include fan on the display.
Extended warranty applies to this product.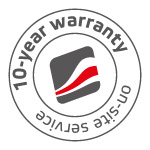 Recommended by Petr Kopřiva, inSPORTline Fitness Coach
Regular training improves your physical fitness, helps you lose weight and strengthens your cardiovascular system.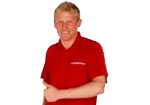 Exercised body areas: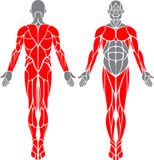 Elliptical Trainer inSPORTline Galicum - Documents to download
Elliptical Trainer inSPORTline Galicum - Product parameters
Flywheel weight (kg)
14.50 kg
Flywheel Placement
front
Usually with longer stride and smaller distance between pedals, which provides more natural movement trajectory.
Weight limit (kg)
By observing the weight limit of the product, you significantly increase its service life and prevent it from wearing down prematurely. It is not recommended to exceed this limit.
150 kg
Resistance regulation
Resistance in cardio trainers can be regulated by one of two ways - manual and electronic control. Manual regulation is the cheaper option and works on a simple basis. With a regulation knob, the user sets the resistance manually, usually in the range of 1-12 levels.
Electronic
Resistance is adjusted directly on the control panel, or automatically through various programs.
Braking system
Cardio trainers use several types of braking systems.
There are trainers with magnetic, friction, calliper or EMS braking system. The magnetic and EMS systems that work through moving a magnet closer to the flywheel are used most often.
Magneto-electric EMS
Classic magnetic effect, magnets move towards and away from the flywheel and their effect is enhanced by coils that create stronger magnetic field and brake more effectively. Its advantages are high level of resistance and quiet running.
Bearings
industrial bearings
Compensating for uneven floor
yes
Handlebar heart rate sensors
yes
Maximum user height
No limit
Dimensions when fully assembled
length x width x height
214 x 63 x 173 cm
Weight
The total weight of the product.
88 kg
Usage category
Commercial use
For large commercial gyms where almost permanent use is expected. Also suitable for smaller gyms or home use.
Elliptical Trainer inSPORTline Galicum - alternatives -
all in stock
Elliptical Trainer inSPORTline Avalor ET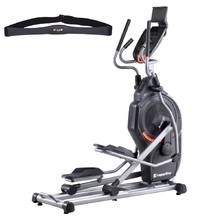 More info
Elliptical Trainer inSPORTline inCondi ET2000i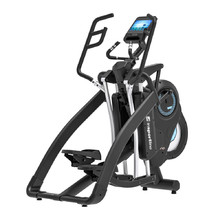 More info
Elliptical Trainer inSPORTline Galicum is included in the following categories: