Anabolizer Nutrend HMB 4500 100 Capsules -
SPECIAL OFFER
Protects muscle mass and boosts muscle growth, plays important part in protein synthesis.
Recommended accessories
Description
Alternatives (2)
Anabolizer Nutrend HMB 4500 100 Capsules
Anabolizer Nutrend HMB 4500 100 Capsules is popular among athletes because it protects muscle mass and boosts muscle growth. HMB plays an important part in protein synthesis. HMB is also – in small amounts – produced by the body, as a result of the metabolism of one of the essential branched amino acids – L-leucine. However, in order to make an effective dose of HMB, too much of L-leucine is needed. That is why this product was made.
900 mg of HMB in each capsule
Constant muscle growth
Prevents catabolism
HMB 4500 is intended for:
Muscle growth
Preventing catabolic reaction in muscles
Athletes involved in intensive training
Recommended dosage:
Daily dose for athletes is 5 capsules
Training days: take 3 capsules 60 minutes before a training session and another 2 capsules immediately after a training session.
Non-training days: Take 3 capsules 30 minutes before breakfast and another 2 capsules approximately 30 minutes before lunch.
Do not exceed the recommended dosage.
Instructions for use: Follow the recommended dosage. Swallow the capsules and wash them down with water, not alcohol or dairy drinks. Do not chew the capsule! After opening the package, store it in temperatures under 25°C and consume it within 3 months.
Warning: Dietary supplement. Suitable especially for athletes. Not a substitute for a varied diet. Not intended for children, pregnant or breastfeeding women. Keep out of reach of children. Store in a dry place at the temperature not higher than 25°C, away from direct sunlight. Do not freeze. The manufacturer is not liable for any damage caused by improper use or storage.
Anabolizer Nutrend HMB 4500 100 Capsules - alternatives -
all in stock
Anabolizer Nutrend INOSINE – 100 Capsules
More info
Anabolizer Nutrend ZMA – 120 capsules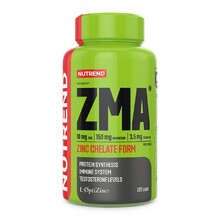 More info
Anabolizer Nutrend HMB 4500 100 Capsules is included in the following categories: