Multi-Purpose Dip Station inSPORTline Power Tower X150 -
SPECIAL OFFER
Can be used as a bench press station, sturdy frame, comfortable padding, anti-slip surfaces.
Recommended accessories
Description
Parameters
Alternatives (5)
Video (1)
Multi-Purpose Dip Station inSPORTline Power Tower X150
Multi-Purpose Dip Station inSPORTline Power Tower X150 is a multi-purpose home gym suitable for upper body workouts. The power tower features a pull-up bar with angled anti-slip grips, 120 kg weight limit, padded parallel bars (abs and triceps exercises), foldable bench press station and unpadded parallel bars at the bottom for classic and triceps push-ups. In the basic position, the bench press station serves as a backrest. However, it can easily be turned into the bench press station with the 200 kg weight limit. Above the station, there is a holder for a barbell weighing up to 100 kg. All the armrests and backrests have a 5-cm thick padding made of synthetic leather, providing the ever-needed comfort during exercising. Its high stability and anti-slip foot pads increase the tower's safety. All of the above makes inSPORTline Power Tower X150 a perfect piece of equipment for your home gym.
Technical description:
Sturdy steel frame
High stability
Durable coating
Anti-slip foot pads
Soft padding
High and comfortable backrest
Attention to detail
Upper pull-up bar
Upper parallel bars with padding
Lower unpadded parallel bars at the base
Bench press station (when folded)
6 positions for barbell holder
Length of the upper pull-up bar: 102 cm
Grip diameter: 25 mm
Dimensions: length 140 cm x width 65 cm x height 220 cm
Bench dimensions: l111 x w24 cm
Frame profiles:

columns: 45x45 mm, width 2 mm
parallel bars: 45x45 mm, width 2 mm
bench frame: 38x38 mm, width 1,5 mm
bench support: diameter 25 mm, width 1,5 mm
base: 50x50 mm, width 1,5 mm

Weight: 38 kg
Pull-up bar weight limit: 120 kg
Bench press station weight limit: 200 kg (user + weight)
Barbell holder weight limit: 100 kg
Suitable for home use
Barbell not included
Extended 10-year warranty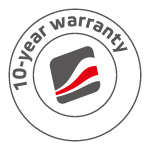 Recommended by Petr Kopřiva, inSPORTline Fitness Coach
Regular training improves your physical fitness, helps you lose weight and strengthens your cardiovascular system.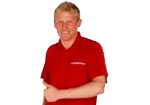 Exercised body areas: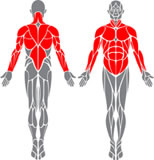 Multi-Purpose Dip Station inSPORTline Power Tower X150 - Documents to download
Multi-Purpose Dip Station inSPORTline Power Tower X150 - Product parameters
Weight limit (kg)
By observing the weight limit of the product, you significantly increase its service life and prevent it from wearing down prematurely. It is not recommended to exceed this limit.
120 kg
Pull-up bar type
Multi-purpose
Multi-Purpose Dip Station inSPORTline Power Tower X150 - alternatives -
all in stock
Multi-Purpose Dip Station inSPORTline Power Tower X150 is included in the following categories: