Ab Trainer inSPORTline AB Perfect Dual -
SPECIAL OFFER
For midsection exercises, shapes upper, middle and lower part of your abdomen, doesn't strain your back, adjustable resistance level, stimulates natural movement, optimal resistance.
Recommended accessories
Description
Alternatives (8)
Video (1)
Ab Trainer inSPORTline AB Perfect Dual
Ab Trainer inSPORTline AB Perfect Dual is an ab training equipment designed mainly for beginners with weak ab muscles. Working out with this equipment is a quick and efficient way to get your upper, middle and lower abdominal muscles into shape and that includes your oblique muscles. The equipment helps you to correctly train your abdominal muscles without detrimental effect on your back. The results of you exercising with this ab trainer could not be matched even after a hundred push-ups. Ab Trainer inSPORTline AB Perfect Dual stimulates natural movement and puts just the right amount of pressure on intervertebral discs and joints. All the more, the head rest allows for effective ab exercising without straining your neck muscles.
The frame is made of durable steel, making the trainer stable and able to support more weight. The secret of Ab trainer inSPORTline AB Perfect Dual lies in its effective resistance, which makes your muscles work in both directions with every repeat. This way you'll exercise optimally your entire body while saving time and effort. This trainer is so effective thanks to the joint springs and the resistance adjustment knobs on both sides. Other advantages include difficulty settings, soft padding and anti-slip grips. Ab Trainer inSPORTline AB Perfect Dual is easily folded so you can store it without it taking much space.
Technical description:
Ab training exercise equipment
Suited especially for beginners
Quickly and effectively strengthens your abdominal area
Shapes upper and lower parts of your midsection
Effective resistance makes the muscles work in both directions
Adjustable resistance level
Many different exercises
Helps the user exercise correctly
Doesn't strain the back
Stimulates natural movement
Optimal pressure put on intervertebral discs and joints
3 levels of resistance

springs witout stripe - low resistance
springs with black strap - medium resistance
springs with blue strap - high ressitance

Weight: 5.9 kg
Dimensions: l: 57 x w: 45 x h: 35 cm
Recommended by Petr Kopřiva, the inSPORTline coach:
Strengthening your stabilization muscles will help you reduce longterm back pain.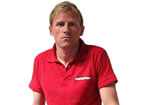 Exercised body areas: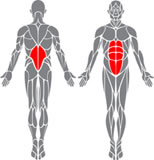 Ab Trainer inSPORTline AB Perfect Dual - alternatives -
all in stock
Ab Trainer inSPORTline AB Perfect Dual is included in the following categories: