Yoga Set inSPORTline Basic
Basic set for yoga; includes exercise mat, yoga block and yoga strap.
Recommended accessories
Yoga Set inSPORTline Basic
Yoga Set inSPORTline Basic is an attractive set of basic yoga equipment for yoga beginners, containing tools for flexibility improvement and full body stretching and delivered with a comfortable exercise mat of easy-to-maintain material.
Yoga Set inSPORTline Basic includes:
Comfortable inSPORTline Yoga exercise mat
inSPORTline Bricky S yoga block for stretching of back, shoulders, arms and legs
inSPORTline Bokle yoga strap for more demanding stretching exercises
Aerobic Gym Mat inSPORTline Yoga 173x60x0.5cm is suitable especially for aerobic and yoga training, but can be used for other sports as well. The mat is light, easy to store & carry and highly versatile. Available in various colors.
Technical description:
Dimensions: L 173 x W 60 x H 0.5 cm
Weight: 1080 g
Material: PVC
Harmless material
Yoga Block inSPORTline Bricky S is a practical equipment for yoga exercise, sometimes known as a yoga brick, which is used especially for the stretching of arms, legs and back and for getting into positions which would not be possible without it. It can be used as a tool for increasing exercise intensity and variability. The yoga block is also suitable for pregnant women, who want to exercise and need an extra support. The block is made of EVA material, which makes it firm and stiff, yet light and smooth on touch. All these features make Yoga Block inSPORTline Bricky popular among yoga lovers.
Technical description:
Yoga brick
Firm, pleasant material
Lightweight and easy to store
Suitable for stretching, improving exercise variability and balance
Material: EVA
Dimensions: 7.5x15x22.5cm
Weight: 90g
Yoga Strap inSPORTline Bokle is a great equipment for yoga beginners who want to perform exercises which cannot be done otherwise. The strap is used for getting into more difficult positions and longer training periods also lead to the "understanding" of individual exercises. It can improve the flexibility of legs, arms and the rest of the body. An example could be the so called back stretch toe touch position – if the user cannot reach the feet with hands, he can use the strap as a support and gradually start to stretch as far as possible. The same technique is also used for the exercise when the hands are connected behind the back.
Yoga Strap inSPORTline Bokle is made of acrylic fibre (wool-like qualities), which is pleasant to touch. For length adjustment or making a loop the strap is equipped with a plastic buckle. The complete length is 185cm.
Technical description:
Suitable for beginners
Used for stretching into more difficult positions
Pleasant material
Adjustment buckle
Material: acrylic fibre
Length: 185cm
Width: 4cm
Recommended by Petr Kopřiva, the inSPORTline coach:
Strengthening your stabilization muscles will help you reduce longterm back pain.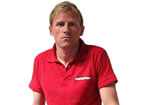 Yoga Set inSPORTline Basic is included in the following categories: