Massage Chair inSPORTline Marvyn
Massage chair with standard massage modes, suitable for home use, user programs, back heating function.
Recommended accessories
Description
Parameters
Alternatives (4)
Massage Chair inSPORTline Marvyn
Massage Chair inSPORTline Marvyn is a basic model of massage chair, which offers many functions and programs. Its construction is made of a solid frame with 100kg weight capacity and synthetic leather surface that is practically indistinguishable from the real leather. The main advantage of synthetic leather is easy maintenance to ensure long-service life. Massage system consists of 28 massage airbags and 6 massage hands. Silent and smooth run is guaranteed by 150W motor.
Massage Chair inSPORTline Marvyn can massage full body or individual body parts. You can choose from 5 massage modes, including favorite massage techniques such as shiatsu, kneading, tapping or knocking. These massage modes are available in individual programs. The program menu offers five automatic massage functions (comfort, relax, decompress, neck and shoulder, back and waist) and manual massage for the upper body with five options (partial, fixed, overall, neck and shoulder, back and waist massage). You can also enjoy the so called "Zero Gravity" mode, in which the chair is in such position that it simulates the weightless experience of an astronaut. If none of the programs meets your needs, then you can create and save your own personal setting (memory for 3 user modes). This will allow you to enjoy your favorite massage just with a single button press. For maximum comfort and best massage experience Massage Chair inSPORTline Marvyn enables the adjustment of massaging intensity and speed. This function can be used in any massage mode, be it a preset or manual program.
Massage Chair inSPORTline Marvyn offers not only high quality massage modes but also other functions which will be appreciated, such as the automatic back heating function which uses carbon fiber as infrared heating source. The chair can be heated to 40°C-50°C which is an optimum temperature for warming up human body. Due to its wavelength far infrared rays are greatly absorbed by human body, where they activate cells and promote metabolism. Important features are also transport wheels for easy manipulation, LED indicator located on armrest and remote controller designed for quick and easy adjustments. You can enjoy all these massage benefits in the comfort of your home and whenever you want! Massage Chair inSPORTline Marvyn is suitable for the treatment of health problems as well as for regeneration after sport activities, after hard day at work or to experience relaxing atmosphere while listening to your favorite music.
Technical description:
Professional massage chair
Full/partial body massage
Angle-adjustable backrest/footrest
Length adjustable calf rests
Back heating function (40°C-50°C)
28 massage airbags
6 massage hands
Transport wheels
LED indicator on armrest
Remote controller
Power: 150W
Max power consumption: 150W
Assembled dimensions: L140 x W78 x H120cm
Max chair length during operation: 190cm
Material: synthetic leather
Max user weight: 100kg
Weight: 81kg
Programs and functions:
Zero gravity function
5 massage modes: shiatsu, kneading, tapping, knocking, simultaneous kneading and tapping
5 automatic massage functions: comfort, relax, decompress, neck and shoulder, back and waist
5 manual massage options: partial, fixed, overall, neck and shoulder, back and waist massage
3 air pressure massage functions: full body air pressure, upper limbs, lower limbs
3 levels of massage intensity
3 levels of massage speed
Adjustable position of massage heads / speed level / massage options
Memory for 3 massage modes
Benefits:
Fatigue relief
Blood circulation improvement
Muscle tension relief
Muscle regeneration
Relaxation
Muscle pain reduction
ZERO GRAVITY
When zero gravity mode starts, there is about 123° angle of elevation between body and feet. The position of thigh and calf higher than heart position. The gravity of each body part will distribute average on massage chair to make pressure on body fully release. It makes you under weightlessness condition and enjoy perfect relaxation without any restriction.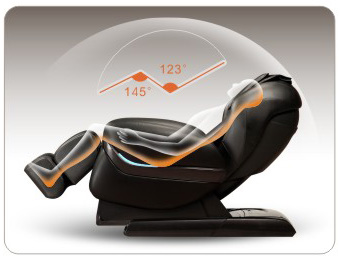 ZERO SPACE
Designed with one button to move smoothly and unique forward slip. In the near wall 5cm distance will be fully open massage chair. In turn, in the process of realizing the function of 22cm, forward, to abandon the traditional massage chair reserved by the wall space! The seat will slide forward, when it tilting you may feel a sense of offloating.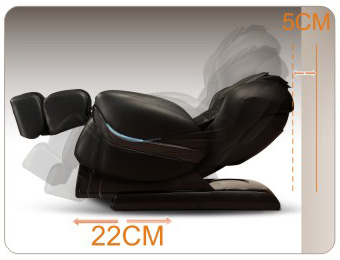 "S" SHAPE CURVED RAIL
Combined with human engineering and studied super long "S" shape space curved rail technology. Massage the distance to 95cm, makes you enjoy personal massage form the head to the leg, help to maintain the human body vertebra "S" shape curve, achieve relaxing the spine and relieve tense muscles.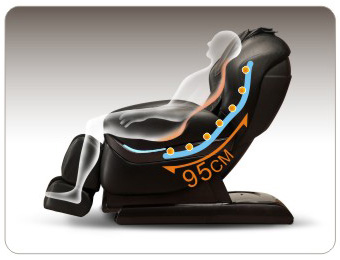 ARM AIRBAG MASSAGE
Set with 8 airbags according to human arm curve to do all-round massage to arms Yangchi, Quchi points. Three-dimension balance traction originates from inflated airbags will relax and refresh yourself from arm to palm.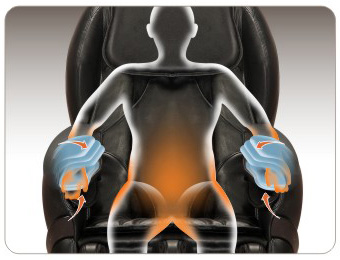 CARBON FIBER FAR INFRARED HEATING
40°C-50°C back heating function can relieve coldness and pain on your back. The emissive far infrared wave length coincides with human body wave length, so the energy can be absorbed by human cells, which can activate cells and promote metabolism.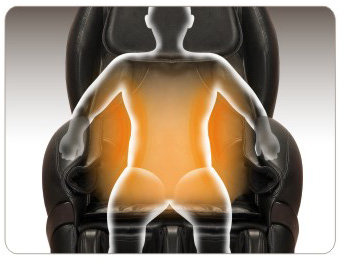 ADJUSTABLE HEAD CUSHION & BACK CRASH CUSHION
Humanized head cushion, it is adjustable freely within 10cm, fit for different body height. The back inner cushion fixed on chair's back outer cushion by zipper, enhance or weaken the massage strength on back when you put on or take off, enjoy more comfortable massage.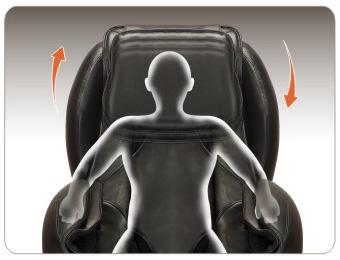 Recommended by Petr Kopřiva, inSPORTline Fitness Coach
Regular training improves your physical fitness, helps you lose weight and strengthens your cardiovascular system.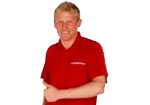 Exercised body areas: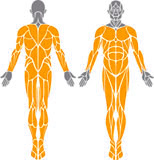 Massage Chair inSPORTline Marvyn - Product parameters
Dimensions when fully assembled
140 x 78 x 120
Massage Chair inSPORTline Marvyn - alternatives -
all in stock
Massage Chair inSPORTline Marvyn is included in the following categories: