Inline Skates Aggressive
WORKER inline skates designed for an aggressive inline skating, either for beginners or advanced skaters. The skates meet the highest European safety standards.
WORKER inline skates Aggressive were certified by the German testing facility TÜV-GS.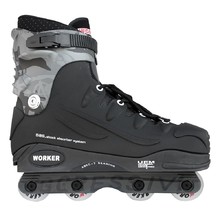 WORKER Agresive in-line skates
110,80 € (26%)
81,90

€
Agressive in-line skates, wheels - suspended PU 57mm, ABEC 7.