Roller Skates
Roller skates are retro skates with wheels in two rows. These skates with an old-school design can be used by beginners that have a problem with maintaining balance on the centre axis of inline skates, as well as by casual and advanced skaters. They are suitable for disco skating, relaxing ride through a park or a special skating activities, such as roller dance (dancing on roller skates), jam skating (breakdance on roller skates), free jump (high jump on roller skates), roller derby (team race around a rink), roll hockey and others.
Do you want to buy inline skates?
What size and type of inline skates to choose?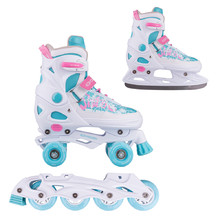 3-in-1 Adjustable Skates/Rollerblades/Roller Skates WORKER Juando
3 pairs of replaceable chassis – inline chassis, trekking chassis and ice chassis …
Buy
Free size exchange
Special offer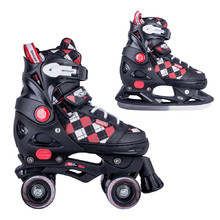 Trekking Skates 2in1 WORKER Denel
Retro roller skates, two lines of wheels, replaceable chassis, front brake.
Buy