Electronic Regulation - Ergometers
Ergometers with electronic resistance regulation, durable frame, many functional accessories – all to ensure effective training.
Ergometers are suitable for all facilities where they'll be used often, for several hours a day. They are therefore popular with the owners of fit centres, hotels with their own gyms and wellness centres.
Ergometer is just another name for an elliptical trainer with electronic control. High-quality ergometers can be found in fit centres and gyms.
more
Elliptical Trainer inSPORTline inCondi ET600i
1 111,40 € (26%)
823,10

€
Electronic control, compatible with tablet, suitable for longtime use, HRC program, …
Elliptical Trainer inSPORTline inCondi ET520i
1 189,60 € (36%)
761,40

€
Electronic control, compatible with tablet, front flywheel, folding, HRC program, …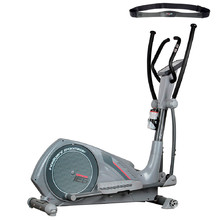 Eliptical inSPORTline Caracas
946,60 € (26%)
699,60

€
Electronic regulation, thin frame, chest strap, HRC program, heart rate sensors, …