Moto Gloves W-TEC Freeze 190
Leather material, breathable waterproof Hipora membrane, reflective components, non-slip palms.
Recommended accessories
Description
Parameters
Alternatives (6)
Moto Gloves W-TEC Freeze 190
Moto Gloves W-TEC Freeze 190 are designed for winter riding and are made of double-layer genuine leather. Non-slip textile on palms ensures a secure grip. The combination of waterproof Hipora membrane and thermal-insulation Thinsulate layer provides a high level of comfort. Reflective parts increase the visibility of the rider in low-light conditions. Moto Gloves W-TEC Freeze 190 are suitable for a normal motorcycle ride.
Technical description:
Breathable waterproof Hipora membrane
Thermal-insulation Thinsulate 3M
Patented NightVision reflective components
Velcro fastening on wrists
EVA knuckle protectors
Non-slip palms
Material: calfskin leather
Size chart:
| | | | |
| --- | --- | --- | --- |
|   | Palm circumference (cm) | Length up to wrist (cm) | Total length (cm) |
| S | 24 | 18,5 | 29,5 |
| M | 24,5 | 19 | 30 |
| L | 25 | 19,5 | 31 |
| XL | 25,5 | 20,5 | 32 |
| XXL | 26 | 21,5 | 33 |
How to measure: These are the external dimensions of the clothing when slightly stretched. These are not body measurements.  Optimally, compare the dimensions with your clothes that fit you well.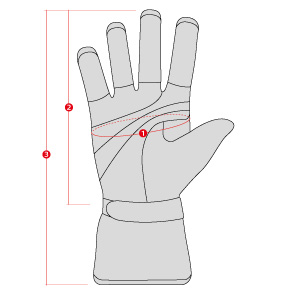 You will learn how to properly take care of motorcycle clothing in our guide.
Moto Gloves W-TEC Freeze 190 - Product parameters
Length
There can be two glove lengths. Gloves ending at the wrist are suitable mainly for motocross and enduro riding. Touring gloves, on the other hand, reach forearms. The rider's preferences should also be taken into an account.
Long
Material
Motorcycle glove materials can differ in some ways. However, most of the time they are made of either genuine or synthetic leather. Their qualities are pretty much similar and the biggest differences are in price and service life. Synthetic leather is less surable than genuine leather, but is is also much cheaper. Materials such as polyamide, polyurethane, kevlar and carbon usually make up protectors because they are hard and durable.
Genuine leather
Knucle protectors
Gloves with knuckle protectors provide protection in case of any falls. Knuckle protectors can be placed either on the surface of the glove or integrated inside it. Most often, they are made of durable polyurethane, a highly resistant hardened plastic. Other materials used include kevlar or carbon fibres, a very hard fabric that was especially developed for these types of protectors.
yes
Anti-slip palms
Gloves with anti-slip palm surface guarantee a perfect grip on the handlebars and control levers. There will be no danger of your hands slipping off the grips.
yes
Velcro wrist strap
A wrist strap will keep your gloves perfectly in place, eliminating any danger of them slipping out of place.
yes
Reflective features
Reflective features exponentially increase the user's visibility. They are suitable especially for winter months that come with mists and early sunset. However, they shouldn't be forgotten even during summer.
Reflective features on clothing items usually take the form of a reflective lettering or stripes that don't clash with regular wear.
yes
Thermal insulation
Gloves with thermal insulation are suitable mainly for cold or winter weather. Insulation is provided via added insulation material that accummulates warmth and prevents its loss.
yes
Heating
This special type of gloves includes a heating unit that is charged by a lithium battery, keeping your hands warm.
no
Moto Gloves W-TEC Freeze 190 - alternatives -
all in stock
Moto Gloves W-TEC Freeze 190 is included in the following categories: