Magnetic Bracelet inSPORTline Toliman
Stylish bracelet, magnets of high strength, very low weight, double strap, suitable for everyday use, helps improve physical fitness.
Recommended accessories
Description
Parameters
Alternatives (2)
Magnetic Bracelet inSPORTline Toliman
Magnetic Bracelet inSPORTline Toliman completely stimulates the functions of human body. The high quality of used materials will satisfy anyone. Silicone and surgical steel are suitable for allergic people and they don't react with sweat (non-corrosive). Neodymium magnets are made in relatively small sizes, consisting of one fifth boron and four fifths neodymium. They release small amounts of energy while they are in contact with your skin. Magnetic Bracelet inSPORTline Toliman is more than suitable for everyday use and sports activities. It improves performance and increases concentration.

Neodymium magnets have a number of positive effects. The unique blend of four technologies – magnet therapy, infrared radiation, negatively charged ions and germanium – provides magnetic jewellery with priceless range. They increase oxygen levels in blood, stimulate cellular regeneration, stabilize blood pressure and help release toxic substances. They have analgesic effect and as such relieve joint and muscle pain, reduce swellings and speed up recovery. They also have anti-inflammatory effect, as well as a positive impact on degenerative and inflammatory diseases of the muscular system, ligaments and tendons (tennis elbow, Achilles tendon). Magnetic Bracelet inSPORTline Toliman will effectively relieve chronic neck or shoulder pain caused by overstraining, injury or stress. They also help with toothache and menstrual cramps. In the wrist, there are many biologically active points connected to inner organs. They help increase performance and physical fitness. The magnets do not substitute medical care; however, they are a suitable accessory in such matters.
Technical description:
To-quality magnetic bracelet
Quality manufacture
Unique design
Strap made of silicone safe for human health
Chip that absorbs electromagnetic radiation
4 pcs of neodymium magnets
Mix of matte and burnished steel (316L, hypoallergenic)
Dimensions: length 22 cm x width 0.4 cm
Weight: 24 g
Easy maintenance
It is not recommended to wear next to your wristwatch
Note:
Magnetic bracelets are not suitable for pregnant women and people with pacemakers. If you have artificial joints, metal screws or artificial organs, consult your GP about using magnetic accessories.
Magnetic Bracelet inSPORTline Toliman - Product parameters
Type of jewellery
Where you wear your magnetic accessories depends entirely on your taste and preference. Placement has no effect on function.
Bracelet
Number of magnets
The number of magnets can differ, depending on the bracelet. Each magnet has the strength of roughly 1000 gauss. However, the strengths of individual magnets cannot be added up. The magnets instead create a magnetic field with the strength of 1000 gauss. The number of magnets is therefore not as significant as it may seem.
4 pcs
Magnet type
Magnet types may vary. Here, you'll come across the two main types - neodymium and ASPO ferrite magnets. Neomydium magnets are made by our company and are distiguished by anti-inflamatory properties, relieving pain, improving blood oxygenation, preventing blood clots and helping in case of insomnia.
Neodymium
Material
If you prefer elegance and simplicity, noble metals are the best choice for you. They include tungsten, an extremely hard material that is safe for human health and has long-lasting polished surface that doesn't scratch easily. Then there is titanium, which is one of the hardest metals, suitable for people with allergies and very resistant to mechanical damage. The last metal is surgical steel that is known for its anti-allergic properties. It is also durable, though less so. It is recommended for customers who are looking for a lower price. If you prefer more sporty design, the ideal materials for you are textile and silicone. They look simple, but are very durable. These materials are especially suitable for water sports and extreme weather conditions.
Silicone, Stainless steel
Weight
The weight of a bracelet or a necklace is determined mainly by the size and type of the product. Bracelets are usually lighter than necklaces. However, the weight difference between separate products is not so significant as to cause differences in comfort.
24 g
Gift box
A gift box will come in handy, especially if you want to gift the magnetic jewellery to someone else, but also if you want an elegant way to keep it for yourself.
yes
Magnetic Bracelet inSPORTline Toliman - alternatives -
all in stock
Magnetic Bracelet inSPORTline Livis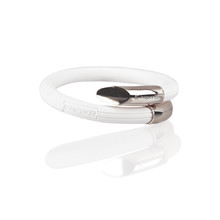 More info
Magnetic Bracelet inSPORTline Lotara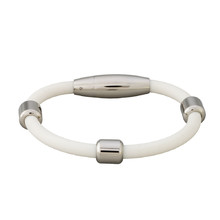 More info
Magnetic Bracelet inSPORTline Toliman is included in the following categories: