Magnetic Necklace inSPORTline Alkione -
SPECIAL OFFER
Necklace with a sports design, made of silicone, chip absorbing electromagnetic radiation.
Recommended accessories
Description
Alternatives (3)
Magnetic Necklace inSPORTline Alkione
Magnetic Necklace inSPORTline Alkione is an elegant accessory that has a beneficial effect on the whole body. It is made of high-quality materials, such as silicone (safe for human health), neodymium magnets and surgical steel. Neodymium magnets are made only in small sizes, out of an alloy consisting of one fifth boron and four fifths neodymium. Neodymium magnets are remarkable by releasing only small amounts of energy while you wear them. Magnetic Necklace inSPORTline Alkione is suitable for everyone who is tired and unable to concentrate on their tasks. The necklace is also great for athletes and all sports enthusiasts.


Effects:
The magnets increase oxygen levels in blood, stimulate cellular regeneration, stabilize blood pressure and help release toxins from the system. They have analgesic properties, relieve aching joints and muscles, reduce swellings and speed up recovery. They also have anti-inflammatory effects. The necklace helps with degenerative and inflammatory diseases of the muscle system, tendons or ligaments (tennis elbow, Achilles heel). It is also effective when dealing with chronic neck and shoulder pain caused by wrong movements, injuries or stress, as well as tooth ache or menstrual cramps.


Technical description:
Top-quality magnetic necklace
Quality manufacture
Silicone (safe for human health)
Chip that absorbs electromagnetic radiation
3 neodymium magnets (1000 gauss)
Surgical steel
Elegant design
Relieves fatigue and speeds up regeneration
Not suitable for nursing and pregnant women
Size: length 48 cm x width 0.4 cm
Weight: 29 g
Suitable for both men and women
Note:
Magnetic necklaces are not suitable for pregnant women and people with pacemakers. If you have artificial joints, metal screws or artificial organs, consult your GP about using magnetic accessories.
Magnetic Necklace inSPORTline Alkione - alternatives -
all in stock
Magnetic Necklace inSPORTline Gemo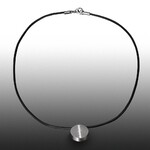 More info
Magnetic Necklace inSPORTline Lindy
More info
Magnetic Necklace inSPORTline Mely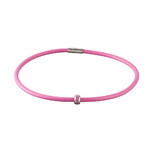 More info
Magnetic Necklace inSPORTline Alkione is included in the following categories: