With the Full-Suspension Mountain E-Bike Crussis e-Full 10.9-M – 2024, you will get where you wish to go, without having to make any compromises. This full-suspension wonder will take through challenging terrain, and to places you otherwise would not even dare to go. The main features of this bike are the top-class Panasonic GX Ultimate center drive and the high-capacity LG Li-ion 20Ah battery, which allow for a distance range of up to 170 km. You can switch between the 5 assistance modes on the control panel, where there's also walking assistance and a USB port for charging your smartphone.
Another great feature is the 12-speed SRAM Eagle NX gear shifter that, along with the hydraulic brakes and the ROCKSHOX FS Recon Silver RL R Solo Air 29" BOOST remote lockout fork with 150mm travel, ensures a safe ride on any surface. Furthermore, the fork features a ROCKSHOX Deluxe Select+ RT, 185x55mm rear shock. The high-quality Maxxis Ardent tires provide excellent adhesion on all surfaces! Pedal away and visit places that were just a wishful thinking a couple weeks ago – the Full-Suspension Mountain E-Bike Crussis e-Full 10.9-M – 2024 will take you there!

Powerful PANASONIC Drive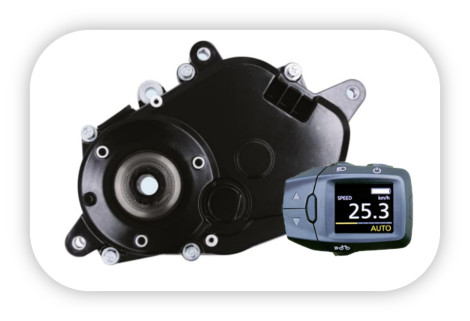 The PANASONIC GX Ultimate is a sturdy, extremely powerful drive that can deal even with the most challenging uphill rides. Ideal for mountain bikes, he drive offers a torque of 95 Nm, features a torsional pedaling force sensor, and weighs only 2.95 kg.
Apart from battery status and current assistance mode, the easy-to-read LCD color screen also shows speed and distance covered. Apart from the three main assistance modes (HIGH, STANDARD and ECO), the bike also offers a dynamic AUTO mode, which adjusts the level of assistance to the initial torque of the rider. On the LCD screen, there's also a USB port which allows you to charge your mobile device.


Air Suspension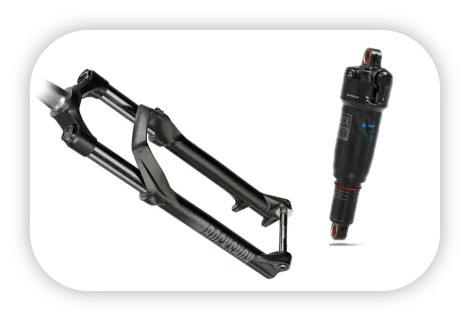 This e-bike features a ROCKSHOX FS Recon Silver RL R Solo Air 29" BOOST air suspension fork with 150mm travel, which adjusts to the user's weight. All you have to do is adjust air pressure in the fork and the e-bike will adjust to your weight and riding style. A well-adjusted fork absorbs shocks during terrain rides and does not provide too much suspension on a flat surface. Moreover, the fork can be locked out from the handlebars.
Then there's the ROCKSHOX Deluxe Select+ RT, 185x55mm rear shock absorber, which allows you to easily adjust the e-bike to your weight by adjusting the air pressure in the fork. The DebonAir+ system allows the rider to determine precisely how their air spring will feel while the Hydraulic Bottom Out discretely adds damping, so your ride feels smoother and more in control.

Ultra-Powerful Battery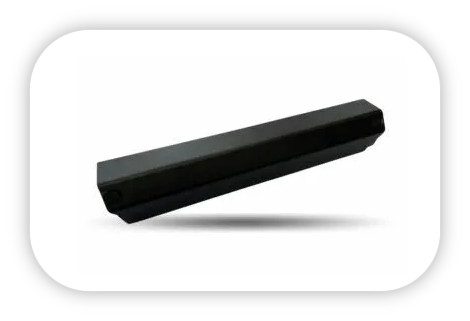 The LG Li-ion 36V/20 Ah (720 Wh) high-capacity battery is the heart of the bike. The battery is fully integrated into the frame, making the bike (along with the center drive) well-balanced. The battery allows for a distance range of up to 170 km on a single charge (depending on the trail profile).

Battery storage and maintenance: We recommend storing the battery (or the entire product including the battery) in a shady, dry place at temperatures between 10 ° C and 20 ° C. If you do not intend to use the product for a long time, we recommend charging the battery and recharging it to 100% capacity at least once a month. Follow these guidelines to prevent the battery's nominal capacity from declining rapidly over its lifetime.


E-bikes CRUSSIS are assembled directly in the Czech Republic, under professional supervision and in cooperation with cycling experts. This progressive Czech brand guarantees quality, modern design and maximum enjoyment from the ride.
Our tips:
Don't know what bike type and size to choose? Find out more in our guide.
Don't know how to choose an e-bike? Find out more in another of our guides.
Want to test out your e-bike before buying it? If you live in the Czech Republic or Slovakia, it's not a problem. Just visit one of our stores.
Technical description:
| | |
| --- | --- |
| Frame | Alu 6061 (17", 19", 21") |
| Motor | PANASONIC GX Ultimate, 250W (MAX 500W) 95 Nm |
| Battery | LG Li-Ion (720 Wh / 20 Ah) – removable – can be charged separately |
| Charger | 4A quick charger  |
| Distance range  | Up to 170 km |
| Rear derailleur | SRAM GX Eagle |
| Gear shifter | SRAM NX Eagle |
| Chain | SRAM Eagle SX 12s |
| Number of speeds | 1 x 12 |
| Cassette | SRAM CS-PG1210 Eagle, 11-50z |
| Fork | ROCKSHOX FS Recon Silver RL R Solo Air 29" BOOST, 150 mm, lockout |
| Rear shock absorber | ROCKSHOX Deluxe Select+ RT, 185x55mm; lockout |
| Brakes | Hydraulické SRAM Guide T (rotor front/rear 200/180 mm) or SHIMANO Deore BR420** |
| Control panel | Panasonic LED panel |
| Tires | MAXXIS Ardent 29*2.40 |
| Valve | AV |
| Rims | CRUSSIS 29", double-walled, lined, 30 mm |
| Hubs | CRUSSIS disc, industrial bearings, 32D, BOOST, fixed axle, 15x110 mm/12x148 mm (front/rear) |
| Headset | Tappered 1.5" |
| Stem | CRUSSIS Al, 50 mm, 7° |
| Handlebars | CRUSSIS Al, 780 mm |
| Grips | CRUSSIS silicone |
| Pedals | WELLGO, alu w/ reflector |
| Seatpost | X-FUSSION MANIC 30.9, telescopic, 125 mm or 150 mm travel |
| Seat | Selle ROYAL |
| Weight | There is no established standard for weighing e-bikes. Some manufacturers say their bikes are lighter than they actually are. If you want to know how heavy the bike is, you'll need to have it weighed at the store. |
| Weight limit | 120 kg |
** For selected 2022 and 2023 models, Crussis uses two different types of mounting at the same performance level - SRAM and Shimano. For operational reasons, it is not possible to determine exactly which fitting brand the individual bike will be equipped with.
CRUSSIS e-bike size chart 2022/2023
| | |
| --- | --- |
| Frame size | Rider height |
| 14″ | 135-155 cm |
| 15″ | 150-165 cm |
| 16″ | 155-170 cm |
| 17″ | 160-175 cm |
| 18″ | 165-180 cm |
| 19″ | 170-185 cm |
| 20″ | 175-190 cm |
| 21″ | 180-195 cm |
| 22″ | 185-200+ cm |
Warning: The factory setting for maximum speed is 25 km/h to meet the European standard for e-bikes. However, the setting can be manually changed to a higher speed limit. Bear in mind that in such a case the e-bike no longer meets the required standards and cannot be used on public roads!
Note: The expected max. travel distance depends on various factors, such as the amount of electric assistance, user weight, terrain, wind and the inflation pressure, pattern and temperature of the tires. All stated travel distances are valid under optimal conditions, meaning even terrain with no wind, temperature of 20°C, extremely narrow tires with no profile and user weight under 70 kg.