Devron - European Bike Manufacturer
There are many world-renowned bicycle brands on the market these days. However, even the less known brands have their place are not to be overlooked, such as the Romanian Devron that is steadily paving its way to the forefront. Devron's main marketing strategy is a great price/quality ratio, which is why it is so popular. Let's find out more about this European producer.
  Brand Development
In 1999, a Romanian company named DHS Bike Parts was founded. It later created the DHS brand which started to produce all types of bicycles. In the following years, the company focused mainly on development, rather than production. A crucial change came in 2008, when a new 31 000 m2 large facility had been finished. The number of employees had risen to 350 and manufacture begun.
The company's goal was to succeed on the market with both the brand and its higher ambitions. And so, 5 years later, came another change. In the year 2013, a new brand – Devron – was introduced. Devros functions as a sort of "better developed brother" to DHS. It distinguishes itself mainly with higher class components, elaborate details and fashionable frame designs.
The production continuously expands, as do the production facilities that have the maximum production capacity of 600 000 bicycles per year. The company exports to more than 20 countries in the world, which earns it a place of honour among European bicycle manufacturers.
  Devron E-Bikes
DHS Bike Parts currently produces more than 100 bicycle models, over half of which are Devron bicycles. However, the production also focuses on electric bikes that have become a huge trend on the bicycle market. The European manufacturer offers both the most common type – city e-bikes and trekking e-bikes as well. In 2016, they begun producing brand new models of mountain e-bikes, suitable for the most demanding users.
The merit of Devron e-bikes lies in their motors, supplied by the electric motor manufacturer Bafang. The motors can be placed either at the front, rear or in the middle of the bike. Other important components include a high-capacity battery and an easy-to-read control panel. The higher-level Devron e-bikes offer a big LCD display that, aside from current speed, also shows distance travelled, battery status or a selected program.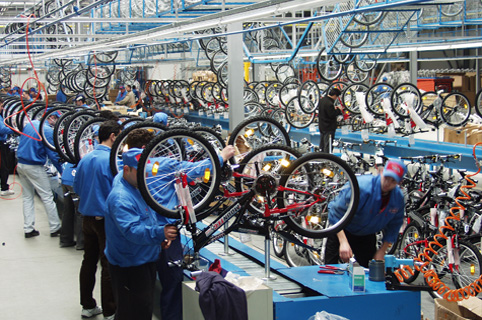 Relevant Articles:
How to choose an e-bike?
E-bike test centre
  Browse through our bicycle categories: