inSPORTline Sunny 700 table tennis table -
SPECIAL OFFER
Outdoor ping-pong table, 6 mm thick board, frame profile with a diameter of 20 x 30 mm, very simple and sophisticated system of folding, holder for balls and bats, transport wheels, the possibility of individual training.
Recommended accessories
Description
Parameters
Alternatives (3)
inSPORTline Sunny 700 table tennis table
Table tennis table inSPORTline Sunny 700 is a modern ping-pong table, which is primarily intended for outdoor use due to its unique properties. The table is made of a special ACP (Aluminum Composite Panels) material, which has a long service-life even in harsh conditions. ACP material is resistant to water, wind and solar UV radiation. Table inSPORTline Sunny 700 is made in the official dimensions set by the International Table Tennis Federation (ITTF) and thus satisfies all types of players. Construction of the table is made from high quality aluminum material with an average profile of 20 x 30 mm. Special folding system Twin-Multi Security is very simple and convenient, making it possible to easily store or transport the table. Table tennis table inSPORTline Sunny 700 is due to its features a favorite model of ping-pong table, suitable for home and club use.
Technical description:
official dimensions of the table set by the International Table Tennis Federation (ITTF)
robust construction with a profile diameter of 20 x 30 mm
special folding system Twin-Multi Security (very simple and comfortable)
folding one-half of the table's playing board allows individual training
transport wheels with a diameter of 125 mm
holder for 2 bats and 8 balls (bats or balls not included)
board thickness: 6 mm
board material: ACP (Aluminium Composite Panels)
weight: 54 kg
dimensions when assembled: length 274 x width 152.5 x height 76 cm
net included
table is suitable for indoor and outdoor use
inSPORTline Sunny 700 table tennis table - Documents to download
inSPORTline Sunny 700 table tennis table - Product parameters
Table material
ACP (Aluminium Composite Panel)
Thickness construction
30 mm
inSPORTline Sunny 700 table tennis table - alternatives -
all in stock
Table Tennis Table inSPORTline Rokito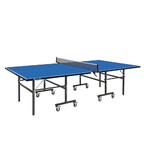 More info
InSPORTline OUTDOOR 100 Table Tennis Table
More info
Tennis Table Joola Mini 90x45 cm
More info
inSPORTline Sunny 700 table tennis table is included in the following categories: